Sanket Shah
Content Quality or Quantity Ft. Sanket Shah – Pepper Spotlight: Episode 25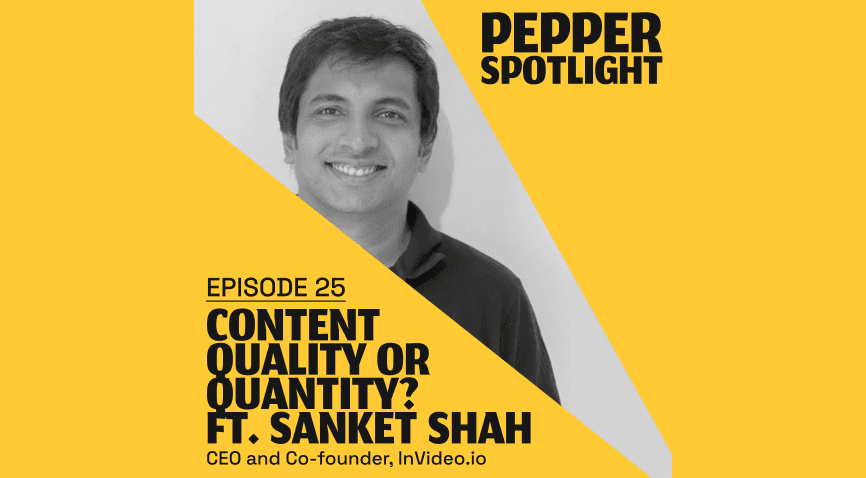 In this episode, we talk to Sanket Shah – CEO and Co-founder of InVideo – about this video boom and how InVideo is working to democratize video creation for everyone.
We often appreciate the content creators but seldom bring the spotlight on those who enable these creators.
With the boom of videos worldwide, there was a need to make video creation faster and easier. This demand created the go-to video creations tool — InVideo. InVideo is the most popular video-creation app on the internet. If you're a creator, you probably know of its existence.
On the recent episode of the Pepper Spotlight Podcast, we chatted with InVideo Founder Sanket Shah. His journey started as a creator looking to solve a problem, and today he works closely with the content market.
Here are some of the key takeaways from the show.
InVideo, And Introduction
"If you do not have any video editing skills, you can make them easily with InVideo," this is how Saket explained the platform to us. It's a template-based tool with over five thousand options. Anyone can start on a base template and create videos in a few minutes.
"We believe in the future of video creation on the browser and make it so easy that intermediate users can use it," Sanket added. Such automation tools make creators' work easier and enable more brands to generate content.
People often describe InVideo as the Canva of video making; Sanket does not fully agree. "On a large scale, you can say that," he said, "But making 'Canva for videos' is complicated."
Videos, unlike still graphics and images, are unstable. Few parameters can control a good design; the same is not valid for videos. This roadblock occurs because of multiple types, lengths, multiple steps, and many more variables to look at when making a single video.
Saket believes that InVideo is carving its own path with videos, and this technology is just the first step to this process.
Tech and Collaborations
Before we get into the details, we can fragment video creation in two ways:
There are videos made between creators. It's the collaboration of two or more people making videos for themself. The second is a larger establishment that makes high-production videos. The latter is usually a multi-member team.
"If you create long-form content, more people work on the same project. Each person handles it in their own way." Sanket explains. Someone is responsible for cutting music, and someone does color grading, etc.
This team will then take the videos to the brands or team-head who calls the final shots. These steps further create a back-and-forth between the editor and the crew.
Now, InVideo is one such tool that allows access to multiple people on the same platform. It also cuts down a lot of processes by automation. This cloud-based and browser-run platform is the new wave of video collaborations between creators and teams.
Brands need not take a single render or share Google-Drive links. The whole process is fast and smooth from a single page. "And using the cloud, you can rent extra power from the web, which you cannot do on CPUs," brags Sanket.
Trends In Video Creation
Sanket believes that only two kinds of people use videos extensively. There are specialists, and then there are generalists.
If someone is a generalist, they use tools like Wix, Canva, and Squarespace. These tools give power to the hands of the ordinary person. However, even after InVideo simplified video creations — they noticed both categories of people use the app.
It's a simple way to make short videos, and there are sufficient reasons for experts to use it. "InVideo gives high-quality and flexibility to do whatever you want," he says. "People have a pixel-level control on the color, timing, and other aspects."
Most people on InVideo use it for all kinds of tasks like making ads or reels; based on what they do as creators with the end-product. All of this heavily depends on video templates.
Content Quality over Quantity
Every platform is very different. The thought process of the user and the creators is also varied. The creator needs to remain aware of these differences. When you try to go across platforms and chase every trend– you make very little sense as a brand.
"We had 100 blogs, and no one read them. Today we have 30 blogs, and all are at the top searches," explain Sanket. InVideo and their content team are believers that content quality over quantity is the key to online success.
"Content is an extension of the product, and you need to think of content as a product."
One hack that InVideo implies for their Youtube content is to monitor just a single parameter. With youtube, they think about dips in watch-time and retention rate. Those two simple factors define the value of the content. The problem statement cannot become "I want to create content." It must be "I want to create engagements."
Another prerequisite to good content is brevity. Blogs and videos do not need an elaborate and fluffy introduction. Most users online have a short attention span, and the only way to win them over is by keeping content tight.
Sanket gives an example of writing a blog about "youtube videos ideas." There was a time when they made a very shallow blog about "10 youtube ideas." Today they research and break down the work into usable formats. "I will break it down into personas like gamers, marketers, etc., and then make content for each of them in mind," he explains.
Final Thoughts
Sanket's journey with content creation started in 2012. As a student at the University of Michigan, the whole class faced the task of reading a book about "Pricing." Sanket tried to read the entire book in a day and thought to himself, "can we create a video of this book."
Essentially, this thought led him to think about the challenges of video creation and the solutions.
These video books still exist as a company called "WisfyBooks." To discover more exciting anecdotes and content hacks, you must check out the whole episode of Pepper Spotlight.
Like most of our guests, this too is a recording filled with mind-blowing facts, insights about the industry, and stories from creators.