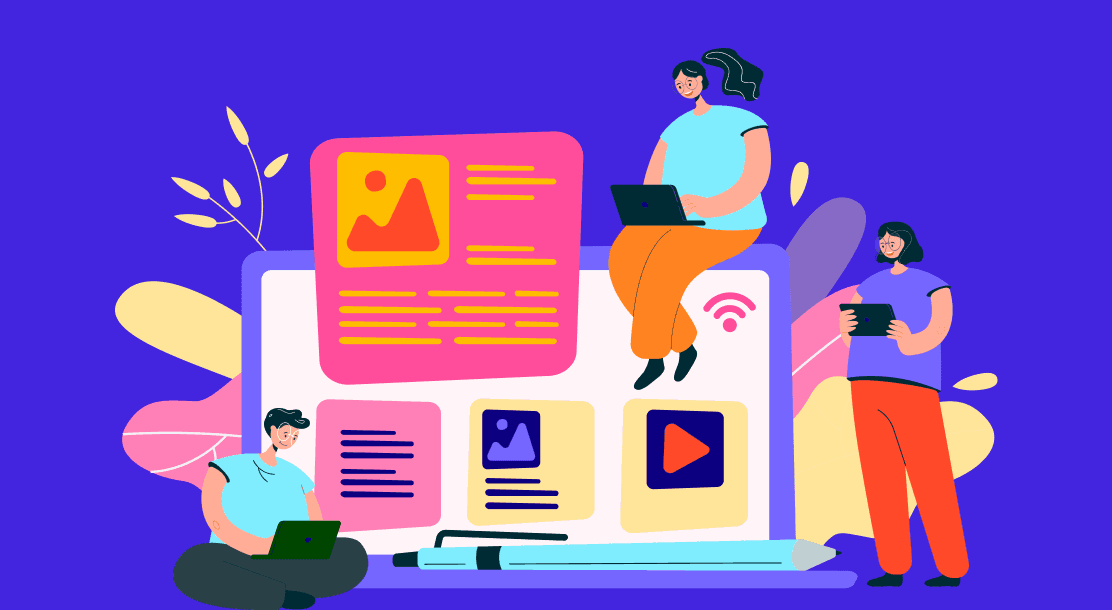 Here are ten content marketing trends that will boost your game in 2022.
Marketing is a little like dieting. It's hard to know where to start, but it's easier than you think once you do get started, and the reward is great.
To build a profitable business, you need an effective content marketing strategy. Content marketing is an excellent way to provide value and stay connected with your audience. It helps you achieve various goals, whether they involve getting more people to subscribe to your email list or boosting engagement on social media.
However, producing content is time-consuming and expensive. So before you sit down to write another blog post or create another video, ensure that what you've already published is working for your business.
You'll be able to maintain a competitive edge if you can stay consistent with what your clients desire. As a result, the most successful marketers are always looking for ways to improve their content marketing tactics.
10 Content Marketing Trends for 2022
Here are ten content marketing trends to get behind in 2022.
1. Consumer retention
Many companies are building a content marketing strategy to attract new customers, improve search engine rankings and lead conversions. Few people, however, discuss content strategies for retaining current clients. The truth is that it's more cost-effective to retain existing customers than to acquire new ones.
According to Gartner Group, a 5% increase in customer retention can lead to a 25%-95% increase in profits. The good news is that you can retain your existing customers by producing relevant and high-quality content regularly.
Focusing on current customers is important for several reasons. First of all, it is much easier to keep a customer than find a new one. It costs five times more money to bring in a new customer, so focusing on retention makes good business sense from a financial standpoint.
2. Focusing more on content marketing trends
Content marketing is in the middle of a significant transformation. What used to be a nice-to-have tool to engage customers is morphing into a critical marketing puzzle piece.
If you thought you could get away with ignoring this growing part of your content marketing plan, think again. Why is content marketing getting more attention? For starters, with the pandemic having curtailed face-to-face communication and personal ties, businesses rely more on high-quality websites and content to spread their message.
And as companies struggle with reduced budgets, they're cutting spending in some areas but increasing it in others — such as content marketing. In fact, according to Gartner, 44 percent of B2B marketers are planning to improve their content marketing budget over the next 12 months.
3. Long-form content
If your content is thorough and authoritative, you've got a better chance at making it to the top of SERPs and acquiring that valuable organic traffic.
But long-form content is challenging to produce. You can't just append a bunch of fluff on what you already have; it must be relevant and valuable.
If you want to create long-form content that provides real value, take some time to research your topic beforehand. First, find out what people search for, then look at their results. What is their most significant pain point?
As a marketer, it's not sufficient to just write content that you think people will like; you have to write content that they want.
4. Investing in podcasts
We think the future of audio is very bright. In 2021, nearly three-quarters of Americans listened to an audio device weekly, and about half-listened daily.
As more audio options become available and consumers become more comfortable using voice technology, we expect these numbers to continue rising.
Many of our clients have already taken advantage of this trend. For instance, one client created a branded podcast that generated millions of downloads and helped promote their brand to a receptive audience.
Podcasts are also a great way to build brand affinity while on the go, especially for younger listeners who don't listen to terrestrial radio as often as older generations.
5. Augmented reality
AR technology has been around for decades. However, it has only recently started to gain popularity. As it becomes more accessible and affordable, AR is being used in various ways that can help you promote your content.
The common thread among brands that have used AR to create a buzz around their products is that they're all leveraging its ability to surprise and delight their customers.
Most of us are familiar with virtual reality (VR), which completely blocks our physical environment and transports us to a different world. AR adds digital elements to the real world, enhancing your user experience rather than taking you out of it.
For example, Pokémon Go uses your phone's camera to place digital characters onto your actual surroundings so you can catch them in the real world.
Augmented reality is becoming increasingly popular as a content marketing trend as companies find new ways to engage their customers and create immersive experiences.
6. Leveraging SEO
Content marketing and SEO are no longer independent entities. Instead, both work hand-in-hand to provide results and improve the overall performance of your website.
Optimizing your content for SEO increases its visibility and makes it more accessible for users. This, in turn, makes it easier for search engines to crawl and index your website.
What does this mean? Do you need to write better-optimized content than you're already producing? If you want to increase your rankings, you need to create better-optimized content.
Consistency is crucial for content marketing and SEO. Content that is distinctive, creative, and original scores and ranks higher than content that is repetitious and low-value.
7. Create specialized content
Your content marketing strategy should be a living document that you look at regularly and adjust as needed. You want to create something that speaks to your target audience. By embracing and adapting to change, you can reach people more easily with the information they want.
By creating exciting and engaging content, your business can work its way into the hearts and minds of your customers. It's one part of developing the kind of brand that customers will want to engage with repeatedly.
The key is to know what your audience wants and deliver it uniquely. This will help you attract loyal followers who are willing to share your content and become ambassadors for what you're trying to achieve as a business.
8. Document your process
Having a documented content marketing strategy will help you stay organized, optimize your efforts, and save time by ensuring everyone on your team understands what you're doing.
It'll help you define the key content marketing metrics you'll use to measure your marketing performance in 2021.
The first step is to create a strategy that outlines your content marketing goals, target audience, buyer journey, distribution channels, and content pillars.
Once you have that in place, it's time to determine which metrics you'll track to measure your performance throughout 2021.
So how do you know which content marketing trends are the most important for your organization? It starts with identifying the channels through which you'll publish your content and mapping those back to your overall business objectives.
9. Enhance individualization
Investing time in learning more about your target audience can help you create content that addresses their specific needs. This data-driven approach enables you to build content that will attract your target audience and guide them at every buying cycle stage.
Creating content tailored to your ideal customers' needs gives you a competitive advantage over companies that simply make content for the sake of having content. With some research and planning, you can create content to help your startup reach its marketing goals.
10. Account-based marketing
The sales funnel is a tried-and-true method for B2B marketing and sales, but it might not be around much longer.
Account-based marketing (ABM) is a new trend in the market. It's becoming the preferred B2B content marketing strategy, and a report by SiriusDecisions found that 72% of B2B marketers are using ABM programs.
For those who aren't using it yet, you should consider it.
Account-based marketing (ABM) is a B2B content marketing strategy that focuses on key accounts within a business's target audience. Rather than marketing to the masses, account-based marketers create personalized campaigns to target specific accounts.
These campaigns focus on quality over quantity and aim to win over detailed business accounts' hearts (and wallets) by building long-lasting relationships with key decision-makers.
ABM has become a hot topic in B2B marketing because of its effectiveness. However, while most B2B marketers are familiar with inbound and outbound marketing, ABM is still relatively new.
A proper content creation strategy can help your brand become memorable in everybody's eyes. A content marketing strategy can streamline the entire process and help you gain a competitive edge over your competitors.
Content marketing trends can help you in this regard. They will give you a path to success and make the content creation process smoother, easier, and more efficient. By following these content marketing matrices, you can win over your consumers quickly.
Key Takeaways
A brand has the power to go from zero to a hero with the right content marketing strategy.
Your brand can become a milestone by following the recent content marketing trends.
The right content creation strategy can take you to places that content cannot.
Once you master content marketing metrics such as ABM, individualized content, SEO-centric content, and documenting the process, it can help you achieve a competitive edge over your competitors.
FAQs
1. What is a content marketing strategy?
A content strategy is a plan for achieving your business objectives through content utilization. Your target market will be engaged at every stage of the funnel, even after purchasing.

2. How to create a content marketing strategy?
1. Establish your mission and objectives.
2. Make a list of your key performance indicators (KPIs).
3. Know who you're talking to.
4. Examine your current situation.
5. Determine the most effective content channels.
6. Choose your content types.
3. What are some content marketing trends to follow?
1. Creating SEO-centric content
2. Documenting your journey
3. Adding more infographics to your content
4. Creating long-form content
5. Focusing more on audio and video content as well
4. What are the significant components of content strategy?
1. Creating awareness
2. Building, In addition, content leadership through your content
3. Solving problems
5. What are the different types of content marketing?
1. Podcasts
2. E-books
3. Websites
4. Infographics
5. Blogging