Content
6 Content Calendar Tools You Can Use Effectively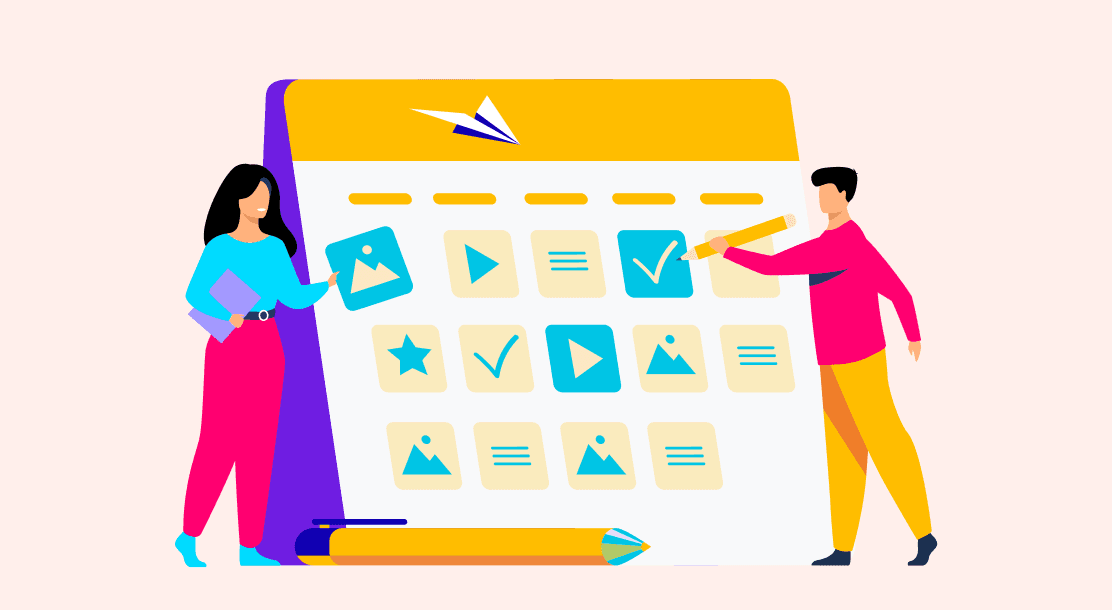 Table of Contents
● What is a Content Calendar?
● 6 Content Calendar Tools to Get You Started
● 3 Honorable Mentions
What is a Content Calendar?
A creative mind is always on the go. New ideas keep registering, even in the middle of another creative pursuit. Put this natural tendency in the cut-throat world of content marketing, and you are up for a mammoth task. "How can I keep track of all my content throughout the content creation workflow?" This is where content planning calendars come to your rescue.
Simply put, a content calendar is a platform where you can
● Organize a production pipeline of all content ideas that hit you abruptly
● Track your ongoing content creation process through different stages like writing, editing, designing, publishing, and promotion
● Schedule content publishing based on important dates and events
● Collaborate and assign tasks within a team
Why is it essential to have a content schedule?
Whether you are an independent content creator or a content marketing manager working with a team, your task is not short of full-fledged project management. Risks, deadlines, and human error apply to you equally, hence the need for planning, scheduling, and monitoring.
● Having a content schedule saves you considerable time and anxiety caused by last-minute planning and revisit
● A collaborative content calendar makes it super convenient for a team of content creators to work in sync.
● Modern content calendar tools give you a bird's eye view of your past, current, and planned content. With the inbuilt capability of categorization and interlinking, you can easily.
○ Reuse
○ Repurpose
○ Generate ideas for content series
○ Avoid duplication
6 Content Calendar Tools to Get You Started
1.
Hootsuite
Hootsuite is an excellent option for social media marketers who work with multiple social media platforms.
What's great: It connects to multiple social media platforms so that you can curate and post on various platforms in one go. The calendar view is loaded with functionalities to create, edit, and move around posts. It provides rich analytics data about post-performance, organic or paid reach, etc., from plenty of custom reports.
What's not: The paid plans, especially team plans, are pretty expensive. You can access two social media platforms with five posts per month with the free trial plan. It suits big organizations well.
Get it here.
2.
Asana
Asana is a project management tool that streamlines your content workflow in a highly sophisticated manner.
What's great: Each project can be viewed in various views: List, Kanban, Timeline, Calendar, Files, Progress, Portfolios, Workload, Inbox, My Tasks. For a simple project, Asana offers a free plan for a maximum of 15-member teams.
Asana Board View
Asana List View
What's not: Asana may seem overwhelming for large and complex projects, with the project view appearing cluttered.
Get it here.
3.
HubSpot
Hubspot is, in a way, the Amazon of all things content. It offers a complete kit of tools, content plan templates, calendars, teams, and automation to make your content marketing highly strategic.
What's great: HubSpot's blog editorial template is free and customizable. The MS Excel/Google Sheet template allows for managing large projects with big teams.
What's not: Spreadsheet templates are for pure utility purposes and do not offer a visual experience like some of the other commercial tools. It also does not allow for automated scheduling and posting.
Get a free Hubspot editorial calendar template here.
4.
Coschedule
"It's not the best content that wins. It's the best promoted content that wins." – Andy Crestodina, Co-founder and Chief Marketing Officer of Orbit Media.
Coschedule is another highly recommended tool for scheduling social media posts, campaigns, and WordPress blogs. You can attach Drive documents, Evernote, Text Editor, and Projects to your scheduled items to increase collaboration and productivity.
What's great: Automate social media postings and never again forget to promote your content. The Requeue feature reshares the most successful posts. Best time scheduling predicts the best time to publish your post if you don't want to set a custom time yourself.
How Requeue works
What's not: Solopreneurs may use the basic plan for limited social media engagements. However, its full potential is realized for businesses with very active blog pages.
Choose your plan here.
5.
Trello
This visual project management tool lets you create cards for each of your planned postings. Each card can be categorized, labeled, and color-coded. You can also assign a deadline for each card and just drag it song the workflow as each step in the workflow is achieved.
What's great: It's great for beginners or a young team to organize their content plan, assign roles and due dates, and track the same in calendar view. It's free for individuals.
What's not: You cannot schedule your posts to be published on social platforms. You have to do it manually.
Start exploring Trello here.
6.
Buffer
The name says it. Buffer is all about making it super efficient to build a strong pipeline of social media posts and schedule it to be published at the most suitable time, also suggested by Buffer.
What's great: Its simple design and feature take the edge off an already overwhelmed content marketer. With the extensions for mobile apps and browsers, attaching links, images, and videos becomes very fast. It is very affordable for individual users, small to midsize teams, and agencies.
What's not: The free version of Buffer supports just three social media platforms and can queue up to ten posts per social channel at a time.
Choose your plan here.
3 Honorable Mentions
It would be unfair to leave some of these other amazing tools out of this list owing to the subjectivity of the user's needs and priorities. So here are some honorable mentions that we would like you to keep in mind.
1.
SproutSocial
SproutSocial does more than just scheduling and publishing. It takes care of engagement as well. Their social CRM tool keeps track of critical customer data for teams to effectively respond to customers' queries. It has very comprehensive analytics and reporting.
2.
Loomly
Loomly's base version is slightly expensive, but you get a lot with that. For $26 per month, you get user access for two users, a connection to 10 social accounts, and an unlimited number of posts.
3.
Google Drive
Did you think we could leave this out? Not every project needs a paid, highly visual, and complex tool. Using a simple Google Sheet, you can draw up columns and rows of data like due date, social media channel, topic, keywords, type of content, attachment, etc. It allows easy collaboration with team members and seamless pairing with google calendar.
"I Don't Need A Content Calendar." Really? Think Again
No, don't think. Just try one of the above tools (all have a free trial period) for a few days and notice the change in the results you get and how you work. Having a social media calendar makes you proactive; it instills excitement for what's coming up. It helps you set clear, achievable goals. And these nine content calendar tools are the perfect way to set it up!
"If you don't know where you are going, you'll end up someplace else." – Yogi Berra.
FAQs
1. What should a content calendar include?
● Date and time of publishing
● Media: YouTube, Twitter, Medium, Instagram, LinkedIn, WordPress, etc.
● Type: Blog, video, podcast, image, reel, etc
● Title
● Due date
● Assignee
● Status
● Date and time of publishing
● Media: YouTube, Twitter, Medium, Instagram, LinkedIn, WordPress, etc.
● Type: Blog, video, podcast, image, reel, etc
● Title
● Due date
● Assignee
● Status
2. What is a content publishing workflow?
A content publishing workflow defines the stages through which a piece of content flows, right from ideation to publishing. A content calendar is a useful tool to map the journey of content through this workflow.
3. What is a content template?
A content template is an outline used by writers around which they build their core content. It contains all the necessary information and supporting materials like images or videos, calls to action, etc.
4. What is the best content calendar tool?
The choice of tool that works best is entirely subjective and depends on many factors like team size, budget, desired social platforms, post frequency, etc. The above list discusses some of the most popular tools based on these criteria.