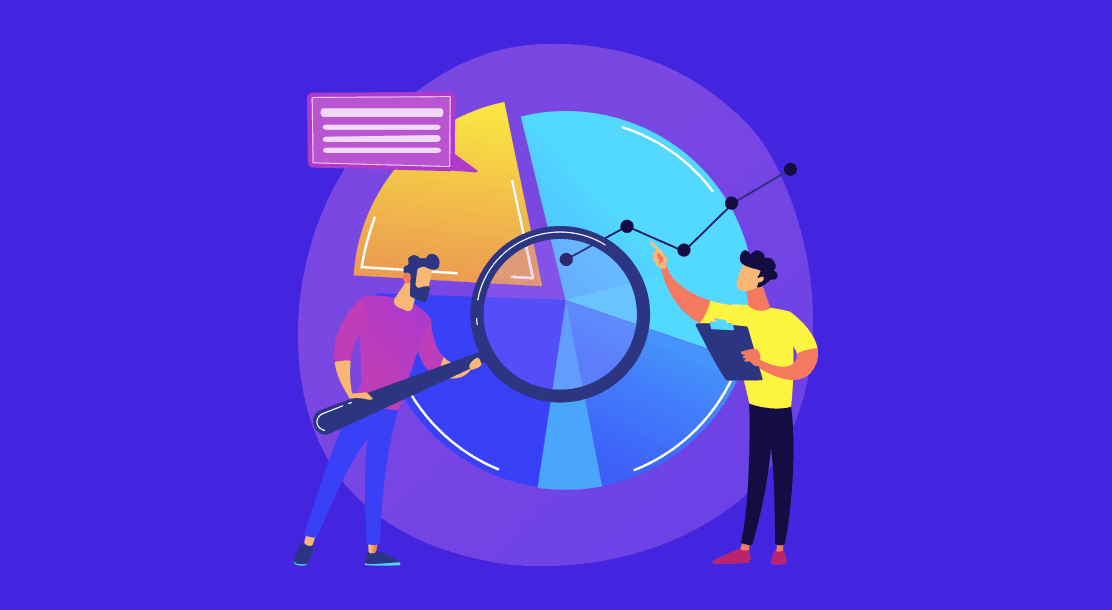 Are you looking for ways to conduct a competitive analysis? Here's a guide to help you.
Table of Contents
What is a Competitive Analysis?
Benefits of a Competitive Analysis
What is a Competitive Profile Matrix?
How to Conduct a Competitive Analysis Successfully
Business does not operate in a bubble. Small business owners are likely to think a lot about their competition. How should you use that information, and where should you focus your efforts?
This is where competitive analysis comes into play. No matter what stage of business you are in, conducting an audit is worth your time. Researching your competitors' marketing strategies will help you identify your brand's strengths and weaknesses.
The best sports teams spend time studying their adversaries before a big match. In addition to researching and watching game footage, coaches will make scouting reports on each opponent. You can use a competitive analysis as a scouting report for your business, for example, to design a game plan to help your company succeed.
Let's break it down further.
What is a Competitive Analysis?
Competitor analysis refers to studying your competitors' strategies and evaluating their strengths and weaknesses to determine how they compare to your own business, product, or service. By conducting a competitive market analysis, you gather the data required to develop a go-to-market strategy and identify the right line of attack.
You need to regularly analyze your competitors throughout your business's lifecycle to stay on top of market trends and product offerings. A competitor analysis can reveal important insights into business opportunities, market saturation, and industry best practices.
Moreover, you must know how your customers view your business compared to your competitors. With a competitor analysis, you can determine what services your target customer is currently getting and neglected areas.
Both offense and defense benefit from competitor analysis. While comparing your business with your competitors, you can see where you need to improve and where you are excelling. You can even find a new niche you can capitalize on.
Benefits of a Competitive Analysis
Competitive research is becoming increasingly common among companies as they compare their products, pricing, and marketing strategies to those of their competitors. Here are some of the benefits of competitive analysis.
Evaluate the effectiveness of new products and services
A competitive market analysis is critical to improving the services and products you offer. Utilize your competitors' successes and failures to evaluate whether or not your product will be competitive in terms of price, capability, and quality.
Keeping up with the latest news about your competitors will also help you see what products and services are currently being developed. When you learn what your competitors are managing for future product releases, you can determine whether a product idea will be popular or come up with a new, innovative product or service.
Avoiding mistakes
Competition analysis also includes a study of companies that have failed in the space or had little success competing. Some mistakes are less pleasant to learn from, but others (especially in business) can be disastrous.
Identifying your competitors' biggest mistakes can help you avoid the same mistakes. You can anticipate problems in advance if you study your competition and prepare to avoid or combat them. Preparation might make the difference between your products winning or losing.
Rate the effectiveness of your marketing strategy
Comparing marketing strategies with product development initiatives can have the same benefits. Keeping up with the competition and seeing how they market is important in today's changing market.
Social media and mobile devices are now primary sources of marketing budgets. Quality of content is more important than ever, and data-driven marketing is more sophisticated.
Examine your competitors' social media accounts, websites, and marketing materials to evaluate their positioning and strategies. Consider what you could learn from the competition's marketing efforts and compare them to yours.
Offer competitive pricing
Understanding the pricing structures of industry peers is perhaps the most advantageous aspect of conducting a competitive analysis. Prices are not readily available on competitors' websites, especially for B2B organizations.
Knowing how your prices compare to those of your competitors helps you determine whether you can offer a more competitive price. We recommend adding a mystery shop component to your competitive market analysis to gather pricing information. A third-party market research company can conduct mystery shopping calls or send emails.
Identify unserved or under-served gaps.
Your competitors may also target the same audience in an established market, potentially leaving customers unmet or underserved. You can identify these gaps in the market with a competitive analysis based on maps and matrices.
Competitor mapping shows your competitors' unique service models by identifying where they fall on a matrix with extremes of high and low prices, high and low quality, and high and low customization.
Using competitor mapping to identify market gaps can also benefit businesses such as restaurants, retail stores, and other brick-and-mortar establishments. If a competitor's establishment is absent from several square miles of a city, a geographic map of competitors will reveal this.
Identifying missed opportunities will enable you to expand your business or change the direction of your business in order to increase your market share.
Examples of competitive analysis
Analysis can vary widely depending on the industry. Let's use a generic SaaS as a competitive analysis example. To gain the upper hand, you can easily track the following:
Site loading speed
The loading speed is extremely important. Customers often will not tolerate even the slightest delay.
Website traffic
It is highly valuable to know how many people visit their main website every day.
Traffic sources
Where does this traffic come from? Their tactics might work for you as well.
The competitive analysis can provide valuable data through the simple metrics you track.
What is a Competitive Profile Matrix?
Using a competitive profile matrix (CPM), you can identify a firm's and its competitors' strengths and weaknesses using a competitive profile matrix (CPM). A CPM also allows firms to understand their external environment and competition better.
Using the matrix, companies can identify their key competitors and compare them according to the industry's key success factors. Thus, a company can determine what needs to be improved and what should be protected.
Components of CPM
1. Critical success factors
Often called key success factors (KSF), these factors determine whether a company will succeed or fail. An organization's success factors will vary depending on the industry in which it operates. However, the most competitive profile matrix will assess the following factors:
Marketing and innovation
Customer service
Management and HR competency
Product range and quality
Brand equity and reputation
2. Weight
Each critical success factor should be weighed between 0.0 and 1.0. The weight represents that factor's relevance to the company's success. You will not be able to assign weight to all factors if you do not assign them weights.
Such a scenario is not feasible in reality. Each factor must be given a weight of 1.0. You should not emphasize a factor by giving it a weight of 0.3 or more. This is because only one or a few factors rarely determine a firm's success.
3. Score
An organization can now assess its performance based on critical success factors and their associated weightings. The most common scale is as follows:
1: Major weakness
2: Minor weakness
3: Minor strength
4: Major strength
Businesses may find it beneficial to expand the scoring scale for better objectivity since scoring is an objective process. Anyhow, to determine each business' weighted score, each factor must now be multiplied by that score.
4. Rating
According to CPM, ratings indicate how well companies perform across different areas. The range is from 4 to 1 and as described above.
Rate and weigh each company subjectively. You can streamline this process by benchmarking. It measures how companies are doing compared to one another and to industry averages. It is important to note that firms may have similar ratings in the same factor.
5. Total score
Simply add the weighted scores to arrive at the total score for each competitor. Companies with the highest scores are the most competitive in their field.
An organization in a strong competitive position will inevitably have at least one or two relative weaknesses. The CPM provides competitive organizations with yet another way to increase market share.
How to Conduct a Competitive Analysis Successfully
Identify your competitors
The first step is to identify your competitors in conducting a competitive analysis. You can categorize competitors as direct or indirect.
Direct competitors are brands that are offering the same product or service and target the same customers as you do. Indirect competitors are those that sell similar products but have a different customer base or those who sell different products but share your customer base.
Researching and identifying your indirect competitors can give you a new perspective on your business or customer base. If you are looking for similar products and services, conduct a web search to find these companies. To better understand your competitors, find out who your direct and indirect competitors are.
Compare and analyze competitor content
Now you have to perform your competitor analysis and dig a little deeper to figure out what content your competitors are posting. If you analyze their content, you can determine how to outperform your competitors.
For instance, what type of content does your competition produce? Case studies? Blogs? Premium content? Is some content password-protected? Is there a newsletter, a YouTube channel, or a podcast?
When you find their content, you can assess its quality and compare it to your own. It's important to check how frequently they publish, add, and update new content – as well as the topics they cover. What do they do that you don't?
Case studies published consistently by your competitors may explain why you're not getting quality leads. What is it like working with your company? That's what prospective clients want to know.
Check out their blog next. It will benefit your company to publish more frequently about relevant topics if your competitors tend to publish three times a week as opposed to two articles every two weeks. But don't just add content because you want more traffic. It won't work if the content isn't remarkable.
Check out the pricing and perks offered by your competitors
Correctly pricing your products involves several factors – one of the most important ones is knowing what your competitors' charges for a similar product or service are.
You can make your products or services more expensive than industry standards if you believe your product or service has superior features. Nevertheless, if you do that, you'll need to ensure that your sales reps are able to justify the cost increase.
Perhaps you feel that affordable products are lacking in your industry. If so, you may want to offer a lower price than competitors to appeal to prospects who don't want to go over budget to get the best possible quality.
Many variables go into correctly pricing a product, but it's vital you stay on top of industry pricing, so your prospect feels the price is reasonable.
Also, check out your competitors' offerings and how you can match them to compete. For example, your competitors may offer a significant discount if you refer them or a free trial version for a month. Considering where you might match those perks – or provide one of your own if your competitors don't offer any perks of their own – might be why your customers are leaving you.
Analyze their SEO
Competitors produce high-quality content, update it as often, and produce the same type of content as yours. You should look closely to see what they are doing differently.
Perhaps it's their SEO. You know how important your company's SEO is if you have a blog. When assessing your competitors' content, you should also consider its SEO potential.
Search engines are evolving and thus getting better at understanding the user's search intent as a result of algorithm updates like Google's BERT. Stuffing keywords into your content no longer ensures a high search ranking.
Rather than focusing on competing with your competitors, try to beat them at their own game. Perhaps you can write an article that shares eight or nine tricks for producing better video content than your competitor's article that shares six.
If the top tennis rackets ranking is a few years old, try ranking one that is more current. What are insurance companies missing from their list? Is the featured snippet missing? Is there a broken link?
You can identify gaps and inadequacies in the work of your competitors when you look closely at them. Put your team's creativity and expertise to work, filling in those gaps.
Learn what technology stack your competitors use.
When it comes to reducing friction within your organization and increasing momentum, knowing what your competitors use is critical.
Perhaps you have seen positive reviews about a competitor's customer service – while doing research; you discover that their customer service is powered by powerful software that you are not using. Having access to this information should enable you to outperform your competitors.
Suppose you want to find out which software your competitors use. In that case, you can enter their URL into Built With, a tool that reveals what technology your competitors' website runs on, along with any third-party plugins they use, such as analytics systems and CRMs.
If you are searching for an engineer or a web developer, you might also consider checking out competitor job listings. Candidates will be told which tools they need to know—an excellent way to learn what tools your competitors are using.
You can significantly improve your competitor's research efforts by using a wide variety of tools available on the market.
Target the right keywords:

Determine the most popular keywords in your niche that relate directly or indirectly to your business. Watch your competitors' SEO strategies and see what links they have created online.
Leverage user feedback software:

To maintain your success and satisfy your customers, you need user feedback software. You can use it to collect user feedback unobtrusively and give your business a competitive edge.
Check if they are hiring:

Utilize leading job boards to determine what positions are open at your competitors'. If you do this, you can find out where the company seeks to expand.
Directly ask your customers:

Perhaps your prospective customers are bombarding you with emails regarding product pricing or features. Ask your customers direct questions such as "What brands have you previously been associated with?" or "What would you like to see in our products that other companies already offer?." You can also run a website survey to collect valuable inputs from your potential and existing customers.

Spy on social media:

The use of social media has created numerous opportunities for businesses to interact with their target audiences. Monitoring a competitor's social media performance can be done from multiple angles using a social media monitoring tool. Check out what they're posting and how many people are seeing it.
Stay updated:

A free notification service offered by Google and Google Alerts can keep your business on its toes. You can receive updates on competitor activity and new developments daily, weekly, or monthly with notifications.
You can see, for example, articles or blogs about rival CEOs or executives.
An analysis of your competitors isn't meant to steal their strategies; it's meant to figure out where your business stands and find ways to differentiate yourself. You will ultimately do much better focusing on your customers and the gaps between supply and demand rather than on your competitors. That's what competitor analysis is all about – improving customer service.
Key Takeaways
Competitive analysis tells you what your competitors are doing, their strategies, and how you can use them for your benefit.
Staying on top of your competitors allows your company to respond to the competition and formulate strategies accordingly quickly. It should be conducted periodically to reap the benefits of competitor research.
If your rivals have already consolidated their market share, a competitor analysis has no value.
A competitive analysis allows your business to learn from your competitors' mistakes and stay ahead of them.
Through this technique, you can get an insight into industry trends and stand out from the crowd.
FAQs
1. What should be considered in a competitive market analysis?
– Market share
– Features 
– Pricing 
– Differentiators 
– Marketing 
– Strengths 
– Geography 
– Culture 
– Weaknesses 
– Customer reviews.
2. What are the different types of competitors in business?
Direct competitors: Direct competitors are the first names of businesses that cross your mind when you consider your competitors.
Indirect competitors: They refer to the businesses belonging to the same category but selling different products and services as solutions for the same problem.
3. What do you mean by the competitive analysis framework?
A competitive analysis framework is a tool or model that marketing professionals use for comparing their marketing strategy or business plan with their competitors'. It creates a visual structure for competitive analysis.
4. How do marketers identify and analyze competition?
Marketers analyze competition with the help of competitive analysis. It is the process of finding out your competitors in your industry and using their data to develop more effective marketing strategies. It can help you improve your business tactics by learning from your competitors' weaknesses.
5. What is CPM used for primarily?
A competitive profile matrix (CPM) is a tool used for analysis and helps in providing necessary information on competitive advantage. The data is based on the crucial success factors of your competitors and serves as the building block for an organization's strategy.