Marketing
Content Marketing 101: Coca-Cola's Marketing Strategy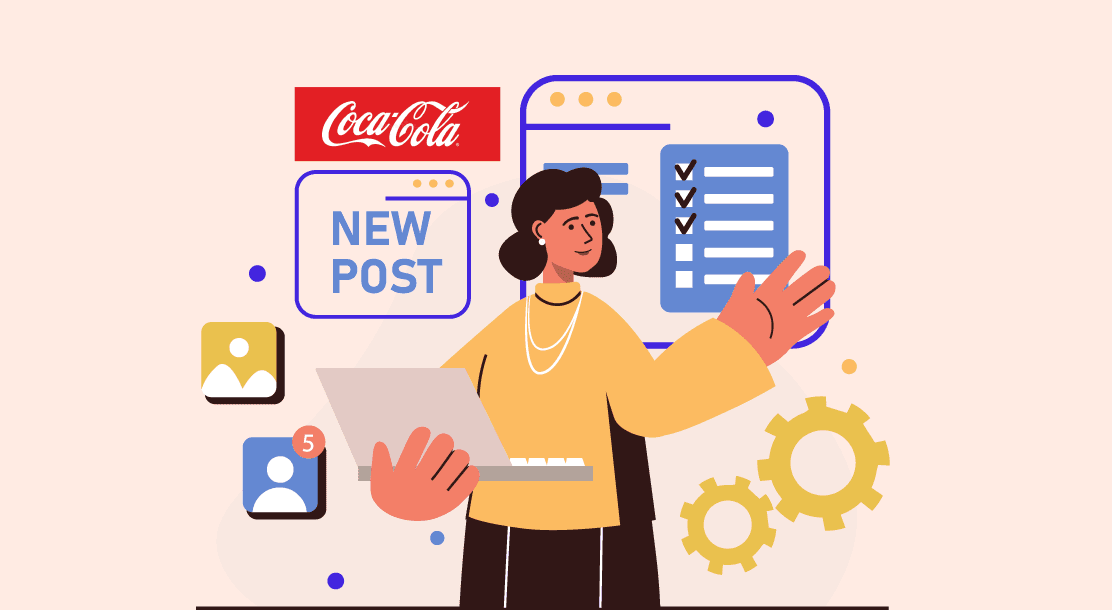 Table of Contents
"Liquid And Linked" Content
The 70/20/10 Content Plan
Content Excellence – A Content Strategy Aligned With Corporate Objectives
Outline Content Goals With The Audience In Mind
Develop A Road Map And Plan
Key Takeaways
Conclusion
FAQs
Content marketing has become the Goliath of advertising, something which nobody could have ever imagined a couple of years ago. Except for a company like Coca-Cola, of course. Coca-Cola was probably one of the first few organizations to have faith in content marketing and build its marketing strategy around it.
And that was because, when they envisioned the future of Coca-Cola as a brand, they could see that they couldn't reach where they wished to simply with the art of one-way storytelling (or what we term as traditional advertising). In 2011, the then Vice-President of Global Advertising Strategy for Coca-Cola, Jonathan Mildenhall, took a leap of faith to move beyond the 30-seconders and jump onto the content marketing bandwagon. This became part of the company's 10-year goals.
Those who still think that content marketing is another passing fad should simply look at the amount of money and resources that Coca-Cola put into content marketing in the past decade. The company had been eyeing doubling its cola brand's worldwide consumption by 2020, riding vigorously on its content marketing strategy.
Let's talk in more detail about Coca-Cola's marketing strategy.
"Liquid and Linked" Content
Coca-Cola used the term "Liquid and Linked" to describe its emerging content strategy at that time. A colossal company like Coca-Cola creates innumerable stories every year. Multiple agencies design these stories in various forms – sometimes a mobile app, sometimes a great television ad, sometimes a viral video, etc. But even though each of these stories has its individuality, these are also laced together.
Jonathan explained that these stories are similar to molecules in a glass of Coca-Cola. Each molecule is a distinct part of the content, but they are also bound together. There is unity, and the content strategy acts like a 'glass' giving form to the entire effort.
It's about striking a balance between control and disarray. It's about your content being 'liquid' meandering around mediums, allowing for it to be shared and even altered along the way – and keeping your content 'linked' by a consistent concept.
The 70/20/10 Content Plan
Jonathan described that 70% of the content was created to be "low risk," which he also termed "bread and butter" content. Comparatively, it takes less time to put such content in place as it is less precarious and less contentious. 20% of the content "innovates off of what works." Compared to the 70% low-risk content, this 20% utilizes more time and energy to be put in place; it's more in-depth and connects more profoundly with a well-identified segment of your audience. That's a segment that purchases your products or services.
Jonathan termed the final 10% as "high-risk" content. These are the brand-new ideas – crazy, berserk stuff that might work or fail. He pointed out that the future 70% and 20% content emerge from this high, risky 10%. Today's daft idea is tomorrow's keystone content.
This 10% high-risk content will keep the creative spark alive in you. It keeps you enthusiastic about what you do and helps you progress in a fast-paced environment.
Content Excellence – A Content Strategy Aligned With Corporate Objectives
Jonathan was well-informed of the overflow of content and mentioned that it would be a target for ruthless editing, so it doesn't simply add to all the noise out there. In other words, Coca-Cola realized that it needed to reimagine, not just replicate, its content continually.
Coca-Cola didn't dip into the waters of content marketing just for the heck of it. It saw potential in this medium as part of the entire Coca-Cola marketing plan and then took it head-on. Firstly, it identified its goal—to double the worldwide consumption of Coca-Cola. It then analyzed its target group, the market, the hottest marketing trends and acknowledged a chance in the blend.
Coca-Cola had observed three changes in the marketplace and marketing:
Consumer behaviors are transforming online.
Technology and social networks are not separate from the messages that the companies want to put across.
Storytelling is a good way for companies to create intense emotional relationships with audiences.
With everything done and dusted, Coca-Cola realized that content marketing could aid the company in pulling up its business by prompting conversations about its brand in this new ecosystem. Coca-Cola understands that consumers create more stories and ideas than they do, so the goal is to provoke discussions and then "Act" and "React" to those conversations year-round.
Distribution technologies from Twitter, Facebook, and YouTube provide connectivity and consumer empowerment like never before. The concept that Coca-Cola put into action was to create convincing stories, which would take on a personality of their own and drive banter and brand engagement.
Outline Content Goals With The Audience In Mind
Earlier, advertising was static and one way. It was done through television and newspapers, without interaction with the consumers. Coca-Cola had deciphered that the concept of storytelling has advanced from one-way communication to dynamic conversations in today's hyper-connected world.
This means that it intended to put forth stories that needed to develop as it networked and communicated with its tribe. These stories were designed to add significance to people's lives and be articulated through every possible link.
To attain this objective, Coca-Cola devised numerous types of content – all interconnected stories – and distributed them across several channels, in various media formats, and social networks. But, rather than creating this content in a void, Coca-Cola proposed to build content tied to the umbrella theme of "Live positively," which is top-of-mind for consumers. Coca-Cola implied these two types of content as tent-pole and tent-peg content. The umbrella theme is the primary aid for the content strategy (tent-pole). The interconnected stories (tent-peg) tie it up to create a cohesive, aligned brand experience.
Develop A Road Map And Plan
Coca-Cola defined how it would create content to help it achieve its goals. Benefitting from the plethora of data it had access to, the company aimed to make a mark as a leader by sharing thought-provoking ideas. These ideas were encapsulated in strategic briefs, which provided a take-off point for the creative briefs that steered content development.
Coca-Cola also grasped that it needs to be innovative and adaptive in its style of creating content – and that various people would need to be involved in the process. Along with working with its agency and internal intimates, it looked at teaming up with "industry collaborators." While different partakers drove different processes to develop content, they were all being guided by the same 5 principles:
Inspire participation among the best
Connect creative minds
Share the results of the efforts
Continue development
Measure success
Though some people regulated the content stream, Coca-Cola wanted to foster creativity and bravery. It was well aware that some ideas would fail, but it would only develop exciting ideas and stories by taking risks. Overall, the mature approach towards Coca-Cola's marketing plan has led it to where it is today. It retains its position as the world's favorite soft drink.
Key Takeaways
Create content that implores to be shared – be it an article, a video, or an image.
Amplify your content strategy based on corporate goals and research. Make sure that the content puts forth your point in line with your objective and principles.
Develop a content strategy based on ideas that concern your audience and interconnect with what you offer – and notify the goals at the highest and lowest levels. Don't just put out the message but interact with your tribe.
Decide on a plan that describes how you would execute your content marketing strategy.
Storytelling has metamorphosed from being one-way, static, and synchronous to being multifaceted, spreadable, and engaging.
It is not just about developing white papers but trying to create more graphic, intrepid, and appealing content in the web world that has welcomed multimedia and interactive content.
There is a need to move towards a legitimate consumer collaboration model that builds buzz and adopts a more reiterative methodology to content creation.
Fuelling conversations, acting, and interacting has become ever so important.
Consumers' ideas, creativity, and conversations have been unleashed with the advancement of social networks – learning to entice and wrangle those conversations to up your brand visibility is now a crucial part of a brand's marketing.
Conclusion
Considering the kind of standards Coca-Cola had set for its marketing strategy, focusing mainly on content-driven communication – it is evident that brands have understood that content marketing is the need of the hour.
It's essential to concoct fantastic content to be "liquid." But you also have to remember to keep your content "linked" to what your brand is and what it offers. What is the purpose of going viral when it doesn't serve your business strategy and goals? The underlying problem with most companies and brands is that they are unaware of what their 70% content is. What subjects and keywords are of interest to your target group? What does your audience yearn for, their troubles, and how you get to connect with them?
The 20% content takes the 70% content deeper. It could be a research report, video, an image, etc. It so happens that occasionally, a content concept takes the shape of a full-fledged product! The 10% content is the one that keeps you grounded – whether it will hit the jackpot or fail, you never know if you don't put it out.
Also, you need to be honest with yourself. You have to create great content, and if you can't do so, you need to pull up your socks and get better, or else partner with those who can create mind-boggling content that would be worth your tribe's attention.
FAQs
1. What are some of Coca-Cola's marketing strategies?
Coca-Cola applies a mix of three important elements to its marketing strategy – great customer connection, worldwide accessibility, and affordable prices. As per a 2020 statistic, Coca-Cola offers more than 500 brands across 200 nations. The brand is sold in packages of various sizes
2. What is Coca-Cola's content strategy?
Coca-Cola's content strategy discusses the 70-20-10 principle utilized to put together "liquid" and "linked" content for its customers. 70% is the low-risk content that is simple to put in place, while 20% is the one that delves deeper into the 70%. 10% includes high-risk ideas that might or might not click with the audience and usually turn out to be 70% or 20% of the future.
3. What could be the reasons behind the shift in Coca-Cola's marketing strategy?
The refurbished marketing strategy sought to push the sales of low-calorie and sugar-free drinks and eradicate the brand confusion within the Coca-Cola portfolio, partially caused by the brand's previous attempts to adjust to healthier lifestyles.

4. What was Coca-Cola originally marketed as?
In the late 19th century, Coca-Cola was invented by John Stith Pemberton and was initially marketed as a temperance drink and intended as a patent medicine. It was bought out by Asa Griggs Candler, whose methods led Coca-Cola to lead the world soft-drink market throughout the 20th century.
5. What is the message behind Coca-Cola advertisements?
Through the decades and multiplicities of marketing campaigns, Coca-Cola has remained constant and has stuck to communicating one powerful and efficient message – pleasure. Being persistent, Coca-Cola's modest slogans such as 'Enjoy' and 'Happiness' never go out of vogue and are interpreted easily globally.
6. What is content-based marketing?
Content marketing is a marketing approach utilized to entice, engage, and retain an audience by preparing and sharing relevant articles, podcasts, images, videos, and other media. This methodology establishes proficiency, promotes brand awareness, and keeps your brand/business/company on top of the mind of the consumers when it's time to buy what you sell.