Content
Challenges of Outsourcing Content and How You Can Overcome Them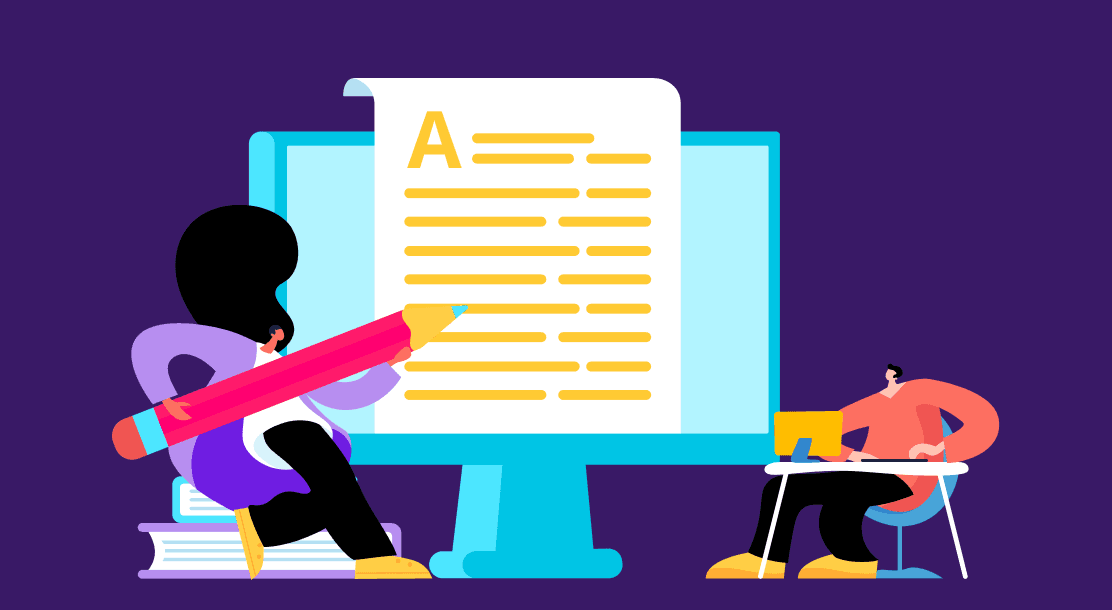 Content marketing is the entire process of strategizing, creating, and sharing content with the target audience. This helps drive organic traffic to the website, keeps readers engaged, and converts lead into customers.
Outsourced content creation is the solution for creating frequent and high-quality content for the website. Outsourcing articles, landing pages, blog posts, case studies, and social media content can take the load off your shoulder while the work gets done by experts.
Outsourcing content is one of the most common trends opted by companies. However, outsourcing content writing services come with a unique set of challenges.
This piece, we help you understand the top 15 challenges of outsourcing content and the solution to help take content outsourcing services to the next level.
15 Top Challenges of Outsourcing Content
There is no doubt that outsourcing content production has many benefits. However, the challenge with most businesses is they jump into outsourcing content creation without understanding the basics. Below are the top 15 issues that can help you get high-quality content from content outsourcing services when addressed.
1. Finding expert writers
When you outsource content creation, especially for technical content, the writers may not possess the industry knowledge or expertise. The biggest challenge is finding writers with industry-specific knowledge or hands-on experience when outsourcing content.
Even though outsourced content marketing teams produce high-quality content, the content they write about can be disconnected as they haven't worked in all of these industries.
2. Low-quality content
Outsourced content writing agencies and freelancers are expected to deliver high-quality and error-free content. However, when outsourcing content writing services to an agency, you might be designated a new writer who is just starting out. This, in turn, can lead to a lot of in-house editing work.
3. Communication
You will not always be in constant contact with outsourced content agencies, as they will be working remotely. With an outsourced content writing team, you have to depend on technology to ensure that everyone has the same understanding.
Additionally, if you have language and cultural differences, this could also lead to a lack of communication between the agency and the organization.
4. Loss of control
One of the most common challenges is a mismatch in expectations and goals. A clear goal setting is critical for content outsourcing services. However, mismanagement at the service provider's end may affect the timelines and the quality of content.
5. Too much time spent on explaining
No one will better understand your product, vision, company history, and goals than an employee. Outsourced content creators need to be briefed on the project on hand and on the company's tone of voice, positioning, values, and brand as a whole.
6. Lack of consistency
While outsourcing content writing, you end up working with different writers. This offers variety and diverse voices but, on the other hand, can lead to a lack of consistency in content.
7. Difficulties scaling up
One of the key reasons for outsourcing content writing services is to produce more, which might be a challenge with in-house teams. However, while scaling up using outsourced content writers, there are chances that you might face logistical challenges.
8. A wish to create in-house content
Even if companies can save money and produce more content by outsourcing writers, they prefer to do the same in-house as they can discuss, analyze, and brainstorm around the subject.
9. Deadlines
Another major challenge with outsourcing content contracts is meeting deadlines. Late submissions and missing deadlines lead to scheduling and publishing problems.
10. Availability of expert writers
When outsourcing content writing services, booking top writers can be a challenge. The top writers or industry experts mostly have their hands full, and agencies delegate work to juniors to meet deadlines.
11. You are not exclusive
Outsourced content writing agencies have many clients. This might sometimes lead to delayed response or difficulty in organizing a group meeting with various involved parties.
12. Determining ROI
Most companies want to achieve organic traffic, generate leads, social media engagement, and conversions when outsourcing blog writing or articles. Many marketers are struggling to show the ROI of their content marketing efforts.
It is impossible to specify or analyze the number of conversions from a specific piece of content. Measuring and evaluating the impact or ROI of outsourced blog writing is subjective and can never be measured accurately.
13. Approval processes
The clunky approval process is one of the biggest challenges outsourced content creators face. Inputs at every step not only create bottlenecks but also delay the timeline. Most agencies state that the client approval process takes too long.
14. Strategic business alignment
With different platforms and different outsourced content agencies, alignment at a strategic level goes missing. With individuals and teams in outsourced content creators working in silos, cross-team coordination is always a challenge. In most organizations, content is created in a dispersed manner, in multiple pieces, and by multiple people.
15. Developing a customer-centric mindset
Content marketing is all about proving value and being helpful to customers throughout the customer journey. More often than not, outsourced content is more about the company and product and less about the customer's requirement. Outsourced content marketing creates content at the level of their audience, not the industry experts.
Overcoming Content Outsourcing Challenges
It is good to be aware of the challenges while outsourcing content writing services. However, it is also equally important to understand the solutions to overcoming these challenges while hiring content outsourcing services. Most of the challenges can be addressed by following the simple guidelines mentioned below.
1. Content selection
There will always be some content that can be written better by in-house teams than by outsourcing writers. Accordingly, divide and define the content to be written between an outsourced content writer and in-house subject experts.
Outsourcing writers for SEO web pages, blogs, social media content, and articles might be advisable. Technical product descriptions and similar content can be written internally. The subject matter experts are bound to be technically sound, but they might not be good story writers.
Web content needs to be engaging, relevant, and in the language the reader understands. It is critical for content marketing success to select and allocate topics to outsourced content writers accordingly.
2. Clear content goals
Setting clear goals of what you want to achieve is key to outsourced content creation. This also helps assess the quality of the final content developed by the outsourced content team.
Some metrics to follow are social media shares, tracking visitors, search engine ranking, and bounce rates. Good content is bound to be shared on platforms like Facebook, Instagram, etc.
You can also track how many new visitors have visited your website after publishing content. Engaging content will have more visitors. High-quality content produced by an outsourced content marketing team will improve your ranking.
A high bounce rate indicates that the content might be irrelevant. All these together can help you measure the quality of the content written by outsourced content agencies.
3. Clear briefs
Clear, detailed instructions for each project make it easier for freelancers and outsourced content agencies to deliver up to your expectations. Providing a detailed style guide that explains how a piece of content should be written and formatted ensures consistency.
Creative briefs, like minimum/maximum word count, paragraph length, formatting (bold, italics, bullets, etc.), keyword inclusion, the purpose of the content, number of internal and external links, call to actions, when put together can make content successful.
This will also avoid content going back and forth for approval, leading to delays in meeting deadlines.
4. Project Workflow
Before you start content outsourcing services, set clear workflow expectations. If you have outsourced multiple works, then clearly mention whether you want the delivery of one piece as and when it is complete or delivery to be made weekly or monthly.
If the content has to pass through several rounds of editing and QA checks, ensure to allocate time for the reviews and rework.
5. Content Samples
It is recommended to provide the outsourced content creation team with a few samples. This will help them better understand the voice, tone, and language the organization follows.
This also gives outsourced writers an understanding of the brand's story. However, it is critical to mention what to incorporate from the sample and what to avoid with the sample.
Key Takeaways
● Grammar, tone of voice, and relevant content for readers are some of the most common challenges in getting quality content.
● One of the key issues with content outsourcing services is finding good writers with hands-on experience and subject knowledge.
● Direct communication channels with outsourced content writers will avoid the content going back and forth for re-writing and also save time.
● Conduct thorough research before finalizing an outsourced content creation team or agency.
● Clearly defining the requirements, timeline, and costs of the project can help meet expectations while working with the outsourced content creators.
Conclusion
Content can be a powerful lead generator for sales, but it requires the right people with the right expertise to produce high-quality content consistently. One way to do so is by outsourcing content marketing to experienced agencies.
While outsourcing content writing services, you should keep in mind a few factors like the outsourced content writers will take some time to understand the ins and outs of your company, product, and customer base. It is good to have a thorough onboarding process for an outsourced content creation team to cover these bases.
Even though outsourcing content writing comes with a unique set of challenges, it is still a popular way of producing content.
As per a 2021 survey, almost half of the businesses outsource content creation, either completely or on a hybrid model. If you are new to outsourcing, we hope this article will guide you through the dos and don'ts while outsourcing writers and help address the tough outsourcing challenges.
FAQs
1. How do you define outsourced content?
Working with a freelancer content creator or a content agency to get content for your website is outsourcing content. Outsourcing content to professionals ensures that you get high-quality, relevant content for your brand.
2. Where can I find the best service to outsource content?
Pepper Content is one of the best content writing services if you're looking to outsource your content. Pepper consists of highly talented and experienced content writers who ensure error-free, clear, and engaging content.
3. What are the challenges of outsourcing content?
Outsourcing has a lot of benefits. However, it does come with its own set of challenges, like the inconsistent end product, can affect the domestic workforce, and can be difficult to measure the ROI of outsourced content writing.
4. Why should you outsource content?
Outsourcing content creation is always cheaper than hiring in-house writers. You can also get experts in every domain and format, which, if done in-house, will require a larger team setup. With outsourced content creation, you have more time to focus on the core business module.
5. Why is outsourcing often used?
Most companies outsource content so that they can focus on core operations. It reduces labor and overhead costs while bringing in professional expertise.
6. What are the five divisions of outsourcing?
Organizations can consider outsourcing in the following sections:
● Customer service
● Finance & accounting
● Content management
● Outbound sales
● Back office
7. What are the challenges of outsourcing?
Outsourcing can include some risks like:
● Slower turnaround time
● Lack of domain knowledge
● Cultural barriers
● Lack of control