Marketing
10 Reasons Why Canva's Content Marketing Has Seen Success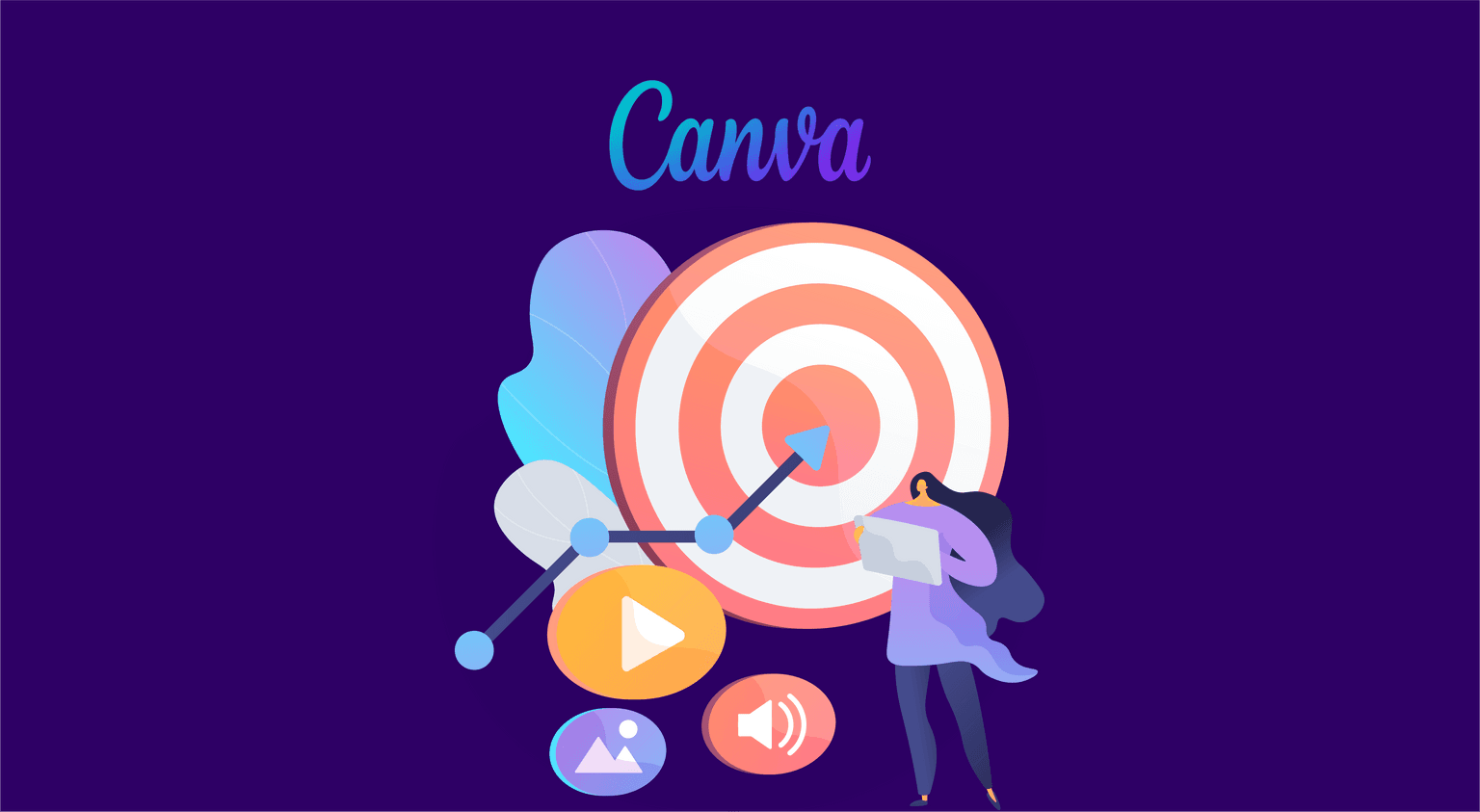 Table of Contents
What is Content Marketing?
How Canva Managed to Become One of the Best Content Marketing Examples
Key Takeaways
Conclusion
FAQs
The entire world has attained a digital face today. Technology has revolutionized almost every sector and added new dimensions to the way work is done. Businesses are no longer restricted in spatial or geographical terms. The internet has expanded the scope and operations of businesses across the board. It has become imperative for all organizations to ensure their content, products, and services reach everyone online.
In order to achieve this, a number of strategies are applied, one of which is content marketing. Canva is one of the best content marketing examples out there currently. This blog will provide a detailed insight into Canva's content marketing strategy.
What Is Content Marketing?
Content marketing is using content that is tailor-made to attract and retain a particular set of audience, popularly known as target audience. You might argue that content has always been used by businesses and organizations. However, content marketing aims at providing content that is meaningful and relevant, and is provided on a consistent basis.
Content marketing is different from traditional marketing or sales techniques, as it offers information to the audience with the purpose of helping them resolve their issues or fulfill their wants. Today, there are several great content marketing examples that can be looked up to for framing your own content marketing strategy that is effective.
Content marketing comes with several benefits, as can be inferred from some of the best content marketing campaigns. Firstly, it helps you in creating long-term value for your organization. It also helps in cost reduction, as it is an economical mode of marketing. Secondly, rather than using your products and services, you use content to attract customers, which then increases your sales and profits. The article is going to comprehensively take you through one of the most successful content marketing campaigns in today's day and age: Canva.
How Canva Managed to Become One of the Best Content Marketing Examples
In this digital world, there are millions of online businesses. To stand out in this space, everybody tries to use a variety of strategies. Businesses constantly make use of graphics and images in their strategies. Designing is, hence, an important part of any business. Canva's content marketing strategy was based on the vision that everybody must get help in creating impeccable designs. Here are a few reasons why Canva is considered a great content marketing example.
1. Complete focus on the buyer
Canva caters to two types of customers. The first one includes people who need design in their day-to-day jobs or responsibilities, and yet aren't very good at it. Marketers, bloggers, and inexperienced graphic designers are at the top of the list.
Next, they cater to regular users who, for instance, may want to make a gorgeous birthday invitation card or a social media post that goes viral. The graphic design software market is dominated by Canva. Therefore, Canva tries to tailor the content as per its buyer persona.
2. Excellent landing pages
For the majority of their use cases, Canva has two main landing pages: a page for exploration and another for creativity. Both types of searchers are looking for a solution like Canva, but their approaches are different. This is one of the most crucial strategies that Canva has used, as it drives a lot of traffic.
Canva's landing pages are not just wonderful for interlinking, but they're also built to grow. The pages use a basic format a content provider can easily duplicate for several child pages. Each section of the landing page has a certain purpose. The text is built for both SEO and conversion. The titles effectively convey the value of the page, while employing keywords that further educate the users and deliver value.
3. Clear value proposition
A value proposition is a pledge to deliver, convey, and acknowledge value. It's also the customer's expectation of how value will be supplied, experienced, and gained. A compelling value proposition explains why your ideal consumer should buy from you rather than the competitors. In other words, it distinguishes your organization from the competition. Canva knows this all too well. When you visit its website, the landing page features a basic statement with its product as the focus.
4. Prioritizing customer experience
A customer experience is the full interaction that a customer has with a brand. It considers the entire customer journey, from brand discovery to purchase and beyond. Canva is aware of the importance of recommendations and hacks as a content marketing strategy.
In fact, this is where it gets the majority of its customers from. Its content is one-of-a-kind. Instead of publishing design-related thought leadership pieces, Canva communicates with clients about the issue at hand. These include discussions on the design problems that customers are facing. This technique is particularly targeted with the goal of making the product the star.
5. Blog as an informative tool
Canva has a comprehensive blog that has three broad categories of content. Its learning-related content attracts aspiring designers who wish to improve their skills.
The design-related content caters to established designers and marketers seeking fresh ideas. The marketing- and branding-related resources resolve day-to-day marketing issues and help readers learn about marketing best practices.
The huge amount of traffic that Canva enjoys is because of its blog. It realizes the importance of blogs and puts a lot of work into them. These blogs usually comprise long posts on relevant and inspirational themes. Along with this, blogs are an amazing source for lead generation. Canva writers write their blog posts strategically, by including frequently searched keywords.
6. Insights about competitors
Canva has many competitors like Visme, Adobe Creative Cloud Express, DesignWizard etc. It has some direct and indirect competitors, but when looked at closely, it appears to be the market leader in online, free, easy-to-use, and versatile graphics solutions for everything: from corporate demonstrations to leisure blog posts. It tries to keep a better standing than its competitors as part of its content marketing strategy.
7. Outreach for backlinks
Outreach for backlinks is important for efficient content marketing. Canva has put together a team of outreach professionals who look for content that includes design-related terms. The content creators are contacted after that.
8. Strong focus on SEO
Investing in a strong content culture is the most crucial component in any content marketing strategy. A powerful content culture necessitates a powerful team. Great leaders/managers, developers, specialists for outreach, and producers are all needed on the content marketing team. Canva has put a lot of money into hiring the right people and developing a marketing engine that focuses on SEO. The professionals driving the brand's massive SEO efforts are based all over the world.
9. Ace content creation
Content marketing can't happen without amazing copy. The majority of Canva's content pieces include relevant keywords that are placed intelligently. Its copy always calls for some action to be made on the user's end, giving them relevant information in the best possible way. This is how leads convert into buyers.
Every article written by Canva has a single purpose, and that is to increase signups. For signing up a new customer, there is always a call-to-action (CTA) button. This is a frequent technique for conversion-focused blogs/articles. Many of its articles are advertorials, which are informational pieces. These articles on Canva are prepared with a specific format in mind. They help sell a product by converting readers into buyers.
Along with engaging text, the content must also include attractive and relevant images. A combination of text and images can convey the message effectively. In every copy, Canva includes bright, colorful, and relevant images that reflect the value proposition of the brand clearly.
10. Offering relevant and in-demand products
For any marketing strategy to be successful, it is important that new demands are taken into consideration as quickly as possible. This will give a tone of relatability to the content, because people will get what they want, when they want it. Canva also seized the opportunity for new traffic by creating content in accordance with the new scenario of work-from-home.
Key Takeaways
One of the biggest takeaways from Canva's content marketing strategy is to tailor content as per your buyer base.
Canva has been extra careful and swift when it comes to its site's architecture. It keeps on creating exceptional landing pages to bring in huge amounts of traffic.
One of the most significant features about the best content marketing campaigns is content that is in accordance with SEO guidelines. Canva has built an amazing team that follows SEO guidelines impeccably.
Creating content with a certain structure is incredibly crucial from a lead-generation point of view.
For every content marketing strategy to be successful, copy must be written carefully. The text and the images both should be in synergy, and should convey the message in the best possible way.
Conclusion
It is certainly clear that content marketing is here to stay. It is both the present and the future. What distinguishes content marketing from any other form of information dispersion is the fact that the former only aims to share content that is relevant and valuable. It is essential for brand awareness and promotion.
Canva has been able to successfully execute an effective content marketing strategy by using a combination of tools and strategies. It becomes amply evident from Canva's strategy that it is essential to focus on value proposition, buyer persona, structure of the content, SEO requirements, and site architecture to execute an impeccable content marketing campaign. All these factors make Canva's content marketing efforts something to gain inspiration from.
FAQs
1. What is the marketing strategy for Canva?
Canva's marketing strategy focuses on SEO (through its website and keywords), social media marketing, and content marketing, among other things. Canva is growing quickly, but it hasn't lost its stride, which is crucial for any startup's long-term success.

2. Is Canva a decent marketing tool?
Canva is a simple design platform that lets you generate a wide range of visuals for your company. Canva includes templates for anything: from social media photos and web banners to marketing brochures, flyers, business cards, and presentations. 

3. How quickly is Canva expanding?
The online design platform announced that its annualized revenue reached $500 million in 2021, up 130 percent year on year, while remaining profitable. It now has over 55 million active monthly users. The brand has been able to do this because of its effective content marketing strategy.

4. How is Canva converting readers into buyers?
Canva uses an impeccable content marketing strategy: it creates stunning and effective copy with relevant and tempting content that is in accordance with SEO requirements.