Suchita Salwan
Building a Brand Marketplace With Content Ft. Suchita Salwan – Pepper Spotlight: Episode 26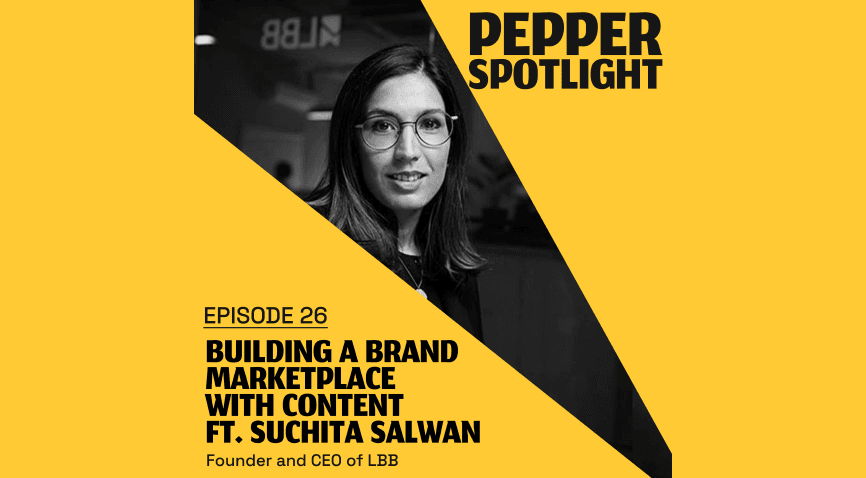 In this episode, we talk to Suchita Salwan, CEO & Co-founder – LBB, about how LBB looks at content and the impact it drives as a marketing strategy.
When you think of an E-com platform like Amazon or Flipkart, they each look like a replica of one another. All have the same presentation and use the content alike. But there is one brand in India that created a stand-out e-com platform.
We are, of course, talking about LBB or LittleBlackBook. Their unique amalgamation of content and design aesthetics makes them one of the coolest brands. We had the fortune of chatting with Suchita Salwan on the Pepper Spotlight Podcast.
The approach LBB takes with content is unlike anyone else. Insights from Suchita about the market are sure to spark inspiration for creators and brand-builders.
Here are some of the primary takeaways from this episode:
From Blog To E-Com
LBB is one such brand known for the fantastic blogs and informative content they brought to the internet. Today they are a robust e-com destination that sells highly unique articles. They also look at e-com from a very fresh lens.
"The avatar has changed, but the mission remains the same," said Suchita. Being born and raised in Delhi, she often felt an endless list of places to explore and discover. She visited local markets each weekend and noticed more interesting items when compared to a large franchise.
LBB believes that there are unique brands in the country, and very few people know about them. Today these vivid brands find a home on the e-com front of LBB.
While operating as a marketplace, content has been the best way to build trust with users and merchants. LBB is enabling an ecosystem for new and emerging brands to grow. A few merchants can create their content, but there is an opportunity to problem-solve in unique ways for others; this is where LBB shines.
Side-Hustle to Funded Business
Suchita believes that building a side-hustle is for everyone. The objective is to start with a goal in mind. "Be clear about this project going somewhere, or [let it] just stay a side-hustle," she added.
Her time spent working at BBC provided an incredible work ethic. The company promoted no-work weekends; this luxury allowed Suchita to build on her pet project that later became LBB.
Suchita's philosophy is: "Everyone should have a side-hustle." It's easy to remain constantly distracted in a world dominated by Youtube and Instagram. Having a dedicated side-hustle helps you develop your retention skills." Monetization need not be the only goal; this process is about creating a focus on one thing at a time.
A Hidden Gem About Long-Form Content
Suchit's latest binge is consuming books, as many as she can. She and her friends created a book club that dissects a different book each month. This collaboration pushes her to read more.
Reading helps her train the mind with long-form content. "It's important to own your attention," she said. We are often distracted by short-term goals. And consuming long-form content helps tune your mind for more extended plans and processes.
Following her on social media is a treat for creators. Suchita is an avid consumer of quality content. She shares a list of podcasts and newsletters that add value to creators, business owners, brand builders, or anyone else.
Content is Everything; Content Is Everywhere
Suchita is a firm believer that content is everything, and there is no segregation of its kinds.
The consumer is constantly growing with changing trends and the consumption patterns of social media platforms. Good content should cater to a vast pool of consumers; while continually adding value to their time.
With LBB, the content falls into three buckets. The customer, the merchant, and the confluence of them both. They create all published work keeping these three primary groups in mind. And adapting to changing trends helps them generate an ecosystem for everyone.
For example, LBB manages a clubhouse room that focuses on merchants and another that discusses "cool brands." They are both on the same platform but cater to distinct content buckets.
Their podcast, 'LBB Openhouse,' attempted to share business lessons with anyone on the web. It was also an incredible opportunity to engage with the merchants' community.
"Something even as boring as your website or banner ad becomes a way to build allegiances with your brands," explains Suchita. All content is essential, and they all deserve the same attention to detail and quality.
If we must highlighting the learnings from LBB's content strategy, we can place them into the following points:
Have a clear objective.
Define ROI as a way to create an ecosystem. Do not use trivial numbers or merely based them on CPR or sales.
Train the customer to see something new. The uncommon work they follow, the more they come back to your brand. Make content memorable.
Stop putting content through myopic lenses. A podcast, a clubhouse room, a blog, a video — they are all just as important as a caption, a tagline, or a product description.
To discover more insights on the proper use of the content, you must check out the whole episode of the Peppr Spotlight Podcast.
Partnerships With Content
"Gone are the days when you could just be an e-com platform. [And] the best way to keep a consumer engagement is to problem-solve for them," said Suchita
In this endeavor of resolving the consumers' pain points, LBB has successfully established many partnerships. For example, their recent collaboration with The Economics Times.
LBB discovered and appointed Indian's top 30 destructive brands. This collaboration becomes both a brand and content partnership. The aim was to create awareness, recognize brands, and cater to the merchant-bucket of content creation.
According to Suchita, LBB is not a "High-frequency e-com platform"; it's a "low-frequency content platform." This approach ensures that people do not fall off the retention funnel.
Final Thoughts,
The role of content for any company, small or large, is humongous in today's world. To find out more about how LBB plans partnerships and tips on time management, check out the whole episode of Pepper Spotlight.
We urge you to watch the last segment of this episode, where Suchita shares insights on some online brands with excellent work; and why their strategies work.
Every week we bring you a new guest and break down the role of content. Stay tuned and subscribe today.