Branding
How To Create Personal Branding on Twitter: Key Steps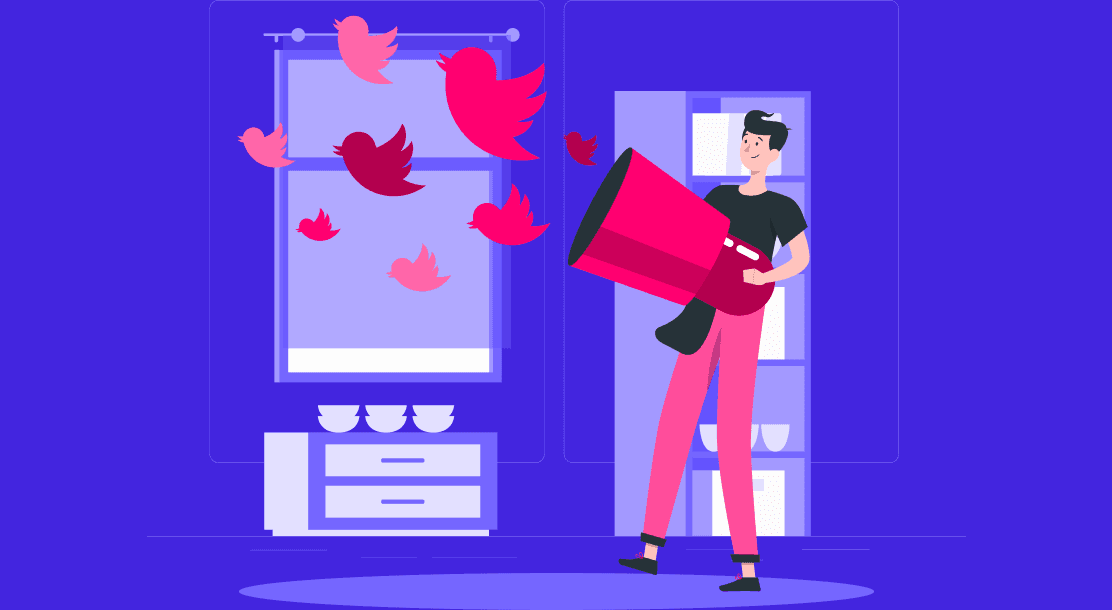 Table of Contents
Key Steps to Building Personal Branding on Twitter
Key Takeaways 
Conclusion 
FAQs
What is that you can do with just 280 characters? How much personal brand can one build with just 280 characters? The answer is simple: "Keep it simple." Twitter is a brand-building machine if used correctly and has the potential to reach the feed of your target audience directly, be it celebrities, politicians, students, or ordinary people. From being a follower to being a voice of your followers, there is a lot you can do to create personal branding on Twitter.
Twitter is a tool that differentiates you from others. Every time you do something, achieve something, tweet something, people decide if they should trust you and follow you for their personal growth. However, it all depends on how you use Twitter for your personal branding. Is it really possible to build strong personal branding on Twitter? The answer is Yes. Here are some tips. 
Key Steps to Building Personal Branding on Twitter
Building personal branding on Twitter is not challenging if you follow some key steps listed below.
1. Choose your Twitter handle carefully
Your Twitter handle is your identity; after a while, people will most likely start referring to you by your handle and not by your real name. This is because your handle appears every time you tweet something, which registers in your followers' minds. A perfect example is that of YouTuber Prajakta Koli, popularly known as MostlySane, her Twitter handle.
Twitter advises you to use your real name, but it may not be available at times due to the vast population using Twitter, who may have the same name as you do. What do you do then? Well, choose variables that define you the best, and most importantly, adhere to them. Changing handles frequently will only confuse your followers and cause you to lose backlinks. Hence, it is essential to pick the perfect handle for your account because it is the key that helps you build a personal brand on Twitter.
Here are some recommended ways to find the best handle for you.
Retain your identity across all your social media platforms. Your name or business name is recommended.
Keep it simple and easy to remember.
If your name is long, try and shorten it; try using your initials
Incorporate keywords if you can to come up faster in searches.
Use an underscore symbol to club two or more elements and design your unique name.
2. Design and pick your brand image
Once you find a perfect handle, you need to showcase who you really are to the world. They need to relate with you, understand your style, and register your image in your minds. Like your Twitter handle, your Twitter profile picture also appears on all your Tweets.
The other important factor is the cover photo of your Twitter account. It holds a prominent position and WILL grab the attention of everyone who comes to your profile. Add a quote, your business logo, your USPs, or just a picture of you in a natural setting that reflects your personality. If you are a model, you can pick an image from a recent shoot; if you are a chef, upload pictures of your best dishes; if you are a motivational speaker, put up a picture of you speaking to a crowd. A picture does speak 1000 words when it comes to your personal branding on Twitter.
3. Build a perfect bio
You have 160 characters to tell people who you are; make the most of it. Your bio should describe what you do, your title, the companies you work with, and where you operate. When people come to your profile, they first see your handle, then your profile pictures, and next, they read your bio. People are reading your bio because they are already invested in your Twitter profile. So make sure these 160 words are the strongest weapons in your artillery to use Twitter for your personal branding effectively.
4. Tweet with a picture
Have you ever imagined why image-based posts work on all social media platforms? Apart from the algorithm that gives more push to images, people like seeing what they are reading. Because of this, AI found that people love seeing pictures, and hence it pushes posts/tweets with photos. Not all your tweets can be picture-based, but #goodmorning can offer a picture of what your morning looks like, with a glass of milk and cookies or simply the image of the sky. This will also influence your followers to follow your lifestyle and make you a thought leader.
5. Avoid spamming and using black hat tools
Success on social media comes a little late; it takes a lot of time and effort to get there. While you are on that journey of building your personal brand on Twitter, you will be tempted to use black hat tools, like increasing your followers with bots adding more retweets or likes. It might be tempting at the onset of your journey of using Twitter for your personal branding, but you know it's not real.
This brings us to our next point – you cannot keep managing the same fake ratio all the time. Also, a person with 1000-2000 retweets is definitely an influential person. Your followers are smart; they know the difference between fake and real followers. So, it is in your best interest to stay real on Twitter. Pretending to be someone you are not will only hamper your journey of building a personal brand on Twitter.
Most importantly, don't spam your followers. Imagine someone coming to your face and telling you something every single day. That's exactly how it feels like. Tweet them once in a while but don't spam; you might lose a follower or two. If you intend to post frequently, make sure your content is engaging, and your followers will enjoy it.
Twitter is an ocean; millions are tweeting right now as you read this. Your key to a good tweet is to think before you tweet. What you tweet plays a big role in your personal branding on Twitter.
Ask yourself these questions:
Does this go with my brand image?
Am I adding any value to the life of my followers with this tweet? Is it relevant to my audience?
Does this tweet help my followers and potential followers to know me better?
Once you have the answers, you can start using Twitter for your personal branding. It is better to avoid posting controversial comments and opinions unless you believe negative publicity is also publicity. There have been instances when 10-year-old tweets have come to light and hampered the careers of influential people. A recent example is James Gunn, whose tweets suddenly surfaced on the internet when he took over a movie.
You don't want that to happen. Make sure you think twice before tweeting anything that might damage your image, today or tomorrow.
Twitter is a great place to start a conversation with your peers. Everyone on Twitter is sharing their opinions and thoughts. So it is easy for you to build your personal brand by sharing your own thoughts and opinions on relevant topics of your interest. If people relate to your ideas, they will retweet them.
Apart from getting more followers, you can reach out to people organically. Your followers are your brand ambassadors; they will cover half of your marketing efforts. Make sure you strike a conversation with them by retweeting, commenting, or at least liking their quotes.
Twitter is also the easiest way to connect with your potential clients or investors. Make optimum use of hashtags, Tweet on current topics, and strike a conversation with people.
8. Follow the leaders
It matters who you follow; every time you like someone's tweet, it appears on your follower's feed. Make sure it is something that doesn't make them frown. Apart from that, following the industry leader keeps you updated about your industry and ongoings. Over time, from just observing them, progress to engaging them. They might not reply initially, but eventually, they might follow you or, even better, mention you in their tweets. This will help you reach out to their audience, who also make your target audience.
9. Promotion to personality ratio
Make sure you don't go all out to promote yourself; an overdose of promotion is a little off-putting. Your tweets should be just more than a straight promotion about your skills or art. Make your content a combination of personality and promotion, and it needs to be fresh if you are to make effective use of Twitter for your personal branding.
People who follow you on Twitter get to know about you as a person. Make sure they like the person. You are building yourself as a brand on Twitter; you should promote yourself, but let there be a balance.
10. Following to follower ratio
Unfortunately, many people on social media are judged by the following-to-follower ratio. If you follow more people than your following number, it might seem like you are someone who's just not that influential. Again, this can be solved by uploading good content via tweets and drawing more attention.
Key Takeaways
Choose your Twitter handle with care; remember to include your name or a keyword for your identity, and stick to it.
Make sure your bio is an introduction to your personality and work
Visuals create impact, tweet with a picture.
Frequency is important, but be careful not to spam and remember to strike a conversation.
Keep your promotion to personality ratio in check; people connect with your personality and get put off with over-promotion.
Make sure your number of followers is higher than the people you follow.
Getting verified is possible and straightforward if you go through Twitter's criteria.
Your personal brand can help you make money with sponsored tweets, so build it with care.
Conclusion
To conclude, whether you intend to build your personal brand to help drive sales or boost your career, the primary rule is to be clear about brand personality and stay true to it. When employing Twitter for personal branding, the key is to remain relatable; be who you are and not the brand you think other people should see. 
Irrespective of whether you are an individual or a company seeking to use the power of social media to amplify your reputation, remember to follow the primary tenet of social media communication – engagement. Building a personal brand on Twitter is about having conversations. Use the platform to engage your audience, connect with your audience, and most importantly, not as a medium to merely gather connections or for one-way broadcasts.
FAQs
1. Is Twitter good for small businesses?
Twitter is a place where users converse with brands; this is your space to capture the right audience. Twitter is considered official, and your tweets will hold weightage; treat it with the appropriate etiquette. 

2. Is Twitter more complex than other social media apps?
Yes, that may be the case in some scenarios, but it is not 100% true. It might feel so because Facebook is flooded with people, mainly because it is a light-lifestyle sharing platform. Facebook has considerably more users, boasting an audience of more than one billion vs. Twitter's 500 million. So it might take a little while for you to find your audience, but once you do that, there is no stopping.

3. Can I earn money from Twitter?
Twitter can be a very serious tool for making money if you use it smartly. There are multiple ways to earn money on Twitter, not just one way. These include,
Sponsored tweets
Affiliate product promotion
Divert users to business website
Offer a tip jar
Create paid subscription plans through Super Follows
4. How to get verified on Twitter?
Having a blue tick on Twitter is very prestigious; all celebrities have it. There is a huge list of criteria one must follow before applying for the verification. Daily, Twitter gets lakhs of verification requests, and they filter them through the machine that is best known to them. To get a blue tick, make sure you give your best, become a public figure or a renowned brand, and then apply for it.