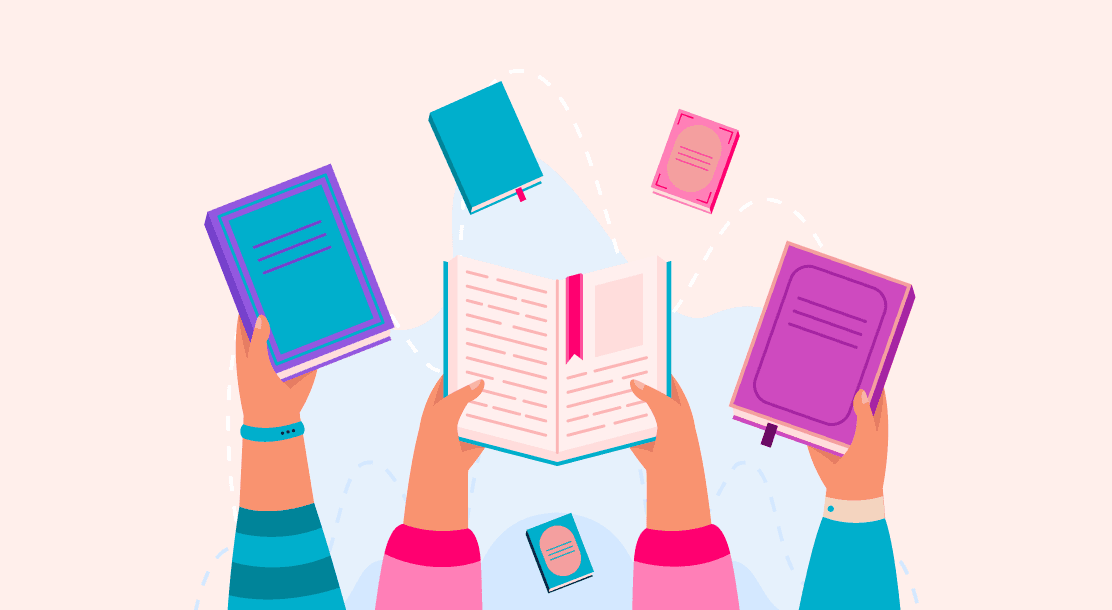 Do you want to improve your content strategy skills? Check out the best books on content marketing that you should read in 2022.
Content has always been the most viable resource to enhance your digital marketing effectively. Content strategy books can help you upskill and stay abreast of the latest technology and trends ruling the market these days. Which are the best books on content marketing? Are they beneficial? All your queries are resolved below to help in availing better outcomes.
With a thorough reading of books about content marketing, it is practically possible to outline and curate an exemplary content framework that attracts more and more customers from all different walks of life. An impactful and effective content marketing strategy can enable you to connect with several users. In this blog, we take a look at some of the best books about content marketing that can take you to new heights of success and glory.
10 Best Content Marketing Books to Read in 2022
Before we start with our list of marketing books, it's crucial to understand the real essence of content marketing. It mainly features the different types of digital content, including whitepapers, ebooks, blogs, podcasts, videos, magazines, and websites. These mediums help in brand promotion and spread digital awareness related to specific products or services.
Books on content marketing help enrich your mind with long-term strategies and tactics. They aim to help you develop stronger bonds with the targeted customer base through helpful and high-quality, relevant content. Investing your time in reading these books could help with lead generation, create customer loyalty, and build trust among the users. Below are the 10 top books that can unlock the doors to successful content marketing in 2022.
1. Epic Content Marketing by Joe Pulizzi
The author has penned down fantastic facts and inspiring theories to achieve expertise in content marketing. As you turn the pages, it would make you familiar with the step-by-step content development process and its proper implementation on various digital platforms. Emerging digital entrepreneurs can also achieve a lot of learning about content development and its effective marketing. Joe Pulizzi has undoubtedly done good work on crafting engaging content that efficiently propels your brand efficacy and helps in bolstering overall sales.
Further, this content strategy book enables you to pick a specific content niche that can prove helpful in attracting new customers for content development. It aids you in developing a vision of growing your audiences on your chosen platform by augmenting content quality. You can also find tips on how to tactfully increase your content marketing budget and its impact on the overall profit. You can also refer to detailed case studies of LEGO, John Deere, and Coca-Cola.
2. Conversation Marketing by Kevin Lund
Next in the league of the top books on content marketing is this fabulous creation by Kevin Lund. Are you aware that we come across an average of 5,000 marketing snippets every day? This fact emphasizes the impact of marketing on human lives, and how it can be a game-changer for businesses.
Companies that want to influence the minds of their targeted audiences usually consider content marketing as a primary tool. In Conversation Marketing, the author informs you about the importance of brand development and why it is necessary to connect with your audiences for better business sustainability.
He also explains the significance of ongoing communication with customers and keeping it in sync with your brand. It focuses on the upsides of humane communication and how it helps derive better outcomes.
The author also outlines tips on how companies can increase their sales and retain customer loyalty for long-term success. In modern times, a real storyteller is someone who can find solutions to customer queries and get the best outcomes.
3. Everybody Writes by Ann Handley
Everybody Writes is the perfect book to inspire young writers and content creators to put in their best efforts relevant to brand promotion. It helps readers get familiar with the kind of content that allows businesses to thrive in today's over-saturated environment. In addition, the author provides guidance on tips and tricks for attracting new customers through a digital medium.
What's the recipe for brand promotion in a modern age? It has always been good writing. This book gives a breakthrough in customer retention by creating engaging social media content. Plunging into the social media race is imperative if you are willing to take flight in your digital career.
We recommend this book to all the writers and publishers who are willing to make it big with content marketing. But is writing the only way out? It's a fast-paced world, and many readers are transitioning towards GIFs, videos, Instagram, and other forms of communication. It is up to the content creator to tweak their writing talent to make it appear competent, fun, and catchy. The art is subjective, and it might look boring when not crafted appropriately.
Ann Handley also gives you tricks on developing engaging content that your mind actually registers. Adhering to the needs of digital media and the basic rules of writing could surely help you ace the race in the long run.
4. They Ask You Answer by Marcus Sheridan
It is amongst the best content marketing books that focus on the objective of answering customer queries to achieve outcomes. Marcus Sheridan provides an insight into the revolutionary approach of connecting and establishing a relationship with digital customers through inbound sales.
Readers receive a descriptive study on why the conventional sales communication funnel is no longer trending in today's era. It prompts brands to figure out survival content development methodologies that give a simple answer to customer questions in the most honest ways.
Frankly, customers are getting smarter, and sales gimmicks of creating a brand hype will no longer work. So, what's the catch? The author suggests that a perfect content strategy is one where you lay down solutions to the problems and concerns of thousands of potential buyers eyeing your brand.
Pooling the resources for a perfect digital marketing campaign is what an intelligent marketer does. The book serves as a must-have for evolving brands and marketers who aim for higher lead and sales generation.
5. Marketing Rebellion by Mark Schaefer
This book has been written by keynote speaker and business consultant Mark Schaefer, who sheds light on the efficacy of human interaction and the need to develop genuine connections. He is undoubtedly an intelligent interpreter, helping new-age marketers achieve success. In addition, he urges organizations to develop out-of-the-box ideas that accelerate the strategies related to changing consumer trends and technologies.
It is amongst the best content strategy books that help build a realistic framework to empower marketers with strategic implementation. You will further learn about the benefits of creating personalized ad copy that leads to genuine and long-lasting human connections.
Chapter by chapter, you will get a chock-full of applicable and fruitful ideas that actually work. The focus is on the understanding that customers of today want more moments and experiences than some cheap marketing ultimatums.
Schaefer proposes the idea of convincing customers with real stories rather than forcing them to become customers. The best content marketers are the ones who can relate to customer glitches and provide essential guidance to help them in making the right decisions.
6. F#ck Content Marketing by Randy Frisch
F#ck Content Marketing hooks its readers with incredible insights on content marketing that actually drives profit. Randy Frisch is a B2B content marketer and an aspiring business leader who imparts complete information and reality checks about content marketing. Sustaining your digital business in this ultra-competitive scenario is undoubtedly posing a big challenge, and the fight for quality over quantity often wins the race.
A surprising extract from the book states that almost 70% of the written or visual content always fails to reach the right audiences. This notion shifts your focus from the volume of content to the other things that customers often care about.
Generating and developing organic, readable, and genuine content is the need of the hour. After all, that is what customers are willing to consume. Immersive and engaging content will enhance customer experiences and make them come back for more. The author backs his claims through a few case studies of top brands, including Spotify, Netflix, and YouTube.
7. Practical Content Strategy & Marketing by Julia McCoy
The author is a successful content strategist, and her book gives a glimpse of her success. She came up with this exciting content strategy book that explains many fundamentals of success applicable to daily businesses. You can also learn about the importance of developing valuable content and why you must write things that customers are genuinely interested in.
Many content marketers and writers fail to understand that the core of digital marketing is sticking to the main subject and interests of the potential customers. As you proceed, the book gives a stepwise breakdown of framing robust content strategies and trends that help achieve the best results. Finally, it is worth looking at the content types, formats, and strategies that capture the audience's attention.
8. The Context Marketing Revolution by Mathew Sweezey
Next in the queue of the best books about content marketing is this masterpiece crafted by author Mathew Sweezey. His work explains the revolutionary content marketing approach that inspires marketers to explore endless possibilities via the digital medium to sustain fierce market competition. The author also describes his personal experiences relevant to change acceptance and encourages businesses to shift from conventional to modern marketing models.
This is a must-read book if you want to know the gist of content marketing. It helps realize the importance of brand promotion and how businesses can accomplish their goals with effective social media campaigns on different platforms.
A precise understanding of your content goals will help you achieve your ultimate objective quickly. So grab your copy to learn all about marketing automation, inbound leads, and digital and content marketing.
9. Superfans by Pat Flynn
This book is an excellent effort by the author, who firmly believes in the idea of passive income. He reciprocates his vision of converting subscribers, followers, and customers into members of the Superfan Club. With this book, you will learn about brand building that helps you create a loyal customer base.
He jots down his real-life experience about the power of shares, likes, followers, and comments that fetch digital success beyond your imagination. Creating brand engagement and looking for individuals who can become brand advocates is a milestone few people manage to achieve. The author stresses the impact of positive interaction with customers and how it can bring about a massive change in the overall growth of your business.
10. Master Content Strategy by Pamela Wilson
This is among the best books on content marketing created by a renowned marketing consultant and business owner. Through Master Content Strategy, you can learn how organizations get into the trap of random content pieces that do not align with the needs of their customers. Crafting a feasible and result-yielding content marketing strategy is essential to mapping out your business objectives effectively.
Discover how you can create quarterly or monthly content development plans that help you reap benefits from every content piece published. This book unfolds some fantastic tips on content creation that can boost your digital business growth at an incredible pace.
Do books on content marketing guarantee success? Well-researched and compelling content is bound to attract targeted audiences, and you need detailed knowledge about your subject to construct it tactfully. Content strategy books impart detailed insights into marketing processes and prompt creators to develop innovative content by adopting the right approach. Discovering prospects in content marketing can help you climb the ladders of success and expand your growth horizons to infinity.
With more and more digital mediums being discovered by the day, content marketing has further achieved unique recognition. Hopefully, this blog allows you to reach new heights in your digital career and enjoy a good read in your leisure time.
Key Takeaways
Content marketing is a versatile subject, and developing engaging content is an art.
The best books about content marketing can teach how to develop brand loyalty and business growth through positive customer interactions.
It is possible to reach new heights of success if you know the crux of good content marketing.
FAQs
1. What are the types of content marketing that can help business growth?
The most popular forms of content marketing listed by experts are blogs, videos, emails, podcasts, infographics, webinars, case studies, and presentations.

2. What is the best form of content to rank on social media?
Stories, live videos, infographics, and testimonials are some of the best ways to showcase your brand on social media. Organizing contests and giveaways is another way to boost your social media strategy. 

3. How can I get good content ideas?
Content marketers can get exciting topic ideas related to YouTube videos, blogs, and podcasts through Facebook's Ad Library, the Reddit Keyword Research Tool, competitors' websites, or by scanning blog comments.