Marketing
8 Product Blogs Being the Best Examples of Content Marketing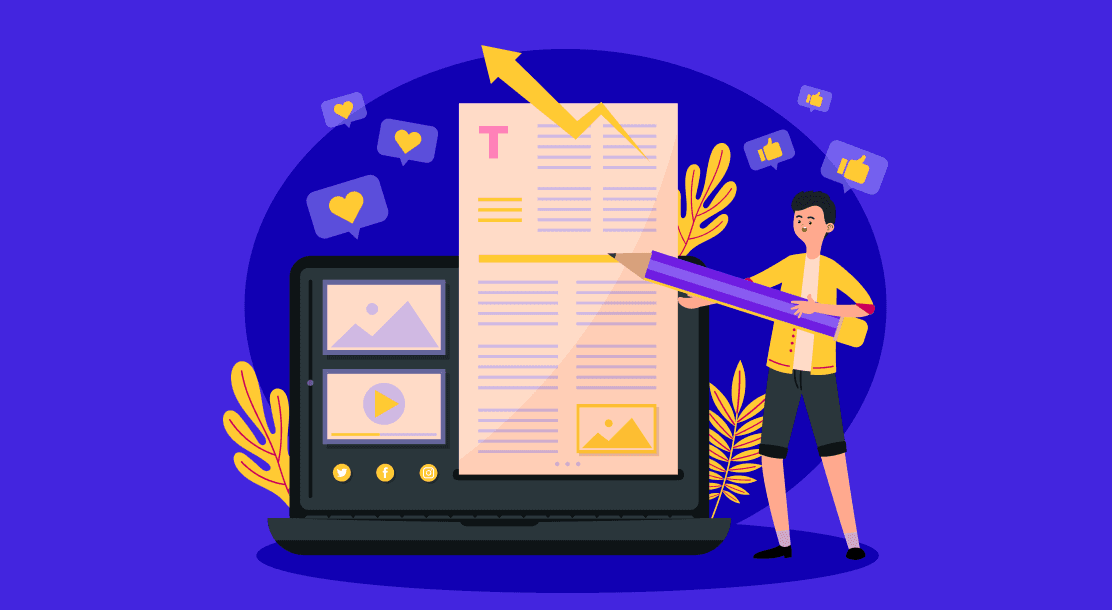 Table of Contents
What Is Content Writing?
8 Best Product Blogs to Bookmark
Key Takeaways
Conclusion
FAQs
Content marketing has various forms, one of which is blogging. Blogs are self-published content pieces, which are informative, interactive, and engaging. Blogging has been around for decades, and the field has been evolving constantly. Many leading brands have integrated blogs into their websites to increase traffic and grab the attention of their audiences. Product blogs make for the best example of content marketing, thanks to their engaging content. In this article, we list some of the brands that are livening up the blogging space with amazing content.
Content writing is the art of writing content that helps a brand further its marketing goals. This content can include articles, blogs, infographics, social media posts, white papers, and more. When it comes to blogging, the length of an ideal blog post can be anywhere from 1,000-8,000 words. Blogging is the perfect way to build a community of avid followers who will continue to engage with your brand, as long as the content is fresh, relevant, and interesting.
8 Best Product Blogs to Bookmark
Product blogs are instruments through which a brand provides its audience with industry insights, whilst subtly showcasing and promoting its own products. Here are some great examples of brands hitting the nail on the head with their content marketing strategies.
For blogs, great content alone cannot suffice; you also need to have content that search engines are absolutely in love with. If your content is SEO-friendly, readership will follow. Salesforce knows this all too well. It is a cloud-based software company, and its blog, called The 360 Blog, brings you insights into topics such as business, artificial intelligence, customer engagement, and more. The brand creates SEO-friendly content that helps the blog appear in searches. Their topics revolve around the most searched terms in the industry, making it a perfect niche blog.
You may know Mailchimp as a popular email marketing tool, but did you know the brand has the best content strategy too? On the Mailchimp & Co Blog, the brand not only posts blogs about its products, but also publishes success stories, guides for new marketers, and the like, in order to help their users get the best experience out of its services. Not only that, the blog gives a peek into the company's processes with a dash of fun. After all, isn't fun the most important ingredient when it comes to grabbing some eyeballs?
3. HubSpot Blog by HubSpot
To have the best blog out there, you need to cook up the perfect content marketing strategy. Being a marketing service, HubSpot knows how to engage its audiences with the right kind of content. The HubSpot blog contains content pieces that are detailed and informative, being a knowledge source of everything related to content marketing. Content marketing cannot be learned in a day, and the market is so dynamic that there will be newer things to learn tomorrow. The quality of the blog is top-notch, making it one of the best content marketing strategy examples.
The Adobe Blog is an extensive resource pool for established as well as aspiring creatives. The content is varied and updated frequently, so the reader is spoiled for choice. Through the blog, Adobe publishes not only information about product launches and updates, but it also posts articles spanning film, digitization, and more. The blog also features trends, research, and customer stories.
If you are a finance enthusiast, American Express' OPEN Forum is the place for you. It is one of the oldest branded content hubs and is an absolute delight for people who
are part of this industry. It is a great platform for small business owners who need advice. One of the best product blogs, it is an amazing platform to discuss your ideas and refine them with peers. There are many registered businesses on this forum and most of them continue to be part of this community, as it has great content which is updated daily constantly. It has been helping the company generate inbound leads year after year.
Beauty Book is a classic beauty blog that helps Nykaa's target audience with content about skin care, makeup, styling, hairstyling, and more. An amalgamation of timely textual content and bright, catchy images, the blog is everything a beauty aficionado needs. A great content marketing example, the blog consists of reviews of some of Nykaa's top-selling products. The blog is extremely reader-friendly, with content divided into various sections, such as "This Week's Highlights", "Popular Articles", "It-Lists", and more. Not to mention the products available on Nykaa are skillfully interwoven in the articles, subtly prompting readers to visit the parent website and make a purchase.
Red Bull does not treat its marketing department as a small part of the organization. The content the brand produces on The Red Bulletin is consistent with its messaging across all distribution channels. It is a wide repository of interviews with trailblazers across industries, such as sport, music, and fashion, to name a few. Red Bull knows what powerful storytelling is, and it has adapted it for every article that makes its way to its online magazine.
This blog is the epitome of class. Williams-Sonoma sells upscale kitchenware and kitchen appliances that cater to the luxury consumer segment. Needless to say, the main theme of the blog is food, think recipes and food trends, interviews with food experts, and more. The blog also features interesting tips, party ideas, and video content, which instantly appeals to the audience. With some great photography, this blog characterizes subtlety and luxury at the same time.
Key Takeaways
Content marketing strategies are important for brands, and are being focused on more than ever before.
Blogs can be of different types: business, niche, reviews, news, personal blogs, etc.
In order to become a successful blogger, you must first understand your niche.
In the case of brands, blogs are mostly used to build communities of loyal visitors that can convert to leads.
Conclusion
If you are considering new content marketing avenues for your brand, try blogging. In order to create a bank of engaging content, the three things you need to consider are consistency, freshness, and relevance. If you can get these in line, your audience will not just read your content, but also engage with it. Additionally, you can refer to this blog listing the best examples of content marketing for inspiration.
FAQs
1. Is content marketing Important?
Yes, it is definitely needed. Whether it is a brand or a person, content is an irreplaceable requirement. Depending on the brand, you can create textual, video, or audio content. Based on the attention span of your audience, you need to pick the right combination of content types.
2. Why do brands require blogs?
There are many benefits of having a company blog. They are as follows: 
– It helps improve your website's SEO. 
– It helps build a community. 
– It helps generate inbound leads. 
– It helps understand market trends via reader engagement. 
– Is a great source of income with a delayed payoff. 
– It helps build brand authority.
3. What's the difference between website and blog content?
A website hosts evergreen content that may or may not be updated frequently, whereas blogs are meant to be updated regularly. Traditional websites do not encourage a lot of conversation from visitors, whereas blogs allow readers to post their thoughts, generating engagement.
4. Which companies are creating incredible blogs?
You can follow these companies that are some of the best content marketing examples (however, this list isn't exhaustive). 
– Adobe
– Nykaa 
– Red Bull 
– Buffer
– LinkedIn 
– HubSpot 
– Williams-Sono
– Etsy
5. How do I come up with good blogging topics?
The best way to come up with blog topics is to first understand your target audience to provide them with relevant content. You must then check if anything relevant from your niche is trending. You can ask your current readers to suggest some topics as a call-to-action on your blog.