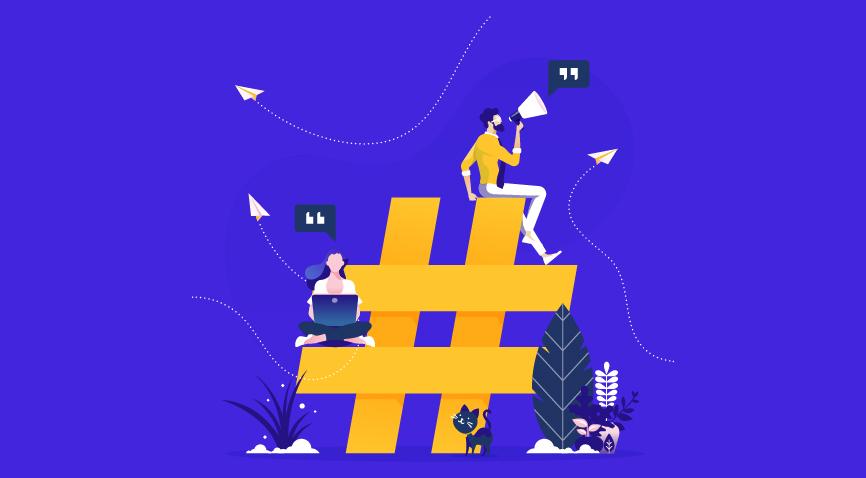 Table of Contents
Who is a Content Marketer?
15 Best Content Marketers to Follow in 2022
Key Takeaways
Conclusion
FAQs
This digital world is quite vast and unpredictable. It is often impossible to get along with its changing environment and determine what's working and what's not working in the marketplace. Like in 2021, content marketing will continue to influence the digital space in 2022. And, with digital marketing trends, including marketing automation, video marketing, and the adoption of artificial intelligence tools, change will not be easy to catch up.
In such a scenario, the easiest way to keep up with the game is to follow in the footsteps of the best content marketers. And, who knows, you might find a goldmine of information!
Fortunately, content creators, marketing professionals, and influencers use digital mediums to create their personal brands and then share their knowledge with others. Whether you are a marketer, business owner, or anyone who wants to progress via the digital space, we recommend you to follow their social channels to keep yourself updated on the latest trends, learn new marketing techniques, and more for your professional growth.
If you are a storyteller and know how to make your voice heard, you can be a content marketer. Creating content and developing a marketing strategy that stands you out of the crowd is no joke in this digital world, where online content is growing exponentially. A good content marketer understands how to position and promote content to reach the widest audience.
Here's a list of some of the most influential content marketers who talk about everything you want to know about content marketing. If you want to gain new insights, broaden your knowledge, or get some inspiration to create quality content, then save our diligently curated list of some of the world's best marketers now!
15 Best Content Marketers to Follow in 2022
Gary has been one of the most sought-after marketing influencers for a while. He is among the first investors who forayed into the e-commerce niche and then skyrocketed as a marketing influencer on YouTube with his own shows.
His podcast channel, The GaryVee Audio Experience, is also listed among the world's top 100 podcasts. Over time, Gary has built up numerous projects, including his marketing agency- VaynerMedia, that makes him unstoppable. Gary is your source if you want to learn the best of everything content.
2. Ryan Deiss
Being a creator of the "Customer Value Optimization" tactic that has been a revenue booster for many online companies, Ryan Deiss is one of the digital marketing influencers to look out for. But, if you have not heard of him yet, where have you been?
As the CEO and founder of DigitalMarketer, he continues to provide digital marketing education; and his company offers training and numerous tools for digital marketers that you cannot afford to miss out on.
When it comes to content marketing and SEO optimization, Neil Patel is the first name that comes to our mind. He posts awesome content consistently and remains the leading source of SEO education. If you want to gain in-depth knowledge regarding SEO tools, visit his website.
He is considered one of the top digital marketers by Forbes and continues to push the boundaries. The best thing about him is that he has tested everything he preaches. Besides building his own businesses, he has consulted for companies like Amazon, NBC, Hewlett Packard, and General Motors. That's not all! He was also honored by President Obama as one of the top 100 entrepreneurs under the age of 30 and by the United Nations as one of the top 100 entrepreneurs under 35.
Cited by Forbes as the most influential woman in the social media space, Ann Handley is one of the top content marketers worthy of listening to. While being a partner at MarketingProfs, she was titled the world's first "Chief Content Officer," which eventually paved the way for content marketing.
If you want to be updated about the latest content marketing skills, we recommend you subscribe to her newsletter. Being a pioneer in digital marketing, she inspires business owners and marketers to attain results with feasible methods.
Famed for his iconic mustached look, Rand Fishkin is the former CEO of MOZ. If you are aware of MOZ, we assume you know why he is one of the top SEO and marketing influencers. You might be astonished to see that he started his career as a blogger in 2003. Later, he opened a consulting company, which eventually transformed into a software company that delivers the best SEO tools you can ask for. His professional journey is something to learn from. If you are into SEO techniques and want to see your business grow, make Rand your best friend.
6. Larry Kim
Being one of the leading experts in start-ups, Google ads, and Facebook ads, Larry Kim is among the top contenders you need to follow in 2022. His valuable insights into the digital marketing world are something to reckon with. Ranked as one of the eight most popular authors on Medium, Larry is a digital marketing coach, an influencer, and the CEO and founder of Wordstream and MobileMonkey Inc. – both are the leading companies in the digital industry.
7. Joe Pulizzi
Being the founder of the Content Marketing Institute (CMI), Joe is one of the best content marketers you can look out for. He has written many best-sellers, including Killing Marketing, Corporate Inc., and Epic Content Marketing, which makes him stand out amongst the leading educational speakers in the content industry.
8. Tim Ferriss
Tim is the bad boy in the marketing industry. If you haven't heard of his 4-hour workweek tactic, then you must be missing out on something major. Honored as one of the "Fortune's 40 under 40" and one of the bestsellers on Wall Street Journal's and New York Times' list for his 4-hour Work Week book, he continues to educate people about digital marketing and leadership business management, and more. Besides his best-selling books, you can also head to his podcast show "The Time Ferriss Show Podcast" for some really insightful content.
9. Kim Garst
Another name on one of the most influential digital marketers is Kim Garst. She is probably the most retweeted digital marketer ever in the industry. Forbes has listed her as one of the top 10 social media influencers. With her unique and creative approach to social media and business growth, she consultants for IBM, Microsoft, and MasterCard. Kim Garst knows how to make people love your brand, and that's why you need to follow her now!
10. Jennifer Polk
If you want to learn about digital commerce and the multi-channel marketing approach, look no further. As the trusted advisor to marketing specialists, chief marketing officers, and marketing team leads worldwide, Jennifer can be the best influencer for you. If you want to be a CMO or gain insights into e-commerce, brand awareness, and customer engagement, she can help you know how to do it right.
11. Jeff Sheehan
Famed as a viral marketing guru, Jeff Sheehan can help you leverage your social media channels, like Twitter and LinkedIn, in no time. As the founder of his Sheehan Marketing Strategies company, he provides marketing techniques to giants like Apple and IBM.
12. Joanna Wiebe
If you seek an expert in conversion through writing, then Joanna is your go-to person. Her command over the content copy makes her join hands with companies like Tesco, BT, Crazy Egg, Intuit, and MetaLab. She has helped companies build content that leads to conversions. Joanna is the creator of Copy Hackers and the co-founder of Airstory, which builds drag and drop documents for content writers.
13. Pam Moore
With over 1 million followers, Pam Moore is one of the top social media influencers. She has expertise in conversion optimization and social media marketing. She keeps sharing her knowledge on social media optimization, best strategies and techniques on branding, and how to sell on social media with her audience. She started her career as a social media marketing specialist and now helps others achieve their goals. So, if you want to see your business grow, you know who to reach out to.
14. Jay Baer
Jay is one of the world's most inspiring marketing and customer service speakers. He preaches to his audience how to work smart by making the best use of technology. He is the founder of 5 multi-million dollar companies and the author of 6 best-selling books. His digital firm helps brands, including Nike, Cisco, Oracle, Hilton, and the United Nations, achieve their goals. He is famed for his viral marketing and word-of-mouth approach to bringing more traffic to sites. So, if you want to know how to turn customers into brand advocates, then Jay can help you, for sure!
15. Scott Stratten
Scott started his career as a music industry marketer and is now one of the top marketing influencers who helps his audience embrace innovation and disruption. Besides being a skilled marketer, he is also an author of several best-selling business and marketing books and a passionate speaker. You may find him speaking for companies like 3M, Walmart, PepsiCo, and Adobe, to name a few.
Key Takeaways
Analyze your data and ensure that your content is well-informed. Creating and sharing content is not enough. Being a content marketer, you need to analyze the data and understand how to put it to use in the best possible way.
Nowadays, content is entirely digital. If you want to stay ahead in the digital industry, keep yourself updated with the current technology. It might seem overwhelming at first, but it's worth investing in for your business growth.
Post pandemic, everyone has been hooked to the online world, due to which people now have a shorter span than a goldfish. Therefore, it requires you to make your content as interactive as possible.
Though social media tools are the best way to engage consumers, do not fall into the trap. Do not try to be everywhere unless you are in the relevant business. Keep your focus on a few platforms that you believe can sell your content.
Conclusion
Thanks to the pandemic, the last year was remarkably sophisticated, and 2022 doesn't seem to be slowing down either. From researching and analyzing data to executing and performing well, content creation is nothing but a daunting task. However, suppose you consider the tips given above and continue learning how to build up your content marketing repertoire with a successful strategy to back it. In that case, your business graph can skyrocket in no time. So, to keep pace with the trending digital marketing strategies, bookmark our curated list of the best content marketers; and let them help you glide through the internet space.
FAQs
1. Is it possible to become a billionaire by choosing content marketing as a profession?
Yes. Content marketing has become a huge platform to connect with the masses quickly. You can turn your passion into a lucrative profession with good quality content, perseverance, and hard work.

2. What are the qualities of a good marketer?
A good marketer possesses leadership qualities, a creative approach, excellent written and spoken communication skills, planning abilities, and more. Good marketers keep an eye on every situation and take it as an opportunity to come up with a solution and connect with their audience.

3. What skills do I need to become a good content marketer?
Storytelling
Strategic planning
Copywriting
Editing
Project management, and more
4. Can I do content marketing on my own?
You can start with a marketing plan that comprises: blogging, social media, public relations, online advertising, and more. However, it is recommended to start small and then expand along the way.
5. Is digital marketing an easy job?
It's far from simple. From curating content to keeping track of various projects, researching the product or service, to retaining clients, a digital marketer is often scattered all over the place.  
6. Can a content marketer work from home?
Unarguably, the most significant advantage of being a content marketer is working from anywhere. As most content marketing tasks can be completed online, many agencies let their employees work from home. And post-pandemic, this has become a culture for many marketers to work from home or work while traveling.