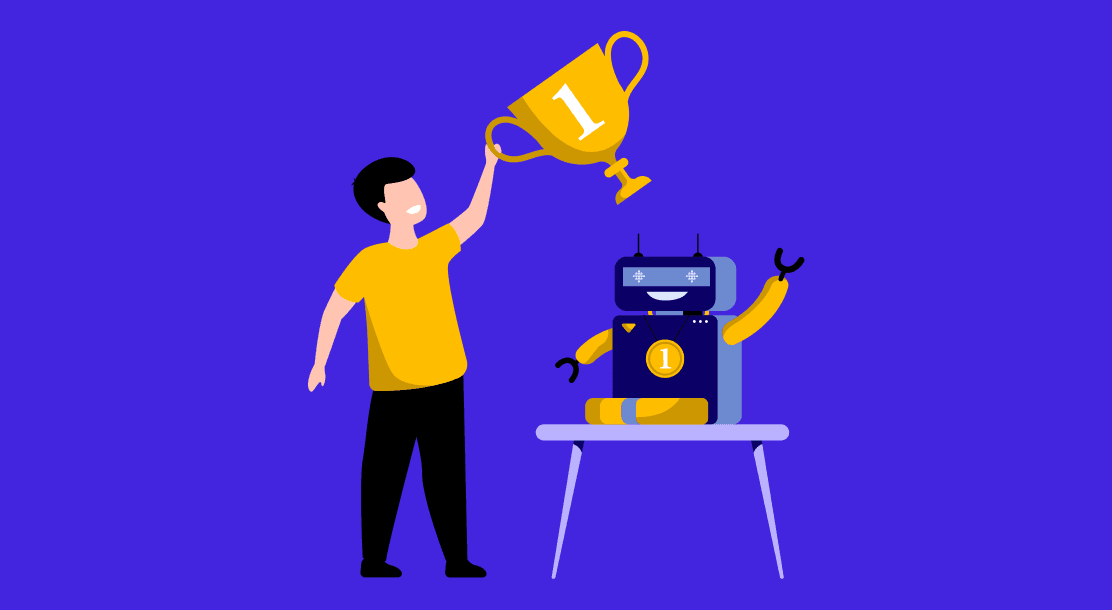 AI Content analysis can be tricky if you don't have a hold on AI and content success measurement. This blog helps you understand how to conduct AI content analysis effectively.
Is AI the future? The time for pondering on this question is long past. It is 2023 and AI has proven it is here to stay. So the answer is, the future of AI appears to be bright, especially in the field of content creation.
With more and more AI content generator tools being launched in the market, a significant number of businesses are contemplating switching to AI for their content creation needs.
One major challenge that prevents them from making this move is the confusion surrounding AI content analysis and content success measurement.
How exactly does one determine if AI-generated content is doing better or worse than human-written content? Do the rules of content analysis for AI and human-written content differ? What metrics should marketers pay attention to while measuring the success of AI content?
In this blog, we'll address all these AI content analysis-related queries and do our best to resolve them for you. Let's get started!
Factors that Play a Key Role in AI Content Success
Before we delve deeper into the process of AI content success measurement, let's first take a look at the factors that impact the success of AI content.
There are three major factors at play here; you'd be surprised to notice that these apply just as well to human-written content. And for good reason; after all, regardless of whether it is human-written or AI-generated, the end goal of content is the same in businesses:
Attracting and engaging with customers (both existing and potential)
Creating brand awareness
Building brand authority and customer loyalty
And when the end goals of two different products are the same, the factors that influence their success are bound to be similar. With that in mind, let's move forward to exploring these factors:
1. The quality and relevance of AI content
The primary criterion that content is judged by is its quality. The AI content you generate should add value to your customers; it can educate them about something, solve a problem they face, or inspire them to get creative with new ideas.
It is only when your AI content fulfills one or more of these objectives, that it can be considered high-quality content.
Next comes the criteria of relevance. Your AI-generated content must address the concerns that are relevant to the niche or industry of your business. The deeper your understanding of your target audience, the more relevant content your AI writing tool can generate.
2. Its optimization for search engines
Just like human-written content, AI content also needs to rank high on search engines in order to grab the attention of your potential customers. That's why SERPs are considered a vital content success metric.
Optimizing your AI content for search engines involves:
Evaluation of content structure and its readability
Optimization of permalinks, title tags, and meta descriptions
Uniform usage of relevant primary and secondary keywords
3. The engagement of your target audience
As we discussed at the start of this blog, the main goal of your content is to attract and engage with your target audience. While attracting them might be the first step here, it is their engagement with your content that is the true testimony and its resonance with them.
If your target audience is commenting on your posts, sharing your content across social media, and spending time on your website, you can consider your AI content to be successful.
AI Content Success Measurement: A Step-By-Step Process
Having looked at the factors that contribute to the success of your AI content, it's now time to move ahead to AI content success measurement. For your convenience, we've broken the process down into four simple steps that are mentioned below.
Stay with us as we outline each step for your deeper understanding of the process:
Step 1: Define a clear performance goal for AI content
The first step towards an efficient AI content success measurement involves defining a clear performance goal.
Highlighting the goals that you expect to fulfill using the AI content, in the beginning, benefits the content creation process, thereby improving the chances of its success considerably.
Here are some examples of performance goals you might set for your AI content:
A higher SERP rank
Increased pageviews
A higher dwell time
Growth in the reach of your social channels
A higher website traffic
Step 2: Using Peppertype.ai to measure AI content performance
Once you've set your performance goals, it's time to measure your AI content against them; in other words, the content analysis.
However, you can't hope to measure the performance of your AI content manually; you'd need a tool for it. This is where Peppertype.ai comes into the picture.
This AI-powered platform doesn't only measure your AI content performance but can also provide ideation, creation, and a distribution solution for it. For now, we'll be focusing on its content success measurement services.
So, how does Peppertype.ai help you measure the performance of your AI content? It tracks the keyword usage of the content and analyzes its position on the SERPs. Furthermore, it measures the current traffic on the content, alongside calculating its growth within any given time frame.
To add to it all, Peppertype.ai also provides you with unique insights about your AI content, telling you whether it's performing well or needs repurposing.
The picture below will give you a fair idea of how Peppertype.ai can simplify your content success measurement process:
Step 3: Comparing the AI content performance to the rest of your content
Now that you've measured the performance of your AI content, comparing it with the rest of the content on your website/social channels is the next natural step.
Any business that has shifted from human-written content to AI-generated content would want to compare Its performance initially. It helps them gain clarity about which one performs well.
This process is relatively straightforward; all you need to do is generate the content success measurement data for both kinds of content separately and analyze them together. Pay attention to which ones have a better SERP ranking, are driving more traffic, and attract higher user engagement.
Step 4: Drawing a conclusion to build upon your AI content strategy
We hope that your AI-generated content performed better in the comparison above. However, on the off chance that it didn't, that doesn't mean that AI content is not the right fit for you. It only means that your current AI content strategy requires more work.
However, a one-time comparison of the content isn't going to help you gain actionable insights. It is only through continuous content analysis that you can identify the performance patterns and formulate a better strategy for your AI content.
Is AI Content the Future?
These statistics from Zippia claim that the current value of the global AI market is about $328 billion, with 79% of the marketing leaders stating how AI has increased their business revenue.
With these promising statistics in mind, it wouldn't be wrong to assume that AI might dominate the content industry in the near future. So, if you've already shifted AI for your content creation requirements, you're certainly headed in the right direction.
If you're looking for a one-stop platform that can take care of all your content marketing needs at once, Peppertype.ai is a tool that's worth your while.
This AI-powered platform can handle content ideation, creation, distribution, and measurement for your business. Visit our website to avail a free trial today!
FAQs
1. Can AI be integrated into digital marketing?
Yes, AI can be integrated into digital marketing and has a number of advantages over traditional digital marketing methods. Using AI can not only automate tedious tasks but also create data-driven campaigns to maximize your digital marketing ROI.
2. Can AI help with measuring your content performance?
Yes, AI can simplify your content performance measurement process by automating and streamlining data analysis and interpretation.

3. What are the applications of AI tools in content marketing?
With their data-driven insights and advanced algorithms, AI tools have a wide range of applications in content marketing. Here are some examples of such applications:
1. Content creation
2. Content distribution
3. Content optimization
4. Personalization
5. Performance tracking