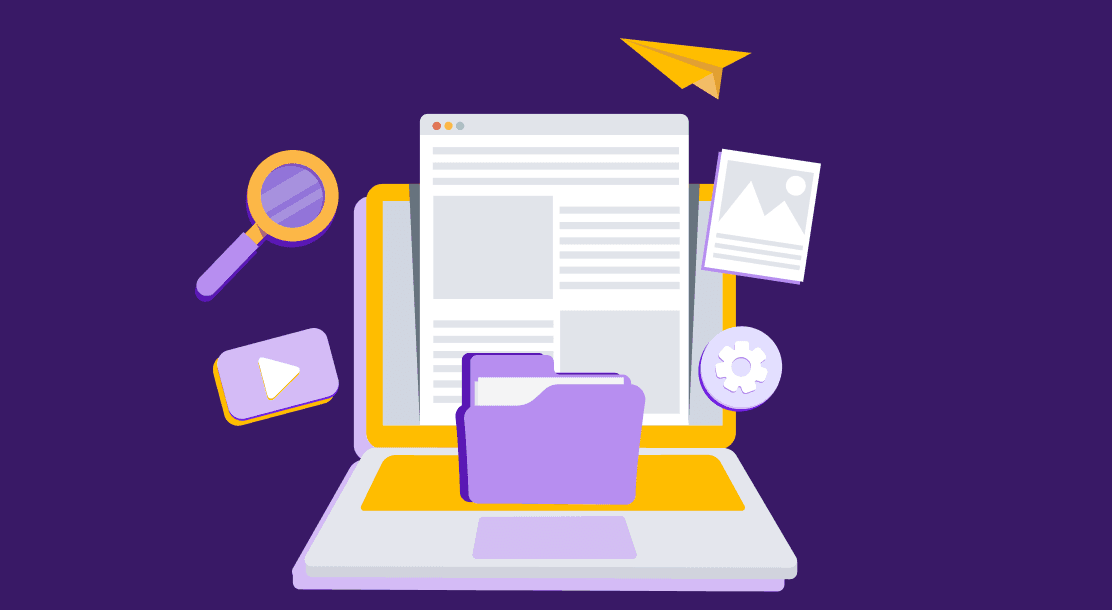 This article will shed light on how you can take advantage of disruptive content marketing for your business.
Marketers today are constantly jotting down new ideas to boost their brands. They are consistently creating content to drive audience engagement. Each of them wishes to do it differently through disruptive content marketing.
Content marketing nowadays is dominated by high-quality, creative, and relevant content. The aftermath- brands have surprisingly flooded this space with bang-on content marketing strategies.
Disruptive content has become a buzzword, and consumers are certainly enjoying it. Businesses and creators have understood the importance of content marketing and storytelling. It's no surprise that brands are leveraging well-thought marketing strategies every day. Additionally, many companies are changing the marketing space through disruptive content marketing.
There is so much to learn and try in this space. And the best part is that it's all worth it. Before we dissect how disruptive content can win you, customers, let's take a detailed look at it.
What Is Disruptive Content Marketing?
Disruptive simply means engagement. Well, that's what marketing intends to do — to drive engagement and generate conversions. Disruptive content marketing is experimenting with different and unique marketing tactics and seeing what works well for your brand.
Marketing no longer supports outdated techniques. If you are willing to change your audiences' perceptions, you have to start looking at new thoughts and ideas. If used cleverly, disruptive content will help you associate with your customers and evoke positive emotions.
For example, if we ask people to buy the old Nokia phones today, most would probably deny the offer. Times have changed, and everyone is looking for advanced mobile phones. Latest mobile phones have become synonymous with reliability and compatibility. If Nokia had changed its product and marketing with time, it might still be ruling the mobile industry.
As a brand or marketer, you need to adapt to the dynamism of this space. Dominating your industry can be challenging. Pull off disruptive content marketing, and you will be on top of the game.
Now, let's jump on why disruptive content is crucial for your brand.
Need for Disruptive Content Marketing
Disruptive content marketing is not new; it has existed for a while. Though, it has become a catchphrase now. Marketers are doing everything to craft impressive disruptive content marketing campaigns; however, there are still brands that are not too keenly invested in this method. Applying aptly can be a game-changer for your brand and elevate your business to the next level.
Let's look at some reasons why you need to implement disruptive content marketing.
1. Perfectly caters to consumer needs
With multiple businesses popping up every day, audiences are spoilt for choice. It has become increasingly challenging to make consumers stick to your brand. One missed opportunity, and they would pick another brand. Thus, understanding and catering to their needs are crucial.
Disruptive content marketing can help differentiate you from your competitors. You need to find unique and engaging methods to stand out in the crowd.
Take Apple, for example. Even though its products come with exorbitant price tags, people still prefer them. It's all because of brand trust and loyalty. It is the result of leveraging disruptive content. Do you remember the powerful presentation and superb storytelling skills of Steve Jobs, the marketing maverick behind Apple's meteoric rise?
2. Can be customized within a reasonable budget
You don't need to set aside a huge budget to create effective disruptive marketing campaigns.
Consumers aren't interested in how much money you have spent on a campaign or the brainstorming sessions. What matters is whether the campaign can get their attention. Your campaign, if sketched effectively, can resonate with consumers, irrespective of your budget.
Ideas are everywhere. You need to be observant enough to find the next ground-breaking one. Even an ordinary and inexpensive idea/trick can transform your disruptive content marketing strategies.
3. Facilitates competition
No one wants to lose their customers to their competitors. But, how to do that? Through disruptive content!
The audience is getting increasingly smarter, and the brands have sometimes to play the catch-up game. It is hard to woo consumers with the same old tricks. Hence, you have to come up with innovative ways to engage them. In the end, it's how you tap into the opportunity.
The competition in every industry has become intense. If you can communicate the value of your business appropriately, no one can take your place. Remember, it's now or never. The power of disruptive content is yet underrated. But, the ones who have tapped into it are already reaping the benefits.
4. Leveraging social media usage
Social media isn't an option anymore; it has become a necessity (especially for brands). It is believed that there will be a 4.8% increase in social media users. It is a significant part of your business and overall marketing tactics.
Social media platforms, like Instagram, Twitter, Facebook, etc., are the best ways to leverage disruptive content. Moreover, it allows marketers to try inventive ways to attract, engage, and eventually convert them to customers.
Make a list of all the social media platforms; see where most of your audience is present. Lastly, create and apply disruptive content marketing strategies to seize the moment.
5. Improves consumer connection and message comprehensibility
People love stories, and consequently, they love brands that narrate a story. Stories are a great way to deliver your message. Consumers enjoy it and easily understand it. Furthermore, storytelling allows you to use your creative freedom. Everything can be viewed from a unique perspective and presented accordingly.
Disruptive content marketing campaigns can help elevate your brand. Customers can connect personally; they feel a part of a community. It's a fundamental human experience that brings your audience together and facilitates bonding.
6. Shapes customer experience
Customers today are looking forward to building long-term relationships with brands. If you fail to do so, they may flock to your competitors. A remarkable customer experience can decide the sustainability of your business growth. It's no longer limited to the products; using disruptive content can attract consumers and drive engagement.
In times of increased competition, a positive customer experience can help you stand out amongst competitors. As we said, they are no longer comparing your products and prices; they are looking at the quality of your customer service. A positive customer experience can build brand advocacy, invite new audiences, and aid in retaining old customers.
Conclusion
Are you ready to leverage disruptive content marketing? If not, it's time you understand its importance. Marketing needs you to innovate continuously. Or else, you will tread water endlessly. Bring ideas to life and be ready to disrupt.
The world doesn't wait for anyone; so does the marketing industry. Keep testing new approaches to disruptive content marketing; you will surely see the desired results.
Key Takeaways
● Disruptive content marketing goes beyond advertising. It can build your brand and improve your online image.
● Aligning disruptive content with other strategies allows you to take a more creative approach to your campaigns.
● Understanding and catering to consumer needs can take you a long way.
● Marketing campaigns are incomplete without storytelling. Disruptive content marketing allows you to bring out your inner storyteller and connect to the consumer effortlessly.
● Keep adapting to the latest trends or, sooner or later, your brand will start lagging compared to the competition.
FAQs
1. Why should you use disruptive content?
Disruption, if applied properly, results in an explosion in engagement. By skipping disruptive content, you are saying no to such audience engagement opportunities. Lesser the engagement, the lesser the reach.
For your brand, the audience is everything. Without disruption, your brand will not evolve and you certainly don't want that. Thus, it is advised to make the most of disruptive content marketing. It can elevate your brand and take it to greater heights.
2. How crucial is it to adapt to new processes and trends?
Marketing is a dynamic space. If you don't adapt to trends, consumers may forget you; they may even switch to your competitors. Keep adapting to trends and try new tactics. It shows how flexible you are in your approach. Moreover, the audience sees your creativity, which eases their decision-making process.
3. Do you need to sell your brand constantly?
Avoid making this mistake. Many brands have used this approach and have failed miserably. The times have changed today. You need to have a balance between selling and building your brand. Today, a business can't survive the marketing industry with the sole purpose of selling its products and services.
4. How long will disruptive marketing last?
Disruptive content marketing has been there for a long time. It has started creating a buzz recently. Many marketers have started leveraging it, and you should too.
As the industry is advancing, so should your marketing tactics. Outdated methodologies clearly can no longer secure any advantage.
You have got two options. Either play new tricks and win customers or stick to old tactics and risk losing consumers.
5. How important is the budget for this type of marketing?
The budget completely depends on how much you are willing to spend on your marketing campaigns. Several brands have used huge amounts of money in marketing and failed. While some brands didn't invest a hefty amount and still managed to win hearts. Marketing isn't only about having large budgets but offering creativity and value as well.