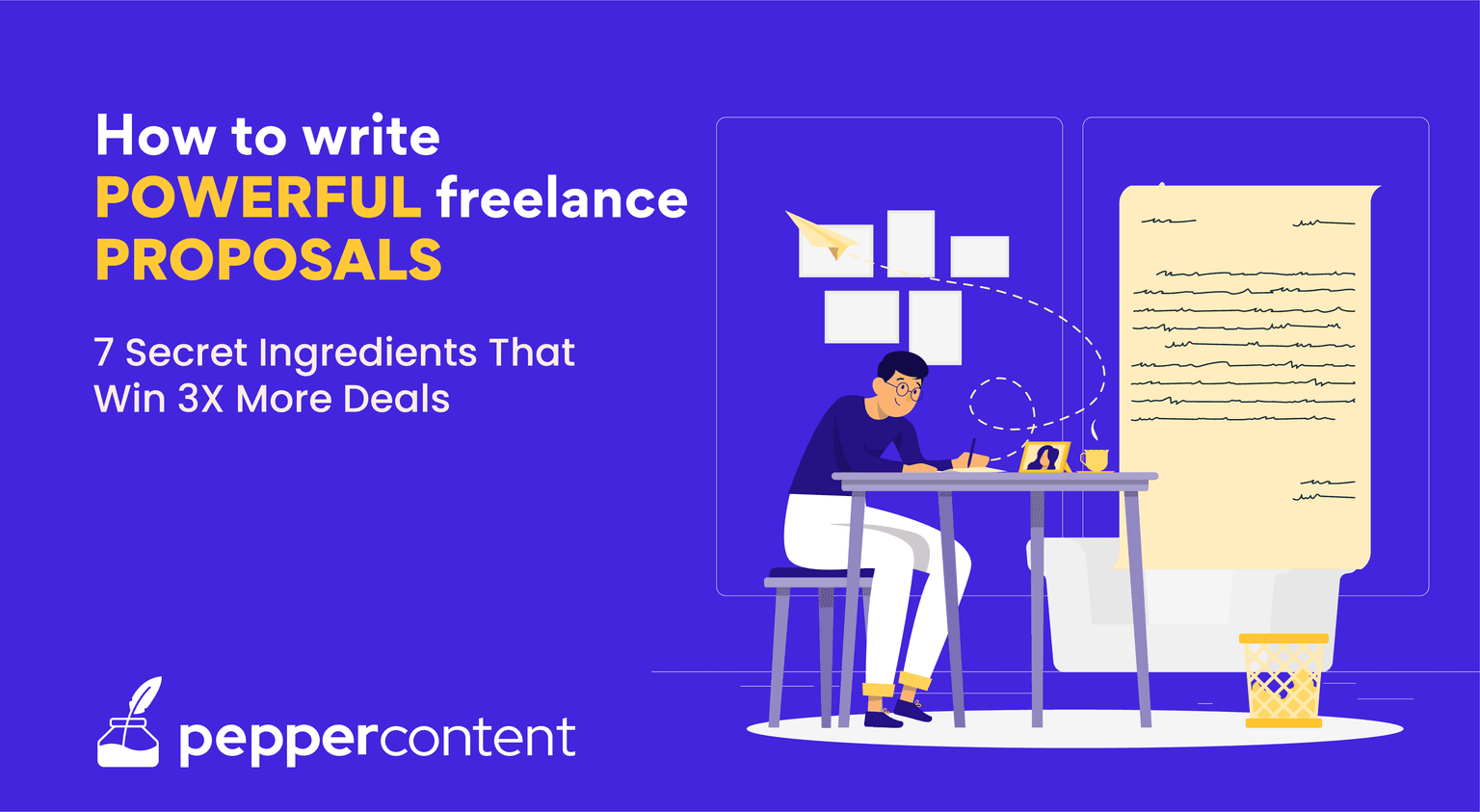 A proposal should inform the client about your skills and experience, outline your strategies to meet the client's goals, and clearly convey what it would take for you to finish the said target. This will enable them to get a distinct understanding of how the project is going to unfold.
The global freelancing market is growing like never before. India saw a 29% increase in freelancer revenues in 2019. With a significant rise in the content market, it's easy to see that freelance content writing is here to stay.
With so many on board the gig economy, are you being noticed among the sea of freelancers? How to get the gig? You may not be a salesperson, but you sell your service with every pitch for a writing project. Here comes the power of high-impact proposals. A proposal is where you outline your solutions to the client's requirements. Proposals go beyond listing your deliverables and highlighting your strategies. For it's not just what you say but also how you say it that will matter. A good proposal is a key to a successful career in content writing. Luckily, you need not go through content writing courses to draft a solid freelance proposal sample.
What is a Freelance Writing Proposal?
A freelance proposal sample of content is a written document describing your services and offer to a prospective client. It's a pitch that expresses essential details such as costs, time frames, etc. But it also allows you to showcase your skills and creativity to encourage them to hire you.
Importance of a Freelance Writing Proposal
You may think that ten years of freelance writing experience and a glowing portfolio are enough to land a client by just sending them a generic offer and a link to your portfolio. This is far from the truth. Clients receive countless generic offers and aren't likely to engage with them. In a digital world where many professionals offer the same services, a proposal is crucial to landing clients. Here are some reasons why.
1. Pitch yourself
You're unlikely to be the only one being considered for the job. The proposal gives you a chance to stand out. You may be offering the same services at the same costs as several other people, but this allows you to showcase your skills and experience and why you're the best fit for the job. You get to exhibit your personality and creativity. These are both strong motivators for clients to hire you.
2. Concrete document
A proposal expresses your substantial interest in wanting to provide a service. It indicates that you have already put thought into how you're going to serve the client. This is always encouraging to a potential client. It adds a touch of professionalism to the whole process, which can go a long way in making you more credible as a service provider.
3. Legal tender
An important advantage of using a proposal is that it acts as a legal document that holds proof of the original offer and agreement. In case of any issues and disputes, this can prove to be a guiding document for subsequent action towards resolving them. It acts as a legal tender and also has the added advantage of adding a touch of professionalism.
4. Saving time
As a freelancer, you're likely to be working on multiple different projects at a time. You don't want to be wasting time negotiating costs and answering questions about time frames, payment methods, etc. The proposal allows you to outline all of these details to focus on providing quality service. The client is sure to appreciate it as well.
5. Personalization
The proposal gives you a great opportunity to show off your research skills. It allows you to gather information about them and succinctly express your understanding of their needs. This doesn't just speak about your dedication to the service but also helps the client understand how adept you are at gathering information. This is certainly a big part of a writing gig and therefore helps instill faith in your writing abilities.
6. Efficiency
The proposal allows you to give the client a clear understanding of what they can expect from you and how you will go about the project. This allows space for making clarifications right at the start so that resources are not wasted on multiple revisions. It makes the whole process more efficient.
Seven Elements You Must Include in Writing Proposals:
1. About
About the client – What are the requirements, goals, expectations of the project; what are the pain points of the client, and how can you address them.
About you – Who you are, what you do, your expertise, experience relevant to the project, why you should be selected for this project.
2. Offer
Deliverables; benefits of your service to the client
Additional insights and solutions you can present
3. Cost & Budgets
Service rates
Charge details (cost breakdown)
Possible additional costs, tax, GST, etc.
4. Timeline
A detailed schedule for completion and publication of content
Tentative project completion date
5. Payment & conditions
Payment process details
Terms and conditions for the project
6. Execution & evaluations
Description of how your content would be crafted in such a way as to realize the desired outcome
The detailed execution plan for the project
Issues that need to be addressed
Requirements to execute the plan
Method of assessment and evaluation
7. Final Invitation
Specific instructions to the client to move forward with the contract
Call to Action (CTA)
How to reach you
Freelance Writing Proposal Structure
A proposal should inform the client about your skills and experience, outline your strategies to meet the client's goals, and clearly convey what it would take for you to finish the said target. This will enable them to get a distinct understanding of how the project is going to unfold.
The proposal format may vary depending on the project and industry. Here's a basic structure to begin with:
Project summary
Sure, the client already knows what the project is about. So, your aim should be to demonstrate your service in response to the client's needs and objectives. Here, you will list the project goals and requirements, including but not limited to the ones mentioned by the client; then mention all relevant services you have to offer; describe how your service will solve their problem. This serves not only as a demonstration of how your skills and experience match the project but also shows you actually understand and would improve on their project.
Sample of how you can frame your service:
Timeline and execution
This is where you'll give a breakdown of all the services mentioned in the project summary. You'll lay an outline of how and when your writing service will be executed. For example, when will you get the blog posts ready? Will you be scheduling the articles around specific occasions? When should you finish the content for the product description? And so on. This should give the client a good sense of when to expect what, including project completion time. It's best to give a tentative time rather than commit to definitive dates.
Your proposal timeline can look something like this:
Budget
Be very specific about service rates. Factor in possible additional costs related to the project. For example, would the project require additional expense on your part, say, for research, data connection, software tools, or other materials? Mention them and, if possible, give an accurate breakdown of the cost. The extra cost might be excluded in the final rates, but that's always better than having to charge for something the client wasn't informed of beforehand. If you can't mention exact figures, give a rough estimate of the budget.
Payment process
What payment method would you accept? Provide your details accordingly. Would there be any upfront payment? When should the payment be made? Specify payment dates. Likewise, mention all details entailing the payment process. Break down the costs for transparency.
Conditions
You know how revisions are part of the job, especially in content writing. Clarify provisions regarding the number of revisions you'd accept at the original cost. Mention rates for additional reworks in the cost estimate section. You can come up with a contract for detailed terms and conditions.
Contact
Tell prospective clients how best to reach you. You can make the proposal digitally to make the process more convenient (given, the client is okay with it). Include a signature space for both parties; and, if possible, enable electronic signature to speed up the deal.
Mistakes Freelancers Make While Drafting Writing Proposals
Your writing game may be strong but do avoid these proposal mistakes:
Sticking to requirements
With tough competition, fulfilling requirements isn't enough; add value! Always try to bring something more than the basic necessity. Add your own recommendations in the proposal that might help in the client's foresight. Inform the client of services that can add value to the project.
Not checking in with the client
The request for proposal (RFP) would describe the project and its goals; still, contact the company; ask as many questions as needed to help you build an in-depth proposal. This will enable you to get a much better understanding of the prospective client's situation. Some sample questions:
Oversight
Remember that bit about pitching, aka selling your service? As much as you should highlight your skills and expertise, the proposal isn't just about you. Strike a balance; throw light on both the client's problems as well as your solutions. Be thorough with the description and talk about their pain points. This shows you actually care and aren't just dishing out all your services as a freelance content writer.
No CTA
Your well-structured freelance proposal sample in content should nudge the prospective client to take the necessary action. Tell them exactly what to do to proceed with the proposal.
Reuse
Job seekers are advised to tailor their resumes as per the company they apply to; the same goes for proposals. You may use the same structure from an old proposal but must avoid lazy copy-pasting.
Conclusion
So now you're ready to make your own proposal as a freelancer. Either craft your own or opt for proposal software and templates readily available online. In case you are still having some doubts, here is a list of some of the best freelance writing proposal samples or freelance writing proposal templates for you:
FAQs
1. What is a freelance writing proposal?
It is a written document describing your services and offer to a prospective client and is essentially a detailed pitch.
2. What should a freelance writing proposal include?
It should include: 
Descriptions of yourself and client needs
Offer
Costs and Budgets
Timeline
Terms and Conditions
Execution outline
Final Invitation
3. Should I include a sample in my proposal?
A sample can be very helpful but make sure you include a link rather than the actual sample.
4. Is it necessary to have a freelance writing proposal?
It is not necessary to have one, but it is very helpful to land clients since it allows you to pitch yourself and briefly outline the project.
5. What are the dos of a winning freelance proposal?
Know their story, industry, and target audience. Identify their strengths and weaknesses and note down any ideas or suggestions you have for improvement.