Storytelling
5 Useful Storytelling Tips for Brands [+13 Powerful Examples]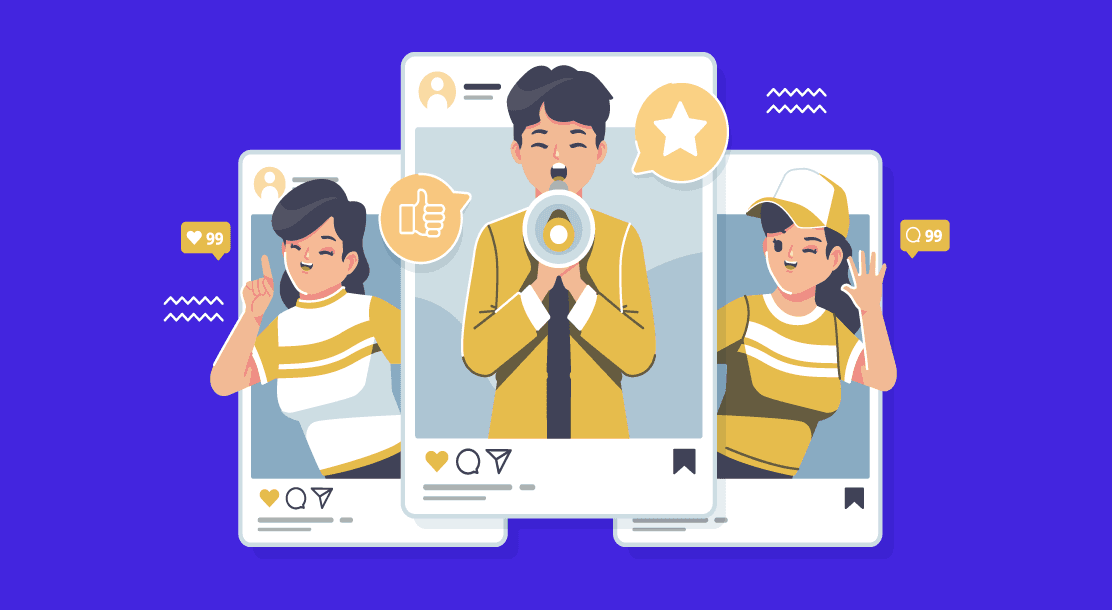 Table of Contents
What Is Storytelling in Marketing?
5 Essential Storytelling Tips and Tricks
Key Takeaways
Conclusion
FAQs
We all read books, watch films, enjoy music videos, and love narrating the events of our day (and at times, our life experiences to each other). People all over the world have an intrinsic need of communicating via stories and understanding other individuals as characters. Stories provide us with contextual simulation. They tell us how to act and behave. They inspire, amuse, thrill, and excite us.
While there is some truth to the fact that the best storytelling tips can be learned from films and novels, many amazing storytelling tips and techniques lie hidden in marketing and advertising examples we come across almost every day. Therefore, storytelling is not just restricted to books and films. These days, brands are increasingly turning towards marketing strategies and advertisements that incorporate the elements of storytelling, in order to reach out to their customers and form a lasting impression on them.
With each passing day, more and more brands are discovering the powerful effects of storytelling in marketing. They are incorporating narratives in their marketing strategies and campaigns, in order to attract new customers and even maintain them. Storytelling is the new essential of content marketing plans today.
What Is Storytelling in Marketing?
Stories have helped businesses and brands create compelling content even in the past. But with advancements in technology and the availability of new techniques of narration have facilitated better formats of storytelling. Brands are able to capture the attention of their audiences for longer periods today than they could earlier with traditional formats of marketing. Remember: the more memorable the impression, the more improved is the brand loyalty. Before we dive into storytelling tips and tricks, let's understand what storytelling in marketing is all about.
You probably know that sharing information via a story makes it way more memorable. If you pass on a fact to an individual wrapped in the form of a story, there are double the chances that they will remember the fact. And this remarkable potential of storytelling is being harnessed rightly by businesses today. Storytelling marketing, also phrased as storytelling in marketing/branding, is a method of using interesting narratives to communicate a message to your audience.
In today's times, the consumer is no longer satisfied with traditional marketing or advertising methods. They want brands to walk the extra mile and tell them more than simply what the product can do. This is when brands should leverage the power of storytelling and build narratives around the product that strike a chord with the audience. Brand storytelling is no longer an added bonus; it has become a must in today's overly competitive atmosphere, wherein thousands of brands are vying for users' attention. Powerful storytelling can truly set you apart from the rest.
The motive behind using storytelling in marketing is to form a connection with the viewer, thus enabling them to feel something. This tie then inspires the customer to take action. Storytelling humanizes your brand. In simpler words, brands that are able to portray their narratives better are able to sell better. There are a few storytelling tips and tricks that can help brands ensure they are on the right path to effective marketing.
5 Essential Storytelling Tips and Tricks
Here are the five essential principles of storytelling for brands to adhere to. These principles can help brands tell powerful stories and forge meaningful connections with their audiences.
1. Create a relatable main character
The main character is the central vein of the story, without whom the story does not essentially exist. The protagonist or the hero is the character that is the face of a story. In marketing stories, the hero could be a real person, or the brand itself. Some brands even prefer creating a fictional one.
A central character makes it easy for your audience to understand and relate to the story/message. This central character has to be appealing and thoughtful in some way, and interesting and well-defined too. The traits of this character should be such that the viewers are able to retain its sketch in their minds.
2. Place the best elements at the beginning of your story
Like advertising messages need to start with a good hook, stories need to have their best elements displayed at the beginning. They should be good enough for the audience to engage with the story. When incorporating stories in your marketing campaigns, one storytelling tip you can use is to give your audience a peg to hook on to.
This peg—or a hook—in your ad or message would effortlessly lure them in. With the best elements peppered at the beginning of the story, it is nearly impossible for the audience to avoid the message. For all you know, this tactic might compel them to share your content with others.
For example: instead of telling the audience "How to earn money with YouTube", tell them "How to make your first $1,000 as a Youtuber". Any title, message, or marketing story that offers the audience a juicy detail or an irresistible fact is bound to keep them engaged with the message.
3. Creating conflict is essential
Conflict is what keeps your audience engaged. Imagine if there was no tension in a film, and the hero was easily getting whatever they aspired for or wanted. Would we all sit in the theatre and watch what was already so predictable? Absolutely not. One of the important storytelling tips is to add conflict wherever possible and as frequently possible, in the story.
Marketing storytelling is not all that different from stories in films and novels. Both the formats are different, but follow similar general principles of narration. The protagonist of a brand's marketing story needs to fail, in order to emerge victorious later. Add opinions and points of difference, and offer this to the audience as problems they might be having or they can relate to.
Then enters the brand's product or service, which functions as the solution to the problems mentioned before. The process of overcoming the obstacles serves as a cathartic one, and the audience will relate to it. They relish it. It is essential that things fall in place only at the end of the story.
4. Emphasize the relationship between listening and telling
One of the often easily forgotten principles or storytelling tips is understanding the relationship between listening and telling. There is a reciprocal relationship between listening to stories and telling stories.
While a brand may be good at telling stories, without understanding how its audience listens to those stories, it cannot make sure its technique of storytelling will be successful. As a brand, it is important to identify the obstacles that might be barring the story or message from reaching the audience. These obstacles could be physical, psychological, relational, external, or internal. Especially in the case of digital marketing, factors like attention span, mental state, likes and dislikes, behavior, consumption patterns, etc., are to be carefully considered while crafting stories.
5. Make sure your story is authentic
People love authenticity. As a brand, it is crucial to be authentic in your storytelling and marketing efforts. Stealing off other people's or brands' ideas is not the right way to impress the audience. Produce a story that is genuine and unique. A brand's personality gets reflected through its story; therefore, it is essential to create a relevant narrative. We all buy a brand's products and services when we resonate with it, and that takes place via the story the brand is telling.
13 Creative Storytelling Examples By Brands That Will Inspire You
While learning from storytelling tips and principles is a good idea to craft a better marketing story for future campaigns, looking at existing brand storytelling examples is an equally brilliant way to get inspiration.
1. Nike
Known for its exceptionally strong marketing collateral, Nike makes each of its messages so powerful that it reaffirms the core values of the brand: strength, grit, and perseverance. What is notable about Nike's brand storytelling is that it does not force the product on people. Rather, it considers its customers' requirements suggestions and comes out with an even better product.
For instance, it routinely asks athletes and other celebrities to endorse its products. Since such power figures have a huge following, Nike's products are able to break through to wide audiences. Some Nike key figures popular today are Michael Jordan, Russel Wilson, LeBron James, Giannis Antetokounmpo, etc.
The brand's storytelling relies on real-life heroes, who represent hard work and determination. Every marketing campaign by Nike is a compelling storytelling example.
2. Patagonia
Another great narrative storytelling example is Patagonia. Brands can underline each piece of their content with a story, just like Patagonia. Their storytelling marketing strategy is indeed praiseworthy. The brand aims to tell the real-life stories of its customers, which is quite a unique take on brand storytelling.
It regularly posts stories that are in line with the brand's core values. These stories touch upon several issues, people, themes that concern the outdoors, adventure, activism, and more. Patagonia uses authentic storytelling to draw customers in and entertain them.
Plus, through its social media accounts, it posts customer stories in the form of short and long videos. One of the storytelling tips to be learned from them is to use an omnichannel approach.
3. IKEA
If someone has churned humor as a marketing element to the best of their ability, it is IKEA. IKEA Singapore makes great use of humor. One of the best takeaways from this storytelling example is to use humor right. With hilarious puns in their storytelling campaigns, IKEA Singapore makes mundane furniture and storage appear fun and engaging to watch.
The "Shelf-Help Guru" concept is witty and fun, and a rigamarole of entertainment to watch. It features a man who is a "shelf-help" guru and comes to the rescue of those wanting room- and furniture-related suggestions. The story has important characters, humor, conflict, and a solution at the end. IKEA's storytelling strategy relies on personally understanding the customers and their plight. And at the same time, it offers solutions, while being in tune with the brand's core values.
4. Dove
Another remarkable brand to learn a storytelling tip or two from is Dove. With its various campaigns worldwide, Dove has redefined the art of storytelling that connects people through a singular sentiment.
Being one of the first brands to feature actual customers in its videos, Dove has mastered storytelling in the form of campaigns. The campaigns it puts out revolve around stories that converse with the viewers. Its Men+Care initiative, launched on Father's Day, aims at breaking gender stereotypes: it looks at establishing a culture of care for fathers (and men in general). The initiative features stories of real fathers, and provides them with several resources to deepen their connection with the brand.
5. Huggies
A globally popular diaper brand, Huggies refocused on and re-emphasized its message of hugs to win mothers in an emotional manner. It created a campaign called "No Baby Unhugged". Through this campaign, Huggies shared the story behind the power of hugs with the world.
Their video ad featuring a mother hugging her baby created a strong impact on the viewers. This led to the promotion of Huggies diapers in hospitals, spreading the message that Huggies would be the best diaper option, as well as the best gift that a mother could give her baby.
This learning from Huggies brand storytelling should definitely be added to the list of the most powerful storytelling tips and tricks. Educate the audience about your product in an emotional way. Leverage the power of storytelling and emotionally convince the audience.
6. Disney
Disney and storytelling go hand-in-hand. It literally goes without saying that Disney is a powerful storyteller. One of the most remarkable examples of Disney's ad storytelling was seen in Disneyland Paris' commercial, featuring the story of a little duck, who aspires to be like Donald Duck after seeing his picture in a comic book.
And when after a long and arduous journey, this little duckling arrives at Disneyland, it meets Donald Duck. There is something uniquely touching about this short ad, that will strike an emotional chord with each and every person watching it. It is beautiful, thoughtful, and sentimental. Most of all, it is an excellent example of storytelling with a flavor of sweetness, having a solution at the end.
7. Eva Stories
Have you ever wondered, "What if a girl during the Holocaust had Instagram?" Eva Stories is primarily an Instagram account, which is a visual adaptation of the diary of Eva Heyman, a 13-year-old girl, who documented the happenings of the Holocaust as they unfolded. The initial posts on the account feature an illustration of a hand holding a cellphone behind a string of barbed wire. This emerged as Mati Kochavi and daughter Maya's idea.
Through hashtags, videos (in the form of Instagram Stories and posts), emojis, the duo decided to retell Eva Heyman's stories in a way that would appeal to the current generation. The goal was to find an interesting and engaging way to narrate the incidents of a gruesome event in history. This stands as one of the classic digital storytelling examples that brands should take note of.
Mati and his daughter searched through diaries of people from the Holocaust period and stumbled upon Eva Heyman, who had written notes of her daily life before and after the 1944 German invasion of Hungary. The diary goes on to cover several different aspects of this teen's life, which the duo recreates with contemporary media.
8. Apple
Apple has, time and again, come up with interesting ads and videos to create an impression. One of the most remarkable pieces of Apple's storytelling is called "Detour". It is a film that chronicles the story of a child's cycle that gets lost. It follows the cycle that has an adventure-filled trip before being reunited with its owner, the little kid.
This film, which was posted to Apple France's website, was created by Michel Gondry, an award-winning director and screenwriter. It really had to be spot-on, owing to the screenwriter's skill and craft. The ad was shot entirely on the iPhone 7 Plus. The audience found it appealing and engaging to watch.
The short ad-film combines many cinematic techniques associated with French cinema, such as underwater filming, time-lapse, animation, and slo-mo, along with a number of features of the iPhone 7 Plus. This 11-minute film was an amusing story for the audience to watch, making it one of the best digital storytelling examples.
9. Coca-Cola
Coca-Cola leveraged the most interesting element from the digital realm: augmented reality (AR). One of its initiatives that use AR proves that storytelling in marketing can happen effectively across different platforms. When customers pointed their phone cameras towards a can of coke, they could see different stories coming to life.
All of these AR-driven stories include a conflict, an interesting central character or characters, and light-hearted conversations; and all of this was centered around sharing a coke. The actual can of Coca-Cola became a prop and medium to convey marketing stories to the customers. Thus, the customers felt like they were a part of this animated augmentation, which was fun and amusing.
10. Airbnb
With its motto of connecting people around the world, Airbnb is not just an accommodation marketplace where people can list and book accommodations. The brand also encourages its users to connect with other travelers on the platform. People sharing living spaces, people from different cultures can use the opportunity to enrich their experiences by connecting with others.
The "That's Why We Airbnb" campaign, devised by Airbnb India, can be seen as an excellent storytelling example. It featured stories of real travelers and their experiences. Through authentic and innovative storytelling, Airbnb wanted to make Indian travelers believe that wherever they went, there were connections and belonging to be found.
11. Spotify
Spotify is known for its creative audio advertisements that narrate a story, compelling the listeners to purchase Spotify subscription plans. Spotify's audio storytelling is the unique selling proposition (USP) of its marketing plan.
A popular campaign launched by Spotify was the #Thatsongwhen campaign. It essentially encouraged users to share their favorite songs and stories related to them, reinforcing that Spotify has songs for every moment, mood, and occasion. This forged an evocative connection between the brand and its audience. Spotify's technique of making the users a part of the story itself is lauded worldwide. One of the reasons why this campaign was liked by millions of users is because it featured real people and real stories.
12. Fairmont The Queen Elizabeth
Fairmont The Queen Elizabeth hotel is a popular hotel in Montreal, more remarkably known for John Lennon and Yoko Ono's bed-in. John and Yoko were part of the peaceful protest against the Vietnam war. Over a seven-day period, they invited journalists and reporters into their bedroom suite. The famous "Give Peace a Chance" anthem by Lennon was recorded here.
Fairmont smartly made an iconic part of its history a celebratory event. Suite 1742, in which they stayed, was redesigned after the memory of the year the anthem was recorded here. The hotel has recreated the experience for audiences, but in the format of a virtual reality (VR) bed-in. The people who stay in this suite can wear VR headsets and engage in an exclusive, immersive, and one-of-a-kind experience. Participants are transported back to the time when John and Yoko were present at the suite for the peaceful protest (they stayed in bed for one whole week).
This Suite 1742 project is one of the most delightful and informative storytelling examples. It is made up of fictional as well as documented reality elements. Fairmont has captured one of the most famous pop-culture events in history and made it into an experience to be relished and remembered in newer ways.
13. Everlane
Everlane is known for transforming the experience of buying clothes through radical transparency. The brand believes in informing the customers about what goes into the making of the clothes they wear.
Everlane promises to deliver high-quality products to customers at reasonable prices, and has proven itself to be consistently transparent in almost every aspect of its business. The brand guarantees that there are no middlemen involved in the process. From revealing pricing behind its various production processes and talking about the factories they work with at length: the brand's storytelling is transparent and honest to a T.
Key Takeaways
Brands are increasingly incorporating narratives in their marketing strategies and campaigns, in order to attract new customers as well as maintain them.
Storytelling is the new essential of content marketing plans today.
The more memorable the impression, the more improved is the brand loyalty.
Storytelling in marketing is basically the process of using a narrative to communicate a message to your audience.
A central character (called the protagonist or hero) makes it easy for your audience to understand and relate to the story/message. It is essential for this character to be appealing, interesting, and well-defined.
Like an article or an advertising message has a hook at the beginning, it is crucial that the marketing story uses its best elements at the beginning. With the best elements used during the start of the story, it is impossible for the audience to avoid the message.
It is important to add conflict to the story. The protagonist of a brand's marketing story needs to fail, in order to emerge victorious later. Conflict delivers a cathartic experience to the audience at the end.
There is a reciprocal relationship between listening to stories and telling stories. While you may be good at telling stories, without understanding how their audience listens to those stories, you cannot make sure your technique of storytelling will be successful.
As a brand, it is important to identify the obstacles that might be barring the story or message from reaching the audience. The obstacles could be physical, psychological, relational, external, or internal.
As a brand, it is crucial to be authentic and genuine in your storytelling and marketing efforts. Produce a story that is honest and heartwarming.
A brand's personality gets reflected through its story, therefore it is essential to create an engaging narrative.
In the case of digital marketing, factors like attention span, mental state, likes and dislikes, behavior, consumption patterns, etc., are to be carefully considered while crafting impactful stories. This is an essential storytelling tip.
Some of the most compelling digital storytelling examples include the AR-driven cans by Coca-Cola, Eva Stories, IKEA Singapore's memes, Nike, Patagonia, and Dove Men+Care's Father's Day campaign, among many others.
Conclusion
Digital marketers today are employing the power of storytelling in almost every element of marketing, whether it is videos, social media posts, print advertisements, billboards, email newsletters, or immersive experiences. By learning about the five core principles of crafting a story and the storytelling tips discussed above, you will surely be able to keep your audience engaged, making them want to come back for more.
With the invention of advanced technology and tools, storytelling has become a more nuanced art. It is safe to say that it has also become an indispensable part of the marketing strategies of several brands. As more and more processes get automated and digitized, the importance of the "human angle" is felt more than ever. This is when storytelling comes into the picture.
FAQs
1. What is the importance of storytelling in marketing?
Consumers, today, want brands to make ads that feel like lucid stories. Stories allow the consumers to relate to a brand on a personal level, engaging them in ways traditional marketing copy simply cannot.
2. How do brands use storytelling?
Brand storytelling is the strategy of using a narrative to connect your brand to the customers. In storytelling, the focus is on linking what your brand stands for to the values you share with your customers. Storytelling helps a brand shape its identity beyond the effects of traditional marketing.
3. What is Nike''s way of using storytelling?
Nike uses storytelling by encouraging its audience to dream. They allow their audience to believe that they can achieve the impossible. Nike incorporates this message in its ads via the heroes of the Nike story: think individuals like Serena Williams, Tiger Woods, Colin Kaepernick, etc. They offer the audience examples and instances to derive endless inspiration from.
4. What advantages does storytelling bring to digital marketing?
The audience will usually not react positively when they are ordered, advised, or commanded to buy a product or purchase a service. But the power of storytelling and the interesting structural elements in it—the presence of the main character, a plot, action, conflict, etc.—enable a viewer to find the character or the story relatable. This, in turn, generates positive feelings towards the advertisement, and a greater number of leads too.
5. What are the setbacks of storytelling in marketing?
While storytelling, if done right, can be a major asset to the process of marketing and advertising, there are a few setbacks to it as well. Some of the things brands do that can ruin storytelling include the following: 
– Layering the narrative too much and making it extremely complex to interpret
– Adding a superhuman fallacy to it
– Over-sanitizing stories
– Ending the story in an economic benefit
– Not adding a human angle to the story
6. What are the essential elements of digital storytelling?
Some important elements that are required in digital storytelling are a point of view, powerful soundtracks, pacing, overall purpose, emotional content, compelling visuals, and a dramatic question. Since we're talking about digital mediums, it is also important to convey your message as succinctly as possible, due to people's short attention spans.