Marketing
5 Types of Content that Millennials Love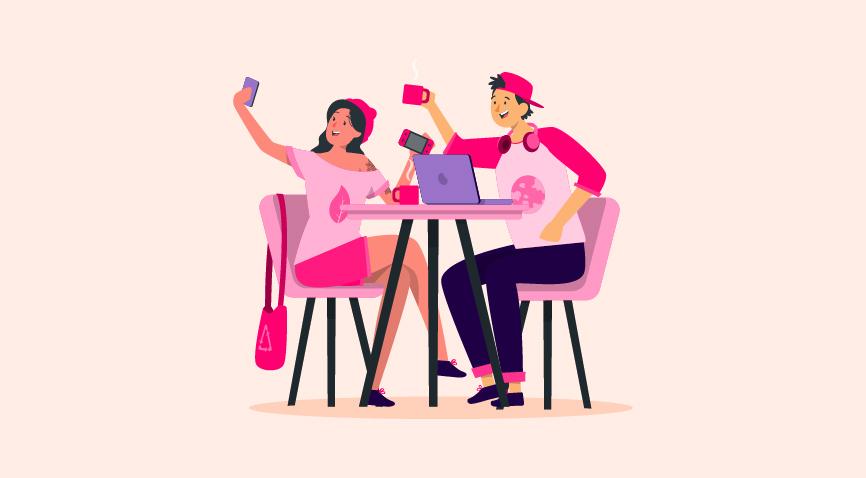 Millennials are tech-savvy, on top of trends and have the most purchasing power. It is imperative for brands to use content marketing to engage with them.
Millennials presently constitute the lion's share of every brand's target audience. They are tech-savvy, stay on top of trends, and have purchasing power; they can be ideal users for any kind of product or service. 84% of millennials don't trust traditional advertising.
This generation evolved at a time of massive digital advancements and when the internet started booming. Given the constantly changing landscape of marketing, all brands need to keep pace with millennials. As per a survey, 247% of millennials are more likely to be influenced by blogs or social networking sites, and 79% realize that ads serve a purpose for brands. It is clear then that millennials prefer to engage with content more than brands themselves; content marketing has become more relevant than ever before.
Here is how you can break into millennial minds and determine the types of content marketing they would respond to and the key to making a space for your brand in this competitive atmosphere.
Things to keep in mind while creating content for millennials
One of the most critical steps to consider when creating a content marketing strategy for millennials is: Think mobile-first. Almost all millennials are phone users, and they rarely surf content on tablets and desktops. Make sure that all your content and distribution platforms fit this bill.
The next big step is to focus on social media, which is almost synonymous with content consumption for millennials. This is one of the most vivid content marketing trends.
As a brand, you must also explore the possibility of building narratives. In-your-face advertising will not work with this age group. Your marketing strategy has to be content-driven and backed with stories, concepts, and interactive posting.
Types of content that millennials love
We will now look at the different types of content that appeal to millennials.
1. Video
54% of millennials check YouTube daily, so exploring it as a platform is a must. It is said that millennials tend to have a relatively lower attention span. They also tend to trust visual content over text-based content. This also allows for easy sharing across platforms. This means they often jump from one piece of content to another. In such a case, videos can help you retain attention and pull in users.
Videos can be an audio-visual treat. A video keeps a user hooked for a long time and provides better impressions. All social media platforms today encourage videos for this reason. Reels, IGTV, and Facebook watch parties are all a result of this demand.
YouTube, the biggest video aggregator platform, is the second most used search engine. A millennial would rather look for a video on a certain topic than read full-length blogs.
Some video content marketing trends also suggest that 89% of brands found videos to provide better ROIs than other forms of content. Additionally, videos can enhance lead generation by 66% percent.
2. Trend-driven and authentic content
This can be a twofold approach. Firstly, some types of content forms have very brief shelf lives. When the internet ushers in a trend, it lasts for just a few days. Marketers and creators must use this window of opportunity to find new audiences.
For example, a meme format, a Twitter trend, or an Instagram reel format can entice millennials and give your brand the momentum to ride a trend wave.
The second point to note is the need for authenticity. Over 90% of millennials say that authenticity is important to them when choosing a brand. This also shows that they trust user-generated content for brands more than others.
3. Informative content
Informative and educational content accounts for some of the most widely followed content marketing trends today. More and more millennials want quicker ways to find information and learn new skills, which means that instead of traditional marketing, brands should leverage inbound marketing through informative content. Content on current affairs, how-tos, and educational e-books can interest millennials.
For example, if you are a healthcare brand, content revolving around improving fitness or diets will grab widespread attention. Similarly, a fashion brand can make videos about new trends, or there can be educational videos on manufacturing processes.
4. Share and tag-worthy content
Content that promotes sharing, tagging, or communication is a wonderful way of keeping audiences hooked on your pages. Firstly, this improves engagement on your page as more and more users reply or comment on your posts.
Secondly, by promoting tagging of friends and influencers, the reach of your posts will improve. This will indirectly lead to a higher number of followers and better brand awareness.
Some content marketing trends that you can utilize and which seem to have picked pace in recent times include polls, quizzes, open-ended questions, opinion pieces, tweet threads, live videos, and giveaways.
5. Content that promotes a cause
Millennials want to be part of a movement, share their opinion, and back their arguments online. This willingness to share and comment provides a great advantage to a brand. 61% of millennials are worried about the state of the world and want to do something about it.
If brands can successfully create types of content that establish an emotional connection and initiates conversations around a social cause, millennials are likely to get behind it.
A brand that champions a charitable cause or creates an image that is working for the betterment of our world would always win users' trust. For example, promoting causes like sustainability, eco-friendly processes, and better work conditions can raise your credibility.
Lastly, triggering emotions like nostalgia, unity, laughter, and friendship can also grab many eyeballs. Keep in mind that this content should remain relevant to your brand's message and should be created for the sake of following content marketing trends.
What not to do
It's also important to know what you must not do while catering to millennials.
Studies on user behavior show that over 80% of millennials support brands that stick to their causes. For example, do not merely create a social media campaign around sustainability if your brand does not practice or support the model.
Stay away from traditional or conventional forms of marketing if your target user is a millennial. Interruptive advertising or old-school methods like cold calling can annoy such an end-user to no end. When picking your avenues of marketing, eliminate options that provide lower ROI.
Lastly, do not directly sell things to millennials. Keep your content less like an infomercial and more driven by stories. Your content should add value to your user. This value will keep them returning to your brand for more, and they can eventually become loyal consumers.
Marketing aimed at millennials with low attention spans can be a slow process. It would take weeks or months before you see results. Keep an eye on both data and trends, and you can create a lasting impression on a millennial mind.
FAQs
1. What apps do millennials use in 2021?
Snapchat
TikTok
Youtube 
Instagram 
Clubhouse 
2. What types of content do millennials consume?
Informative 
Social media trends
Byte sized content 
Visual appeal 
Short-form content (50-60 words) 
3. What is a great content marketing strategy for millennials?
Go beyond conventional advertising
Keep up with the trends 
Ace the art of storytelling 
Personalize the experience 
Connect with visual appeal 
4. What are the best examples of millennial marketing?
Burger King and McDonald's 
Amazon Prime Video India and Netflix
Coca Cola 
Nescafe 
Tinder India