Marketing
15 Stats About User-Generated Content that You Can't Ignore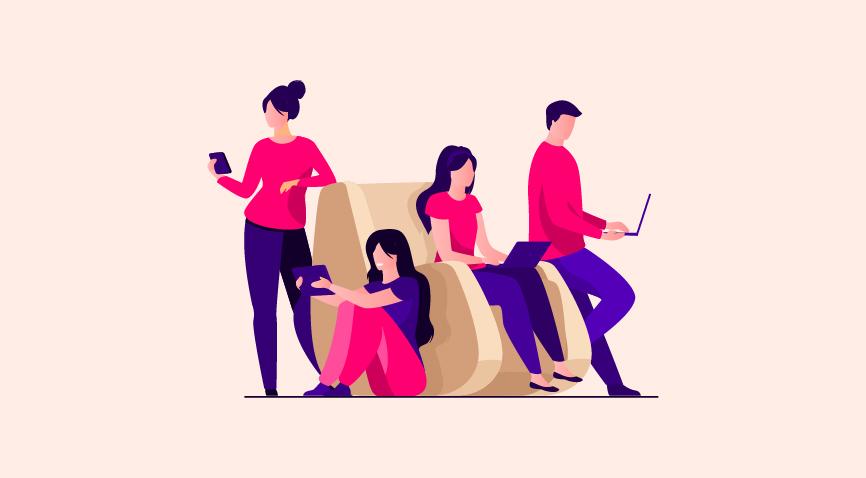 When it comes to different types of content marketing, UGC is one of the most profitable strategies. But how can brands use the power of user-generated content effectively? Read on to find out.
Table of Contents
Why Go for User-Generated Content?
Benefits of User-Generated Content
User-Generated Content Statistics that Prove it Works

Recommendations and referrals
Millennials and their purchasing decision
Social media and word of mouth marketing
Lower cost and a higher ROI
Exposure and engagement
Impact on brands
Employees as brand ambassador

Key Takeaways
Conclusion
FAQs
The next wave of the Web is going to be user-generated content.
– John Doerr, Venture Capitalist
User-generated content definition: UGC is content created by a brand's users and not the brand itself. It could be made by unpaid fans who want to promote the brand simply because they believe in it.
Why Go for User-Generated Content?
UGC can range from blog posts, images, videos, selfies to even memes. Now think back to when you ate at your favorite restaurant and shared a post on Instagram or when you tweeted about a product you liked, and the brand retweeted you. All of these are examples of UGC and the massive role it plays in content marketing today.
When it comes to different types of content marketing, UGC is one of the most profitable strategies.
The user-generated content strategy uses different content types such as music, video, graphics, and text. In UGC, a content creator will be an individual or a group of people who create content and showcase their talent through different content. Unlike traditional marketing or advertising, the brand does not showcase the product or services. A completely random person can make content over the product or service and make a video or an article about it highlighting its benefits or uses.
In the past, only B2C companies incorporated UGC strategies as the content creators would directly advertise to potential customers. But in recent times, we can see that many B2B companies have also incorporated UGC strategy into their marketing mix.
Benefits of User-Generated Content
Social media is a powerful tool, and UGC can help brands expand their presence and grow their social network.
People trust any content created by fans, customers, or employees compared to that directly created by companies.
UGC's strategy is very cost-effective and gives a high return on investment. So basically, user-generated content ROI is pretty high.
People consider UGC content to be more authentic and are more willing to purchase after consuming such content.
UGC helps create a strong community that trusts everyone's decisions and reviews, which helps create a great brand.
When utilized appropriately, UGC empowers commitment and develops your potential clients. It improves SEO while supporting your lead generation strategies.
UGC also helps you to boost your social media presence, growth, and reach.
User-Generated Content Statistics that Prove it Works
Here are a few UGC stats which prove that this content marketing strategy bears fruit:
1. Recommendations and referrals
The best way to sell your products and services is through recommendations and referrals. User-generated content is all about recommendations and referrals. If one customer likes it, they will give good reviews and recommend your services or products to their friends and family.
When we look at the content marketing analytics related to UGC, a Nielsen report says that around 92% of the consumers prefer to purchase recommended products, especially when it comes from someone they know and trust. According to this study, 84% of consumers would not give much attention to direct advertising; instead, they prefer peer-to-peer recommendations or referrals.
2. Millennials and their purchasing decision
We all know that millennials are the driving force of purchasing goods and services online. Learning about their purchasing decisions and marketing to millennials is vital for every organization. When it comes to UGC, millennials contribute more than 70% and act as the most significant content drivers.
Also, according to one research, UGC plays a significant factor in the purchasing decision of around 79% of the people, according to Stackla. Also, at least 41% of the people go through multiple UGC reviews before purchasing the product or service.
3. Social media and word-of-mouth marketing
When it comes to different types of content marketing, social media marketing, and word-of-mouth marketing go hand in hand with UGC marketing. Various content marketing analytics tell us that a brand needs to have an excellent social media presence to have better UGC marketing.
It was found that social media can influence the purchasing decisions of at least 74% of the consumers, according to Social Media Today. It was also seen that word-of-mouth marketing is critical to add to your marketing strategy as it gives twice the sales and profits compared to paid advertising, according to McKinsey.
4. Lower cost and higher ROI
Every company wants to lower its selling cost and see a rise in its ROI. Similarly, every marketer will want to spend less and see a higher conversion rate. It is a well-established fact that user-generated content has a lower cost compared to a traditional advertisement.
UGC costs 50% less and has a four times higher click-through rate, resulting in a 29% higher conversion rate, according to AdWeek. Therefore, UGC is the right choice to add to the marketing strategy if you want to see a rise in potential leads.
5. Exposure and engagement
Every brand wants to get exposure and reach out to customers in a short time. User-generated content is the best way to achieve this feat. According to a study, around 50% of the customers said they get brand awareness through UGC content instead of advertisements, says a Forrester report.
The same goes for engagement; social media apps like Instagram, Twitter, or YouTube are a great way to keep your customers engaged with the brand. You can see at least a 50% rise in engagement level through UGC, according to SalesForce.
6. Impact on brands
48% of customers say that user-generated content is an excellent way for them to discover new products. Moreover, brands see a 29% increase in web conversions when websites feature UGC.
These essential statistics push brands like Coca-Cola, Lays, AirBnB, GoPro to position their marketing strategies on UGC. When your customers create content for you, not only is it authentic, it also means you save on the cost of production and distribution for a piece of content that you have to create.
7. Employees as brand ambassadors
Every company knows that its most significant asset is its employees. There is nobody better than the employees to promote the company's products and services. 50% of the people on social media regularly post about their companies' products and services.
According to LinkedIn, where they talk about turning employees into brand advocates, every content that an employee post has twice the higher engagement. Remember that the company's follower base is only 10% of your employees' overall network, according to LinkedIn.
Key Takeaways
A vast percentage of consumers tend to buy products that have been recommended to them; a brilliant UGC strategy helps share the reviews of happy customers, thus helping improve purchase orientation.
UGC helps build a better understanding of millennials and their purchase behavior.
An excellent social media presence is vital for having a great UGC strategy.
UGC generally has a better click-through rate and lower cost than traditional advertising.
UGC is a great way to reach out to customers and increase brand awareness in a short amount of time.
A lot of customers find UGC a great way to come across new products and brands.
Conclusion
After looking at various user-generated content statistics, we can conclude that there are many benefits from implementing content marketing techniques into our marketing strategies. There was not a single statistic that could prove that UGC is not suitable for a company.
With the rise of digital life, every company is moving towards digital marketing. Every company is trying to leverage untapped markets by implementing various types of content marketing strategies. Looking at the above stats about user-generated content and content marketing analytics, you should start implementing such marketing techniques to your marketing strategies.
FAQs
1. What is the meaning of user-generated content?
User-generated content means videos, posts, blogs, images, selfies, and more created by users or customers external to the brand and not the brand itself.
2. What is the role of user-generated content?
UGC created by external users allows marketers to increase their engagement with their target audience. It helps build an emotional connection and form meaningful relationships. 

3. What are the benefits of user-generated content?
Some benefits of UGC include: 
1. It makes the brand seem more authentic.
2. It is unique by nature and helps in gaining insights into the audience while increasing personalization.
4. What is user-generated content marketing?
Brands re-sharing content created by their customers or fans to build a more authentic and honest presence is called user-generated content marketing. 

5. Who is responsible for user-generated content?
The publisher or brand that shares the UGC with its target audience ensures that the content fulfills all applicable policies.

6. Give an example of user-generated content.
Smartphone unboxing videos on YouTube are an example of UGC content. UGC can include any content like reviews, selfies with the product, how-to-use content, and more.   

7. Is user-generated content trustworthy?
Many marketers see user-generated content as the most authentic, trustworthy, and reliable form of content across mediums.