Unraveling the Insights of SEO Marketing with Monika Rai
In the realm of marketing, SEO serves as a powerful tool to drive organic traffic to websites, ultimately increasing brand visibility, generating leads, and boosting conversions. By optimizing their websites for search engines, businesses can improve their chances of appearing higher in SERPs when users search for relevant keywords or phrases related to their products or services.
In this enlightening conversation, we have the pleasure of delving into the diverse facets of SEO marketing with Monika Rai, Head of SEO at Splash Learn. With her wealth of experience and expertise, she shares her unique journey and sheds light on the ever-evolving world of SEO marketing.
1. How has your journey been?
If you talk about me, I started my career in 2010 and joined a small digital marketing agency in Indore. Then I started my career, and earlier, I was selected by Satyam and Communication. I am more into the CCNA- networking part. So, I was very disheartened when I did not get an offer letter from these organizations. So, I just chose to start digital marketing; digital marketing was a very scary term, and I was not sure how my journey would go.
So, I started with one of the digital marketing agencies in Indore and started my career. There is started with small brands that were not popular; it was just to start my career. After this, I came to Delhi and joined one of India's biggest digital marketing agencies. It is an Envico marketing. There I got a chance to interact with many global clients from various geographical areas like Norwegian, Hungry, UK, and USA.
I worked with big clients from the United States AIG Group of Insurance and Heard Car Hire Company- one of the biggest car hire companies in the United Kingdom. And apart from that, in India, Max Bupa, Airtel, and Eno are the few brands I worked with. After that, I worked with the SaaS organization, and that was one of the biggest changes in my career. So, because SaaS is something that is the future, and we all are aware of it. And I have worked in the SaaS organization for the last six years.
And I deal with various customer support products, help desks, Ticketing systems, chat software, project management tools, knowledge space, feedback tool. And apart from that, I was also handling one of the USA's biggest sites, marriage.com. It's entirely a publishing website. It is a completely content-driven website. Those six years in my career were the biggest challenge. Before that, I also joined an organization that is India's top e-learning organization. They provide online IIT-JEE coaching, and they are askiitians.com.
So, I always deal with a lot of challenges whenever I pick up a website. If I talk about askiitians, their site was hit by the penguin update. I worked with them for 11 months, and their organic traffic was seen a 150% increment after doing a lot of changes. And after this, I joined the SaaS and publishing organization.
And currently, I am with Splash Learn, an EdTech organization. We are into learning games, worksheets, vocabulary, and blogs and making learning fun for kids. And this is all about my journey. And a lot of experience in traveling, hotel but my interest is in SaaS and publishing.
2. How do you see the various geographical markets react to marketings differently? How do you gauge and go about planning this?
So, is US and India both have different audience bases. Everything is very different. You can't say those who are working in the Indian market can easily understand the USA, they can, but SEO is all about common sense. It is not like you can have a course and certification and start SEO, no, not like that. For 7 to 8 months, I have only been stuck to US audiences. On an emotional aspect, US people are very sensitive kind. If we are selling a product, we have to things a lot about our product side and support them. It is not like we are responding to their email in 48 hours or more than 3 to 4 hours.
The US market and the US audience are entirely different. You have a lot of things to do; you have to consider the research part, something which can be rank able on the Indian Google search. My recommendation is market research, what people are looking for on the internet, what type of terms, what the intent of the terms and what is the search pattern- which is very important. In the last 6 to 7 years, I have seen a drastic change in the search pattern; I'll give you a SaaS example; we used to rank for an important keyword for knowledge-based software. Our product pages were coming on, but after a few years, it was completely gone. And the Listicles articles are coming on search.
If somebody is surfing, what is the best knowledge-based surfing tool, so you can see listicle articles on search? Complete product pages are not coming. So, understanding the search pattern is very important. What kind of keyword, and what kind of pattern is there? You have to use a lot of tools to understand user behavior. It starts from the market, to the keyword, and the audience. Since I am from a digital agency and product, it is important to understand the product if you are taking care of it.
For an effective SEO strategy, understand market research, what people are looking for on the internet, the intent of the terms, and what is the search pattern.
3. What was your major accomplishment in these years?
I think I am a lucky girl, and I think Google gives me a little bit of weightage because every time whenever I start with any website. That website has something hit by it. And this is a great opportunity for me. I'll give you an example, the marriage website 2015 they were penalized by Google, and they have around daily 2000 visitor traffic. So, it took me 20 months to get that website recovered. I gave 150% traffic, and they got 30000 site traffic in February 2017.
In 2019, the website saw flatline traffic, eat-update, etc. Every time you can go back, you will see a lot of changes. You can expect every update every three months, right? So, in 2020, the marriag.com website was stable to 8 lakh monthly visits. I did content pruning, which is very important. Sometimes you have to visit your old content; you have to ensure it is updated per user requirements. The traffic went from 8 lakhs per month to 2 million per month in 2021, a 300% traffic rise. Now they have 6.5 million per month of traffic. The biggest challenge of SEO has patience, the right strategy, and using common sense. I work with such CEOs who have some patience. It takes time; SEO is not a one-night thing.
3. With respect to team synergy, how do you see AI and ML in marketing today?
So, the pain point in SEO is that the number one challenge is to influence your management. The best way to explain is with data. You have to explain them with research and data. Business looks at ROI. I explain with proper data, proper research, and data. Number two is the synergy between the team. Content is there, the developer is there, and customer requests should be delivered. Once you start to explain them, it will give you a boost and see the impact. You have to completely guide your writer and developers. We should build a friendship between them.
The third part is technical SEO. I work with a lot of people who implement a lot of changes without impact. So you can play with the businesses, you must be very sure of what you are doing. You must use a paid tool instead of a free tool. Tools like content tools and technical tools should be provided.
As you told AI, is the hype like ChatGPT? As an SEO, I would recommend using AI as an assistant. For example, taking an example to write many matter descriptions. You can't play with certain content with AI. A people dealing with depression, AI cannot help; we should make it. Then you hit the topic of eating and why.
4. If you had a content marketing platform, what would it be like?
Me, I have a very big content marketing platform at Splash Learn. So content marketing tools you are talking about, there are a lot of tools available in the market. Every marketer everyone has a different tool as per their comfort. Some for Semrush, some for other tools, etc., and my number 1 free tool is the search console. Whenever we write or improve the content, I recommend logging in to the search console to see the queries.
The second tool is the google analytics tool, which is a very good tool. It gives a good impression on your website bouse and traffic. The third tool for me is Edshef; recently, they launched a feature traffic potential. Say you have to write content for keywords like a best content marketing tool; you can see the keyword potential. And edshef grammar is an error-free content writing tool. I love the feature of the Chrome extension Grammarly. It helps a lot with the content. Apart from that hot jar, I love the heat maps, and you can analyze the content of heat maps whether people are clicking it or not. Bussumo is a very good tool, helping us with what type of content helped us in the past. These are my favorite tools, and I recommend using these tools for content marketing. We should explore the tool; in content marketing, an outreach tool is a must.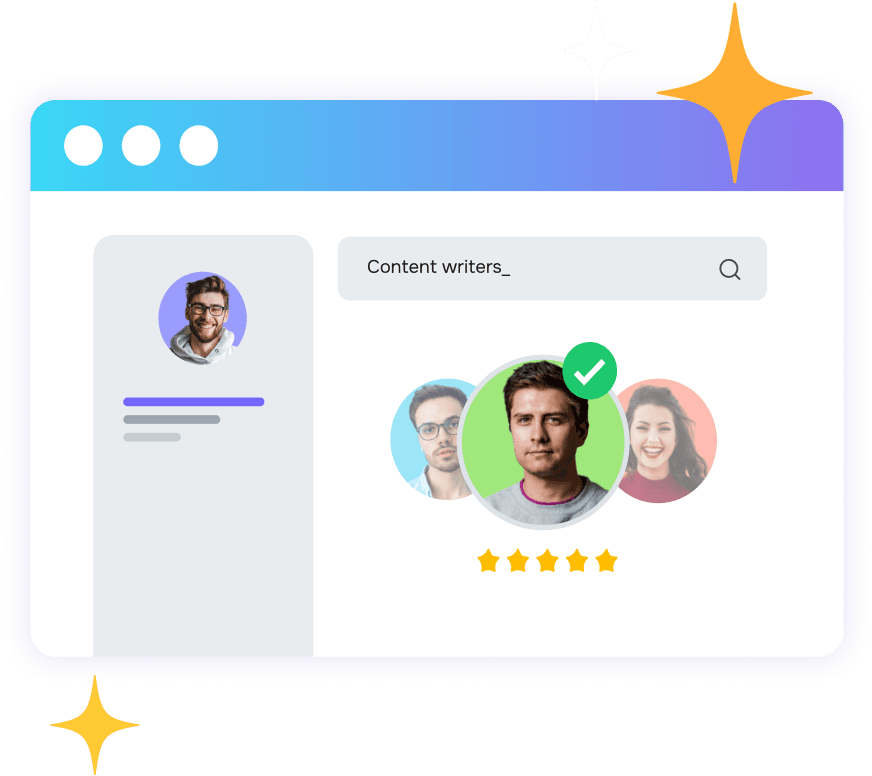 Get started with Pepper's Content Marketing Platform.
Designed for winning teams.