Tracing the Evolution of Content Marketing and its Most Pressing Demands with Jake Link
A few years ago, content marketing equated the number of blogs you could create and the ensuing organic traffic one could get. However, this has changed in all shapes and forms in the last few years. Google has also become more responsive to the new needs of content marketing. So what is changing and deciding what content marketing eventually becomes?
COO & Co-founder of Pepper Content, Rishabh Shekhar chats with BRYTER's Head of Content Marketing, Jake Link about all this and more…
1. Please give us an intro of what you have been doing and your background.
I have always been in marketing at some level. I started working in television at NBC about ten years ago. Then I pivoted into the non-profit space, working with governmental organizations, then marketing technology, and finally, legal technology.
The common factor in all my roles—whether it's called content marketing, communications, or PR—is that there's a target market and I seek to understand who they are, what they care about, what moves them, and what motivates them. Then, I create content messaging campaigns that meet them where they're at.
2. What's your advice for people who go into content marketing?
So before you even begin contributing to the whole marketing machinery, do a lot of listening and understand where people are at. When I worked for Swissnex, an agency of the Swiss government, I didn't know much about the Swiss academic landscape. Also, I am not Swiss. I needed to understand who these people were and what they were thinking and talking about.
So step one is listening, which means talking to the experts internally at the company, going to conferences in person, and just having conversations with people and seeing what they care about.
And then comes the more traditional content marketing tactic of competitive research, which includes reading what's available. I'm also SEO-forward, not just in terms of technical optimization, but I see SEO as a tool to understand people and their needs. I spend time discovering what these people are searching for and what questions they have that they're typing into Google.
3. Five years ago, content marketing was the fifth, sixth hire in the marketing team, and now, it's the first, second. What's your current strategy around building and scaling teams?
I've scaled or been charged with scaling content marketing at multiple organizations, both internally and using an external agency. I've had some success and some failures at both of those. The main thing is when you're answering a question or providing a solution to a problem that is very closely linked with your product, then sometimes internal is the best approach. Here you have that seamless connection between the product and the education.
However, it's really important in content marketing to create a lot of content that is not about your product. You want to build trust and educate people who are coming to you. And so for that, outsourcing is a very smart way to scale. These external people only need basic knowledge of your product because they're not selling it. They're genuinely answering a question.
So my strategy is, if something is generic and agnostic enough from the product, it's worth considering using external resources because you can scale a lot faster, and you don't have to build expertise internally.
However, there will be those very sensitive things or those subject areas where you want to have your personality and voice. For those, it's best to use internal resources.
4. How do you make a case for budgets in content marketing?
When it comes to getting a budget or growing or scaling, it's all about proving the return on the investment. In an ideal world, that is the number of leads generated, accounts closed, and revenue generated from content. Content marketing, especially if it's search motivated, can be a long-term game. It can be hard to prove conversions because they might have read your blog, and then two months later, they go and they book a demo, and that's not tracked.
So when you're proving return on investment, especially in content marketing, it's okay if it's not always about numbers. It can be anecdotal, like if you say that an important client at our company said that our white paper was good. It's like internal marketing, where we can connect the dots while waiting for the data to get there.
The other thing is proving to the senior leadership and the whole company that content is not just about generating leads or revenue; it's also for customer education, engagement, and success.
Also, it is about proving to the senior leaders how one piece of content can be repurposed in many ways. For example, all the blog posts are not being created just to capture SEO traffic; they can also be turned into a newsletter, ebooks, sales one-pagers, etc.
5. What are some good ways to prove the value of content?
The ultimate thing I'm looking for is what impact content had on the company's revenue. If you can tie yourself to revenue, you will get more investment.
One way to do it early on is to put a tag, like a UTM tag, on your piece of content every time you share it. You can then see if a visitor or buyer has come from a search, email campaign, social media, etc. And then, one day, you'll be able to put that tag on a closed deal. And that is probably a fast, bootstrapped way to prove a little bit of ROI in measuring how valuable or successful content is.
Then early on, I'm looking at bounce rate, time on page, and the number of pages per visit. So those are some of the early KPIs in terms of engagement. And then, finally, this isn't a KPI, but if you're in a conversation with senior leadership and trying to convince them to invest, FOMO is super effective. Show senior leadership what their competitors are doing, and then they'll want to do it.
6. And has it gotten easier to convince the leadership to give you content marketing budgets over time?
Yes, it has gotten easier. That is because there's a lot of talk about content marketing, almost too much talk. Content marketers know what content marketing is, but there are a lot of other people talking about content marketing. They are talking about it but not fully understanding what it is.
In some organizations, content can be considered as any written word. But you have to draw the line somewhere — like content isn't writing or responding to a customer email, for example.
That said, I think there's a lot of interest and attention for content marketing from senior leadership now. And over time, the tools that we have to prove the ROI of content marketing are maturing. It's still tricky, but there are ways to track all traffic to a particular content piece.
7. What's your current go-to stack of tools for creation, strategy, distribution, analytics, etc., and if you have to build one CRM-like software for content marketing, what would that look like?
It would start with some combination of SEO tools that content marketers use like Conductor and Semrush, combined with something like Google Analytics and integrated into a CMS like WordPress. So there should be a central dashboard where I can see what people are searching for, who they are, what they care about, how the content I've already created is performing, and then how I can optimize existing content all in one place. So a place where we can see these basic recommendations like changing your title tag or adding this keyword into your H2.
8. One thing that most newly-inducted content marketers should avoid?
There's a lot of algorithm chasing. Many people are stuck in this feedback loop of what Google wants from them and then just doing it. You're doing what those AI copywriters do, but you're doing a worse job because AI is going to talk to other AI a lot better than a human can. So, it's important to know the best practices and structure your content. But all of that is secondary to genuinely useful, helpful information.
Sometimes I will write a piece of content and just try to answer a question that there's no search volume for, and then it will rank on page one for an associated term if it's genuinely helpful. So be aware of SEO best practices, but also relax about it. Don't chase the algorithm. Just try to make something genuinely helpful to a human being.
Google is not your primary audience. The people using Google are. Many people forget that, in the end, it's about storytelling. With all the AI tools in the market, the last company or organization or blog standing will be the one that tells really good stories.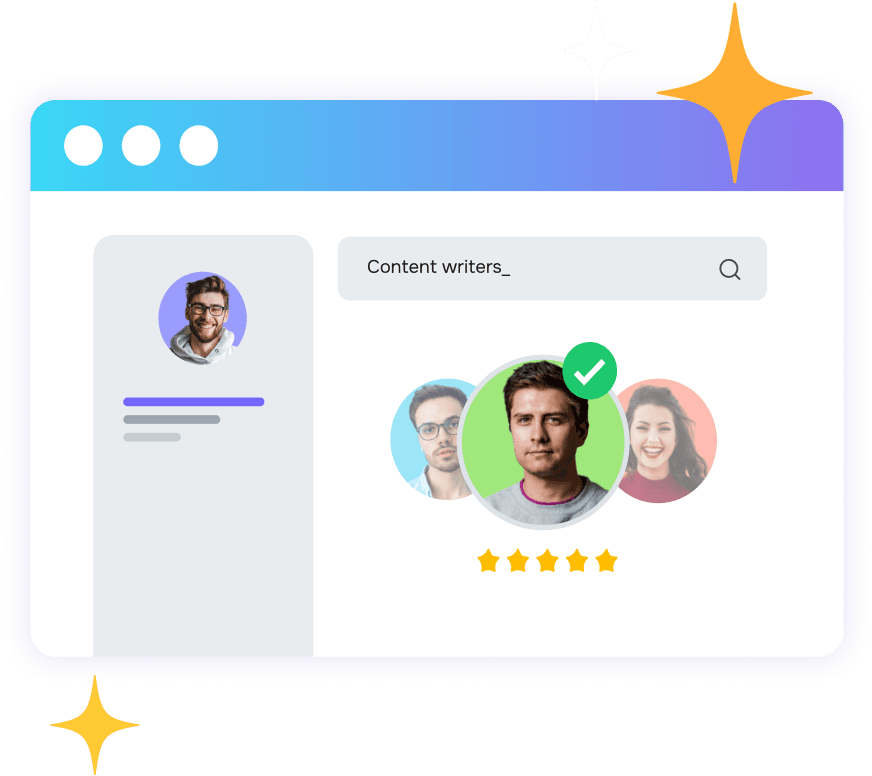 Get started with Pepper's Content Marketing Platform.
Designed for winning teams.