Irene Malatesta on the Success Metrics of a Marketer
Success metrics are measures used to evaluate the effectiveness of marketing efforts and determine whether they are achieving their intended goals. By tracking and analyzing success metrics, marketers can identify areas for improvement and make informed decisions about allocating resources and optimizing their marketing strategies.
In conversation with Rishabh Shekhar, Co-founder and COO at Pepper Content, Irene Malatesta, Principal Campaign Marketing Manager at Adobe, talks about the success metrics of a content marketer.

Here are some excerpts.
1. Can you please introduce yourself?
I am a content marketer and creative strategist. I studied art history in college and am interested in researching and finding interesting ways to tell stories, especially about creatives, creative people, processes, and how different events and people shape our culture. I take that mixture of design and arts education, interest in narrative and research, and psychology and technology to work on the strategic planning of marketing content and brand journalism. I've worked in technology, product design, brand strategy, and user experience.
Currently, I'm working on the Adobe Stock team. It is the stock content marketplace that's integrated with Adobe Creative Cloud, and I specialize in acquiring contributors, telling stories about them to support our brand, and connecting artists with opportunities to be seen and succeed in the marketplace.
Content marketing is neither advertising nor blog posts. It is an approach to creating relevant content that will be valuable to a clearly defined audience.
2. How has content marketing evolved for you over time?
You have to understand what your strategy is, who you're talking to, and what they want, and then create the content and choose the tactics that will drive the action you want to see. It's not about a specific tactic but rather about the approach, strategic thinking, and framework around it.
A lot of people think of content as individual tactics. Throughout my career, I have seen the expansion of understanding within marketing and business of how powerful content marketing as a strategic marketing approach can be. You can look at how brands have adopted this and changed and how they embrace the need to be authentic and connect with their audiences. Content marketing, at its core, is about attracting an audience. The term "inbound marketing" is also something that has grown in the past few years.
To attract audiences, you have to understand them deeply. Content marketing is intimately tied to the disciplines of user research, user experience design, and brand strategy. You have to have that holistic view to understand your audience, know what they want, and serve them the type of content they will find valuable. You need to attract them so they engage with you and your brand, or else it's just advertising.
When you get into building a brand or a large campaign effort, it's difficult to draw a one-to-one connection between all of your activities and a given result.
3. As a marketer, what's your success metric? What quantitative measures do you like to see and visit often so that you know you're in the right direction?
Most important KPIs or success metrics need to tie back to what you're trying to accomplish. So, it depends. Whenever I'm looking at a new campaign or project and thinking about using content to accomplish something, I look at the stage the viewer, reader, or user is at in their journey because that will impact the KPIs and type of content. Thinking about who they are, their relation to the brand, etc., will help you zero in on what you're trying to do, and your KPI or success metric might include views of the campaign, webpage, or video. Views might be a great success metric if you are just trying to drive awareness.
But over time, you get a lot of directional information, and it's up to you, as a marketer and a marketing team, to figure out how to interpret that data and tell a story that will be useful and insightful for other teams around you.
4. How have you gone about structuring content teams at Adobe or even in your previous organizations?
Written content is one of the first things to get outsourced, which is too bad. Organizations spend money on performance marketing campaigns, traditional advertising, and branding. But for writing the words that you're saying to your customers and audiences, [as a content leader] I've often faced questions like, "How little can we pay for this blog post? Can we get some random freelancer to write it for $50?" You can pay as much or as little for writing as you want, but if you want it to be good, you should hire someone experienced.
When I outsource, I like to work with people with domain expertise, rather than content marketing or SEO writers. The skills to research, evaluate, synthesize, and interview are key for someone who is a former academic or journalist or has specific subject matter expertise. I'm going to want to work with a person like that every time. We do sometimes work with freelance writers to produce articles and other content for Adobe Stock. Some of my favorite folks to work with are arts journalists, people who write for art magazines, film critics, etc. They might not have a strong marketing portfolio background, but they're great at interviewing artists or communicating about the artwork; that's what I mean by subject matter expertise.
If you're leading content marketing, ensure that you're setting yourself up for success by nailing your goals, values, voice, and tone. Know what you want your users to get out of your content and your readers to feel and think when they read it.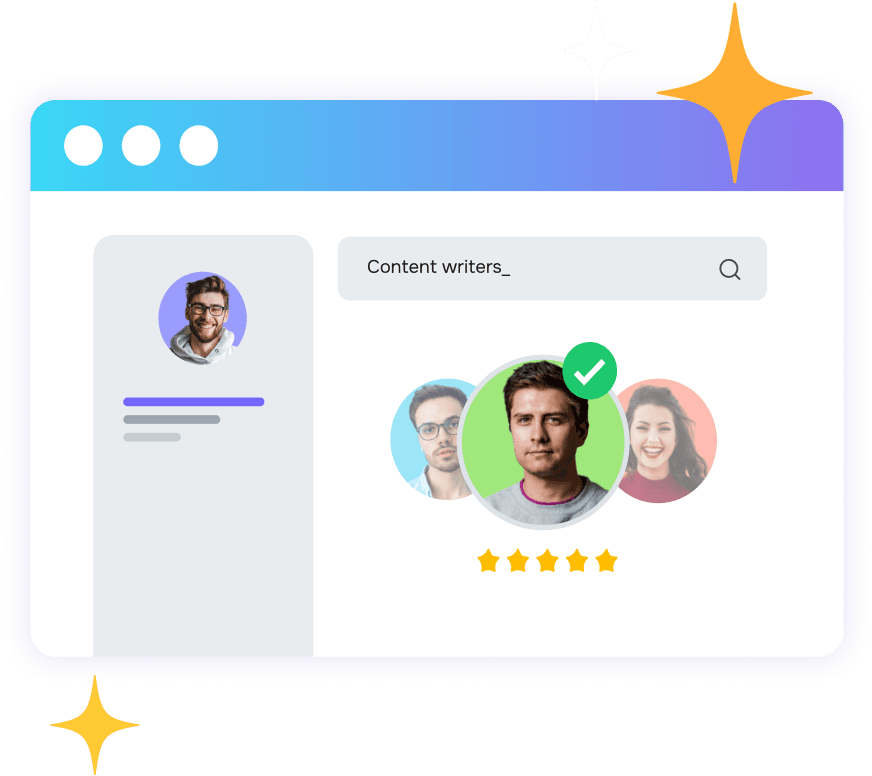 Get started with Pepper's Content Marketing Platform.
Designed for winning teams.