Drawing Light on Community Building and Working with External Teams, with Becky May
Outsourcing can provide businesses with cost savings, improved efficiency, access to expertise, flexibility, and risk management benefits. However, it's important for businesses to carefully consider the potential drawbacks of outsourcing, such as lack of control over how that activity is being carried out and potential communication challenges, before making a decision.
Becky May, Senior Content Strategist at InSided, talks about building external teams and a lot more with Anirudh Singla, CEO at Pepper Content.

Here are some excerpts.
1. Tell us about your journey.
My background is in journalism, so I've always enjoyed storytelling. Having an editorial background and perspective made it easier for me to approach content marketing because taking a product and looking at the features and benefits isn't restricted to traditional marketing. It's about looking for the story, hook, and angle and then weaving the product or messaging into it. You have to have a great content marketing strategy in addition to your marketing strategy.
Later, I joined a digital publishing house where my focus was on B2B beauty. There, I worked with content creators and influencers, which led me to pivot into influencer marketing.
The reason content marketing is more popular than traditional marketing is that people want to read a story. They don't necessarily want to go to a features page. I do think that those things are important, but I think that they go hand in hand.
2. How has community-led content been a key lever for you so far?
Some of the most important or read pieces of content and questions come from the community because they are using the product. These could be concerns, questions, improvements, or feedback. Having a peer-to-peer piece versus the brand telling people what they want to hear is essential and helps build that organic flywheel. Once you understand your audience, it opens the door for other people to engage in that conversation and contribute as well. The community serves different teams, and a lot of times, people think of it as one specific silo. But it helps with HR and recruiting; you can find great leads and potential employees from your community and warm them up so it's not a cold call and more. It can be a great source of different content ideas.
At InSided, we're focusing on working on our community. We just hired a new head of community, and our content team is working with him to see how we can produce content that isn't restricted to one platform, but also our email customer base. We want to make sure that good content gets extended in the community, as well as to our prospects.
3. How's the team structured at InSided, and how big is the content team?
Our content team is a team of two. We have a larger marketing team that includes our demand team, which is about four or five people, and our head or VP of Marketing. He's our internal thought leader and the go-to person for any webinar or panel we have. He's also the face of the InSided marketing team.
We try to be as agile as possible given that we are a relatively small team, and in terms of the strategy, we focus on a campaign per quarter. For this quarter, we're doing a community summer camp tied to growth. We're also doing Fireside chats with different thought leaders on a biweekly basis; we recently had a camp counselor session with our resident CSM and our head of the community to answer any questions that people had. There's a mix of virtual, e-book, blog, and other types of content that we try to look at quarterly.
4. What is your take on the quality vs. quantity debate?
There are so many things that I want to tackle, but I realized that I need to focus on what's going to have the biggest impact on the company. When I started social media for Insider, we pushed different ideas to build the brand voice, using memes and gifs, but we weren't seeing the type of results and clicks we expected. So, the quantity was there, but I don't know if the quality was translated.

After shifting focus to customer stories and case studies, it turned out to be great for our sales team and business development representatives. That kind of content has a bigger impact on the company.
5. What are your thoughts on using freelance creators or building extended teams?
There are pros and cons to outsourcing work to freelancers, but having subject matter experts is the most efficient way to do it. You need someone that may not be the best writer but understands the topic.
Outsourcing is a great option if you can find the right people, but you have to be very selective about who you pick, otherwise, it's just going to double the work, and you might as well end up writing it yourself.
6. Have you ever thought about building virtual design teams?
It's important to have built-out brand guidelines and tone of voice so that whenever you are outsourcing content to other teams, you can ensure that your content doesn't feel disjointed from the brand and is seamless to previously created content. Outsourcing can be a good scalable option. If you're not sure what the project volume is, it's recommended to temporarily outsource the work to avoid an increase in the headcount of your team.
7. What do you think a content marketer should not do?
I would recommend content marketers to not lead with sales. Effective content marketing pieces are education-focused and not product-focused because people, as readers, understand content marketing more than they did five years ago. So if it's not a good piece of content, people will be able to tell from the first few sentences whether it's clickbait. Make sure that you're providing value in every piece of content and not trying to trick the reader.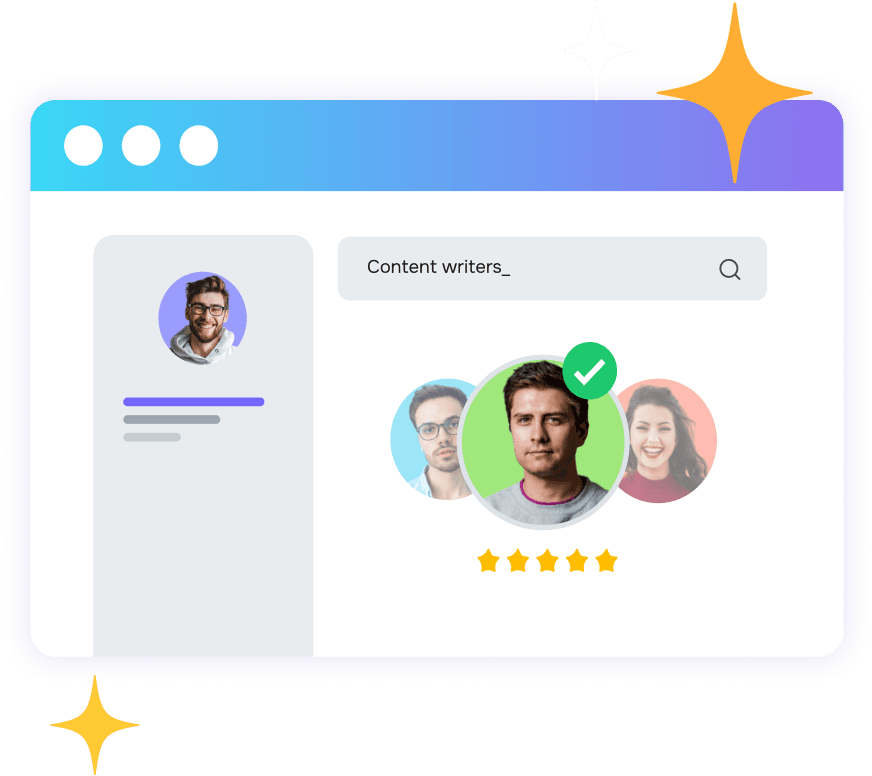 Get started with Pepper's Content Marketing Platform.
Designed for winning teams.