How ShareChat leveraged Pepper Content to become India's largest multilingual social media platform
ShareChat is a prominent social media platform that caters to India's diverse linguistic landscape. This case study examines the factors that contributed to ShareChat's emergence as India's largest multilingual social media channel. It explores the company's inception, strategic decisions, user engagement initiatives, and response to challenges that enabled it to attain its dominant position in the Indian social media market.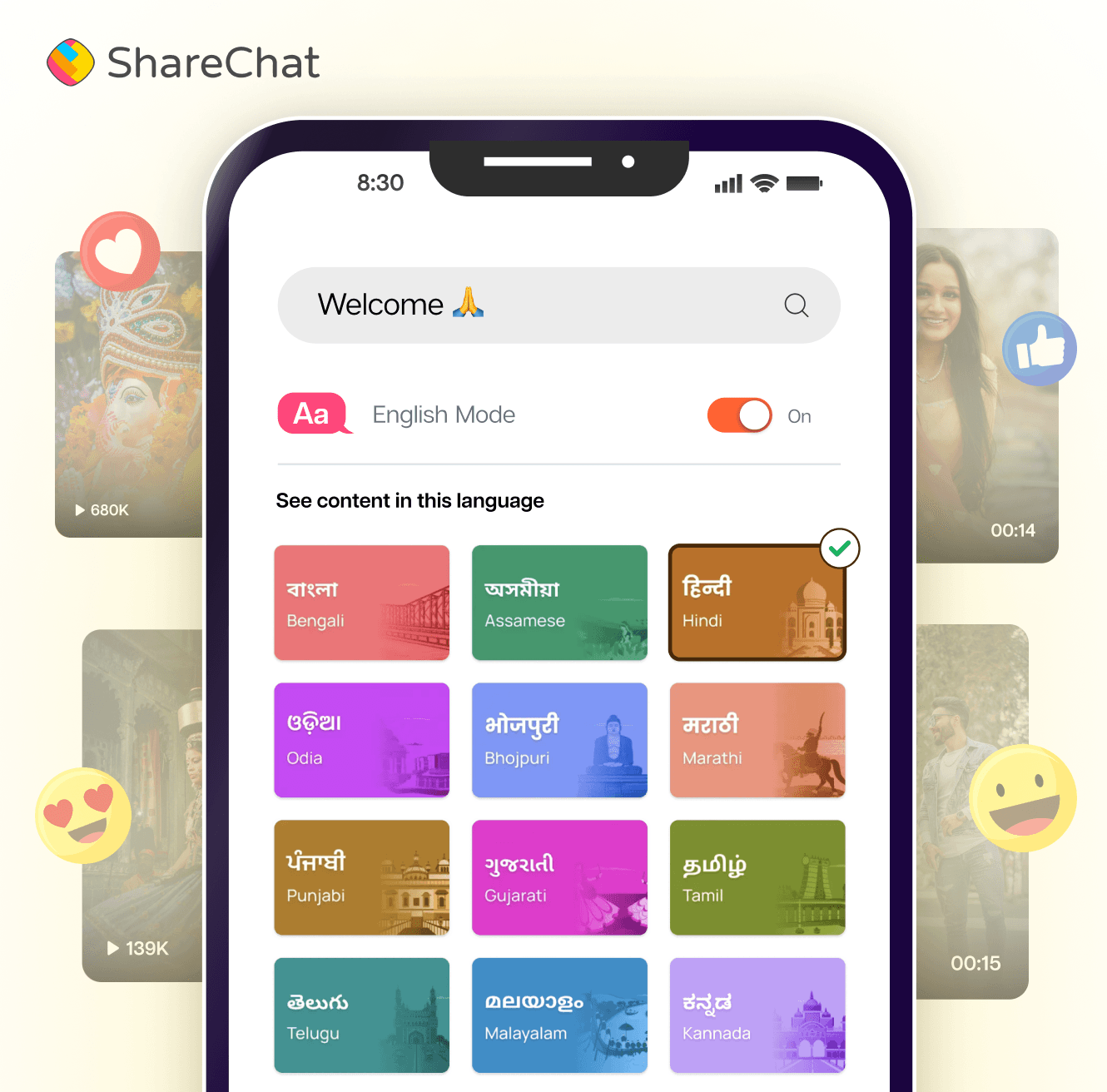 Industry
Social Network Service Platform
When I think of confidence, I go to Pepper. I know there are other players in the market, and I know there are tools and all of that, but when I reached out to Pepper and told them about the challenges and requirements, they were confident and accommodating. That's something I always loved about Pepper.
Krishna Kumar
Manager - Writing, Sharechat
---
Introduction
The Tower of Babel should have been placed in India. India has over 22 officially recognized languages written in about 13 different scripts and spoken in hundreds of regional dialects. A person from one area may speak a slightly different dialect from another one a few miles away. But the interpretation could be totally different, leading to misunderstandings, lack of comprehension, and avoidable confusion. So, yes, language does play an important role in shaping communication and expression.

Top Spoken Languages in India



There is also a significant sub-section of people in India who speak English. Most of these reside in urban areas but a growing number can be found in rural areas. But it should be noted that those who speak English usually prefer to speak in their native language with their friends and families.


The logic for an app like ShareChat
Although there is a significant gap between English speakers in "urban" and "rural" India, the internet revolution in India has upended this difference. There are more internet users in rural India (399 million) than in urban India (360 million). The total number of users is growing and is expected to reach almost 90% of the population soon.



The growth of the internet led to the growth of "social media" which allowed people to get in touch with far-flung friends and family members through various apps such as Facebook, Instagram, and Twitter (now "X"). However, the mode of communication in all these platforms is English. This led to a big number of non-English speaking internet users in India not being able to use these apps to connect with their loved ones.
The idea for ShareChat
ShareChat was founded in 2015 by IIT-Kanpur alumna Ankush Sachdeva, Bhanu Singh, and Farid Ahsan with a vision to provide a platform that embraces India's linguistic diversity. With over 1.3 billion people speaking more than 22 languages, the founders saw an opportunity to create a social media platform that could cater to regional users.
Currently, ShareChat is India's leading multilingual social media platform. It is owned by Mohalla Tech Pvt Ltd, based in Bangalore. With its diverse user base, ShareChat boasts over 300 million monthly active users who engage in content across 15 different Indian languages.
The company is currently valued at an impressive $5 billion, reflecting its significant impact and potential in the market.
How did ShareChat reach its present position?

The founders took several strategic decisions to drive ShareChat's position as India's largest multilingual social media channel including:
Understanding the Linguistic Diversity of India

ShareChat recognized the vast linguistic diversity of India

It offers content in multiple regional languages, including Hindi, Tamil, Bengali, Telugu, Marathi, Kannada, Gujarati, and more

Hyper-Local Content Curation

ShareChat adopted a hyper-local content curation strategy

This ensured that users received content that was relevant and relatable to their specific regions and cultures

This in turn encouraged users to engage actively with the platform and share content with their networks

User-Generated Content (UGC) Growth

ShareChat's success can be attributed to its emphasis on user-generated content

The platform encourages users to create and share content in their native languages

Inclusivity and Accessibility

ShareChat aimed to be accessible to users from all walks of life

This included users with limited access to smartphones or data connectivity
The challenges and growth opportunities for ShareChat
ShareChat needed to grow its market, remain relevant to its users, and retain its position as a path-breaking social media platform.
Primary objective
Cater to the content needs of tier two, three, and four cities across 15 Indian languages; become India's largest multilingual social media platform.
How did it work on this challenge?
ShareChat first worked out a broad SWOT to understand its key challenge(s):



The SWOT surfaced a clear challenge: How to engage choose the most relevant languages and segment them as per the cultures and backgrounds of their users.
5 Strategy Pillars adopted
ShareChat developed 5 "strategy pillars" to drive its growth:
Assessment of background and persona creation

People who communicate in a particular mother tongue come from diverse cultural backgrounds

This creates a language diversity that needs to be smoothened to a common point

This common point is a language or dialect that all users of that language or dialect understand

For this, ShareChat created a playbook covering different personas

Multilingual Interface

ShareChat developed a UI supporting multiple languages

This helped users feel more comfortable and engaged on the platform

Regional Content Curation

ShareChat curated and promoted content in different regional languages to cater to different language preferences

The content included videos, articles, and posts in most languages

Localization

ShareChat went beyond mere translation – it localized the entire app experience

It did this by studying, understanding, and adapting its UI to regional cultures, customs, and trends

Simplify search

One key insight was the fact that many new internet users don't know how to use search terms to find content

ShareChat simplified content and people discovery by using a personalized content feed as its mobile app homepage

It did this by using machine learning to detect the user's language and keywords to push suitable content to the user
How was the strategy put into action?

The 5 strategy pillars allowed the ShareChat team to develop a host of sustainable action areas. These included:
Culture-first approach

ShareChat aims at establishing a sense of community through its content in different languages

ShareChat uses a consistent culture-first approach to ensure its content is relevant to its users

A unique collaboration for content with Pepper Content

ShareChat's internal team of writers produces high-quality content

It initiated a unique partnership with Pepper Content - India's leading content marketing brand - to render this content into 15 different languages, using a network of the top 3% of freelancers in the industry

This mix of in-house writers and external talent facilitates seamless localization of content

Collaborate with Local Influencers

ShareChat collaborates with popular influencers and content creators in various regions and languages

Their content attracts a larger audience and fosters a sense of community within linguistic groups

Language-Based Communities

ShareChat creates communities or channels for different languages

This creates focused interactions and discussions among users of those languages

Regional Events and Festivals

ShareChat uses regional events, festivals, and cultural occasions, which see heavy social media usage

This helps ShareChat engage specific user segments and to create specialized content

Data-Driven Decision Making

The platform used data analytics to gain insights into user behavior, preferences, and content engagement

This data helps ShareChat optimize its content recommendations, improve user experiences, and the effectiveness of its marketing efforts
What metrics does ShareChat use to evaluate success?
As a social media platform, ShareChat uses a variety of metrics to evaluate its success and measure the effectiveness of its strategies.
User Growth (new user registrations over time

Daily Active Users (DAU - unique daily users)

Monthly Active Users (MAU - unique users who engage with the platform at least once a month)

Content Creation Metrics (volume and quality of UGC)

Language-specific Metrics (performance of different languages on the platform)

User Retention Rate (users over an extended period)

User Engagement Metrics (time per session, posts, likes, comments, and shares

Virality and Reach (speed of content dispersion across the platform)

Ad Revenue (platform's financial performance and attractiveness to advertisers)
Conclusion
ShareChat's success can be attributed to its understanding and catering to the needs of diverse Indian communities, effective use of AI, and user-generated content.
By providing a safe and inclusive space for individuals to connect, express themselves, and share their culture, ShareChat has become an integral part of the Indian social media landscape. By catering to over 15 languages, the app has effectively bridged the linguistic divide and brought together individuals from tier 1, 2, and 3 cities.
---
Ready to grow your funnel with Pepper?