How RVshare, the world's first and largest RV rental marketplace, transformed their content journey
RVshare, a pioneer in the peer-to-peer RV rental industry, embarked on a transformative journey to overcome challenges in reaching its audience. Partnering with Pepper Content, they crafted compelling and informative content that addressed RV enthusiasts' pain points. This strategic content overhaul not only boosted engagement but also solidified RVshare's position as a leader in the industry, resulting in increased bookings and customer satisfaction.
content experts and editors
increase in productivity with Pepper AI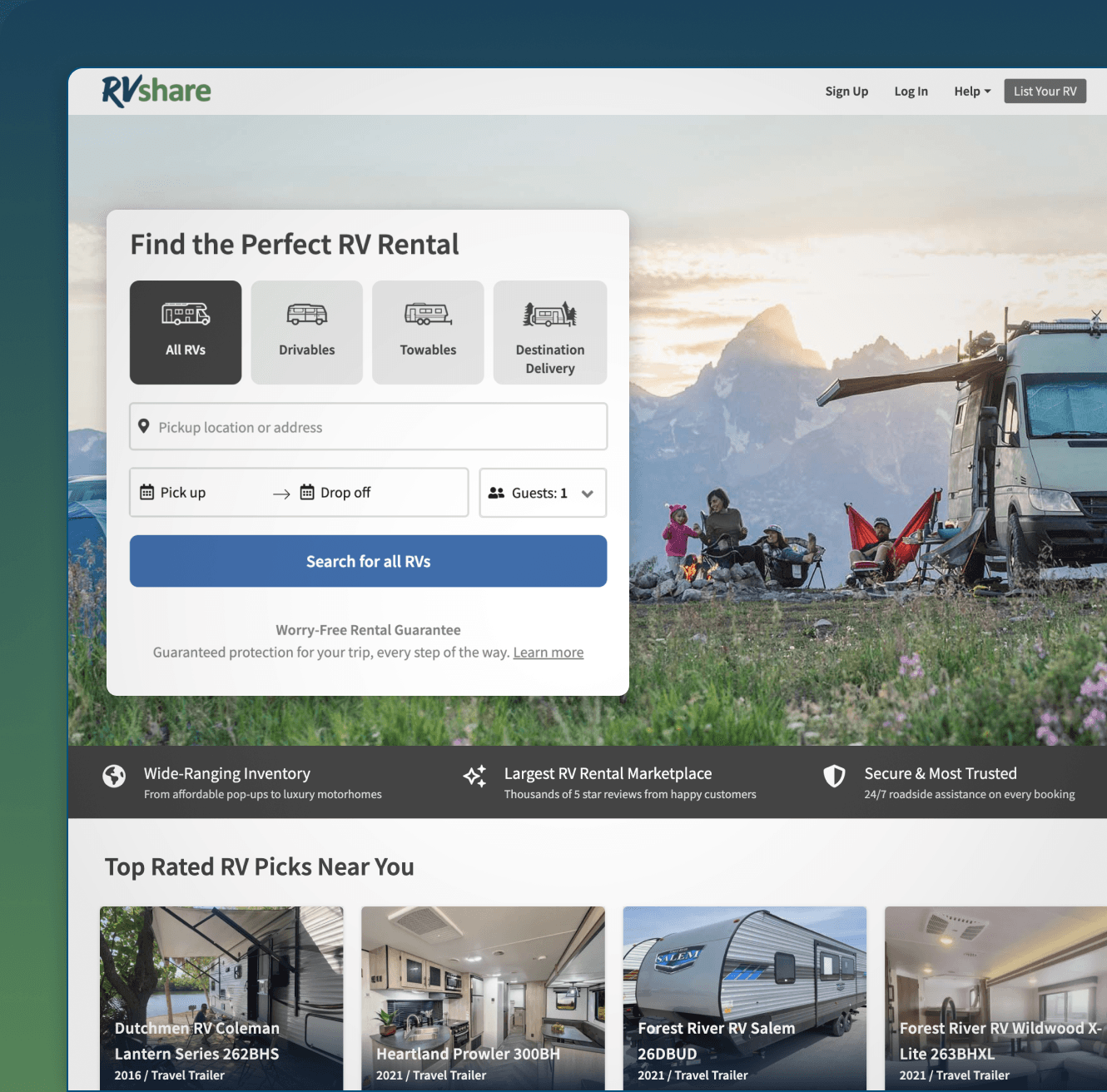 Pepper is helping us with really great content across the entire United States & create local content, for all of these types of destinations. So the scaling capabilities for authentic content at scale are truly wonderful.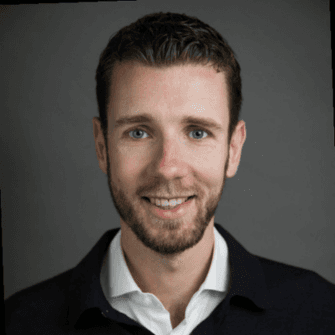 Martijn Scheijbeler
SVP Marketing, RVshare
---
Introduction – RVshare
RVshare is a popular online peer-to-peer platform for rental of recreational vehicles (RVs) or motorhomes. RVshare connects RV owners with individuals or families looking to rent an RV for vacations, road trips, or other outdoor adventures.
Ignition of the idea
RVshare was launched in 2013 and is today the first and largest peer-to-peer RV rental marketplace worldwide.
In a twist to the "founded in a garage" story usually associated with tech start-ups (Google, Apple…), RVshare was founded in a basement in Akron, Ohio, by Mark Jenney, Joel Clark, and Pat Couch. The trigger for the idea was Jenney's realization that their new RV would remain unused for most of the year, but they would need to keep spending money for "ownership expenses".
In the decade since its launch RVshare has grown to over 100,000 listings across the U.S., availability in all 50 states, a community of over 60,000, and over 4 million nights booked directly.
Business model
Here's how RVshare typically works:
Listing Details: RV Owners create detailed listings with photos, descriptions, and features of their RVs. Information includes size, amenities, location, and availability.

Search and Booking: Renters can search for RVs based on location, type, size, and amenities.

Bookings are made through the RVshare platform, providing a secure and streamlined process.

Payment and Insurance: Renters pay rental fees which may include a security deposit. RVshare offers insurance options to cover the rental period, providing peace of mind for both parties.

Pickup and Return: RV owners and renters agree on a convenient time and location for pickup and return. This flexibility ensures a hassle-free experience for both parties.

Agreed Rental Period: Owners and renters agree on the duration of the rental period. This could range from a single day to several weeks, accommodating various travel plans.

Review and Feedback: Both RV owners and renters can leave reviews and feedback about their experience on the platform. This helps build trust and allows others to make informed decisions.
Audience demographics
RVshare primarily targets the following customer segments:
Vacationers and Travelers: This is one of the largest customer segments for RVshare.

Families: RVshare appeals to families looking for a comfortable and spacious way to travel together.

Outdoor Enthusiasts: RVshare's platform caters to outdoor enthusiasts by providing access to RVs suitable for outdoor activities.

Retirees and Snowbirds: Retired individuals or "snowbirds" (seasonal travelers) often use RVs for extended trips.

Event-Goers: RVshare's platform offers event-specific options for people attending events like music festivals, sports events, or regional gatherings

First-Time RVers: RVshare provides an accessible way for newcomers to experience RVing without the commitment of ownership.

Local and Weekend Explorers: Some customers rent RVs for short weekend getaways or to explore their local areas.

Business Travelers: Business travelers use RVs as mobile offices or accommodations for extended work trips
The audiences can be clustered as below:


How does RVshare use content in its marketing strategy?
Content plays a crucial role in RVshare's marketing:
Education and Information: RV rentals can be a complex decision for both owners and renters. Content helps educate potential customers about the benefits of RV travel, how the platform works, rental processes, and safety guidelines. This information is vital for building trust and confidence in using the service.

Building Trust: Trust is a key factor in peer-to-peer platforms like RVshare. High-quality content, such as informative articles, how-to guides, and user reviews, helps establish credibility and trust among users. Prospective renters and owners are more likely to engage with a platform they perceive as trustworthy.

Search Engine Visibility: Creating relevant and valuable content improves RVshare's visibility on search engines. When users search for RV-related topics, well-optimized content can help RVshare's website rank higher in search results, increasing organic traffic and brand exposure.

Engagement and Retention: Engaging content keeps users on the platform longer, reducing bounce rates. For example, travel blogs, destination guides, and user-generated content can captivate users and encourage them to explore RV rental options.

Problem Solving: Content can address common pain points and challenges faced by RV owners and renters. By offering solutions and helpful tips, RVshare demonstrates its commitment to providing a positive user experience.

Community Building: Content can foster a sense of community among RV enthusiasts. Sharing user stories, travel experiences, and RV maintenance tips encourages users to connect, creating a loyal and engaged user base.

Marketing and Promotion: Content can be used for marketing campaigns, promotions, and social media engagement. It helps create buzz around special offers, discounts, and events, driving traffic and bookings.

Continuous Engagement: RVshare's audience includes both repeat customers and first-time users. Regularly updated content keeps users engaged and informed, encouraging them to return to the platform for future bookings.

Competitive Advantage: In a competitive market, well-crafted content sets RVshare apart from competitors. It demonstrates expertise and a commitment to user satisfaction, which can influence users to choose RVshare over other rental platforms.
Challenges for developing and scaling content
Developing and scaling content for a platform like RVshare can present several challenges, particularly in the context of the highly competitive online travel and rental industry. Some of the challenges that RVshare faced include:
Content Quality and Consistency: Ensuring that all RV listings have high-quality images, detailed descriptions, and accurate information can be challenging

User-Generated Content: RVshare relies heavily on user-generated content, which can be unpredictable. Authenticity and usefulness are key to building a unique experience

Content Moderation: RVshare has to work hard at keeping the platform free of inappropriate or misleading content, as well as addressing user feedback

Scalability: Managing and updating a rapidly expanding website to handle increased traffic and listings is crucial.

Search and Discovery: Optimizing the search and discovery experience to help users find the right RVs quickly is an ongoing task.

Localization: RVshare is now available in all 50 states of the USA. Adapting content and listings for each state is a huge challenge.

Content Marketing: Developing a content marketing strategy to drive organic traffic is another big challenge.

User Education: Many users may be new to RV travel, so educating them about the benefits, responsibilities, and safety aspects of RVing is important.

Compliance and Regulations: RVshare needs to stay up to date with changing regulations and compliance requirements in the rental and travel industry.

Competition: The online travel and rental market is highly competitive, with many established players.
How did Pepper help RVShare overcome its content challenges?
The team at Pepper Content dived deep into RVshare's business, current content, and the issues it faced. Understanding the unique challenges RVshare faced, Pepper designed a bespoke solution combining the power of AI with human expertise. This was a unique collaboration that enabled both Pepper and RVshare to curate, create, and customize content effectively.
The key points of the solution included:
A custom AI+Human talent solution to operate seamlessly at scale.

An intuitive platform to analyze thousands of pages, simplifying integration and use

Designed 250 new pages every month

Provided an extended team of 50 writers, editors, and account managers to create, edit, and review the content

Initiated use of Pepper Docs to check for factual accuracy
Key content strategy pillars
Pepper worked with RVshare to develop a set of content strategy guidelines that could be used to publish regular and relatable content. This "content strategy stack" covered:
Content strategy

Content creation

Content distribution

Content analytics and ROI
Pepper and RVshare used content strategy to decide how to create content at scale. The strategy was designed to ensure that the content attracted, engaged, and converted potential customers. The content strategy focussed on providing valuable information, building trust, and ultimately driving bookings.
For content creation, RVshare needed to build a compelling narrative using data-driven insights. Pepper and RVshare used the twin strengths of human expertise and Artificial Intelligence to design and generate effective content. Pepper deployed the transformative potential of its AI offering – Pepper AI – to provide dynamic, relevant, and customized content.
With the content strategy and content creation strategies in place, the next step was to get the content distribution in place. Multiple touchpoints such as automated content creation, personalized marketing, chatbots, and content summarization were integrated. The most important element here was of course the brand website. The teams worked hard to improve the website user experience, visibility, and competitiveness.
Finally, it was important to measure the effectiveness of the content that was generated. This was where Pepper used its skills in content analytics and ROI. Though measuring content ROI is not very easy, Pepper used several techniques to do this:
1. Clear goal setting
2. Set KPIs
3. Used Pepper's analytics tools
4. Track website traffic and analyze conversion rates
5. Assess content quality regularly
6. Adjust and optimize content to make sure the right resources were allocated
Results of the partnership
RVshare's collaboration with Pepper Content has achieved tremendous success. Over a partnership spanning more than two years, Pepper Content has created over 10,000+ pages of content for RVshare.
This has led to remarkable SEO success, higher SERPs, a range of content formats for every stage of the buyer funnel, and a user-centric approach that addressed most pain points and queries of current and potential customers.
Conclusion
Today, RVshare stands as a beacon in the travel industry. It offers a truly innovative peer-to-peer recreational vehicle rental service through its online marketplace. In an increasingly competitive digital landscape, RVshare recognized though it had a unique and scalable business idea, it had to use the content as a potent tool for educating, engaging, and ultimately building trust among its target audience of RV enthusiasts.
RVshare uses content to enhance the user experience, improve search engine visibility, and help the platform remain competitive in the peer-to-peer RV rental market. RVshare's collaboration with Pepper Content is a testament to its commitment to providing top-notch content to its users, enriching the RV rental experience for all.
The RVshare and Pepper Content collaboration serves as a testament to the tangible benefits that can be reaped when expertise and innovation come together. If RVshare's success story has fired you up, and you are ready to transform your content strategy and supercharge your SEO, try Pepper AI today.
---
Ready to grow your funnel with Pepper?